WATCH: JJ Redick Blasts Kendrick Perkins For 'Creating Narratives That Do Not Exist In Reality'
KEY POINTS
JJ Redick took offense to Kendrick Perkins implying that Nikola Jokic winning MVP again is race-driven
Perkins did not specifically mention any player's color, but he did make the implication
Jokic has a strong case to cop his third-straight MVP award
Former NBA player Kendrick Perkins has made a living off being an on-air sports commentator and hot-take artist, but fellow alumnus JJ Redick has had enough of it.
On the most recent episode of ESPN's First Take, Redick called out Perkins for previous comments regarding Denver Nuggets star Nikola Jokic possibly winning the MVP trophy for the third straight time.
"What we just witnessed is the problem of this show (First Take): where we create narratives that do not exist in reality. The implication, what you (Kendrick Perkins) are implying that the white voters are racist. They favor white people," Redick said while apologizing to longtime ESPN commentator Stephen A. Smith.
"You just said that. Yes, you did. That is exactly what you implied, Kendrick Perkins. We all know what you implied the other day [and] we all know what you implied just now."
Perkins vehemently rejected Redick's assertion as the segment quickly devolved into the former yelling, while the latter tried to continue his point and Smith looked bewildered at the moment before attempting to diffuse the situation.
For context, Redick was referring to the following Perkins quote below:
"When it comes down to guys winning MVP since 1990, it's only three guys that won the MVP that wasn't top-tier in scoring... Steve Nash, [Nikola] Jokic and Dirk Nowitzki. What do those guys have in common? I'll let it sit there and marinate, you think about it," Perkins told Smith.
Redick calling out Perkins in this manner will surely lessen his time on ESPN after signing with them in late 2021 since he also publicly dragged the network in his comments, but the host of "The Old Man and the Three" podcast does have a point.
Jokic has steadily had a chokehold on the MVP award for the past two seasons and is well on his way to earning his third straight–a feat that has not been seen since Boston Celtics legend Larry Bird did it.
Currently averaging a triple-double of 24.6 points, 11.7 rebounds, and 10 assists for the season, Jokic was named Western Conference Player of the Month for February as he put up 22.6 points, 14.2 rebounds and 10.2 assists on 64.2% field goal shooting and an even 50% on triples in 11 games.
During that time, the Nuggets went 9-2 and only missed one game, that being their 30-point loss to the Minnesota Timberwolves on February 5.
What is certainly interesting about Jokic's case for MVP is that the Nuggets remain undefeated in 26 games when he logs a triple-double–further improving his case for MVP.
His efforts certainly did not go unnoticed as the Nuggets remain atop the Western Conference with a record of 46-19 while the Memphis Grizzlies, Sacramento Kings and Phoenix Suns are seven, 7.5 and 10 games behind them respectively.
It remains to be seen whether ESPN, Perkins, Smith or Redick will make a follow-up on the heated discussion.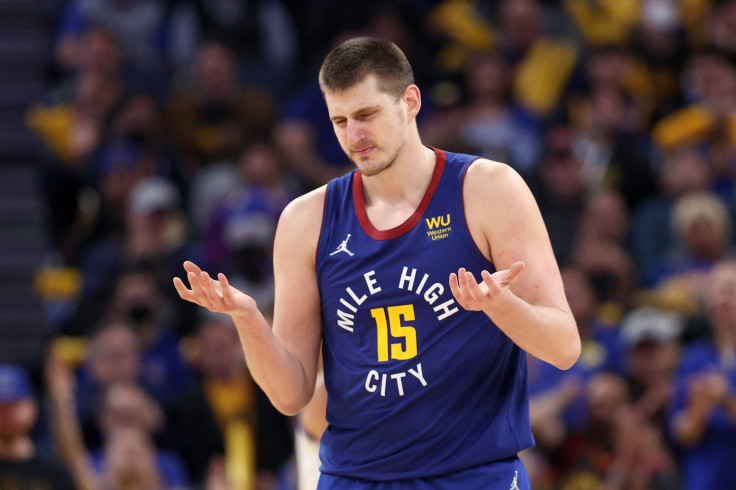 © Copyright IBTimes 2023. All rights reserved.