WATCH: SB19's Josh Surprisingly Laughs At Fan Who Touched His Foot Like A Saint
KEY POINTS
SB19 is currently on the Canada leg of its second world tour, "PAGTATAG!"
A'TIN showed amazing energy during the "PAGTATAG!" soundcheck in Winnipeg
The group's Canada stops include Toronto, Winnipeg, Vancouver and Edmonton
SB19, which is currently on the Canada leg of its "PAGTATAG!" world tour, performed at the Club Regent Event Centre in Winnipeg Sunday and was welcomed with amazing energy by their fans – called A'TIN – during the soundcheck.
SB19 and A'TIN hyped each other before the concert performance. Some lucky fans also got exclusive footage as the members randomly grabbed mobile phones from the crowd to film themselves and items they could sign.
One A'TIN, @azurebebe0800, shared a hilarious fan video during soundcheck on Twitter and captioned it, "Blessed 👼🏻."
In the video, the group's lead rapper, Josh, was seen getting a shirt to sign from the audience. Meanwhile, the uploader touched his shoe as if the oldest member of the boy group were an image of a saint in a procession.
After seeing the gesture, Josh couldn't help himself from laughing.
Other A'TIN who saw the tweet shared funny reactions to the uploaded soundcheck video.
"Hahahahahaha. I wish you wiped him with a towel. Haha," one fan quipped in Tagalog, while another fan said, "That blessing is good for one year..."
"Ssob, patron saint of grilled food or barbecue, please make us swoon," another fan bantered. A different fan asked, "Saint Josh?"
One fan also said, "Josh Cullen SANTO," and played around the SB19 member's full name, Josh Cullen Santos. His surname, Santos, without the letter "s" at the end, means saint in Filipino.
"You really did that? That's why we're being referred to as a cult. Hahahaha" joked a sixth fan. A seventh fan gushed, "Josh's smile is so cute."
SB19 is currently on the Canada leg of its second world tour, titled "PAGTATAG!," which kicked off at the Pickering Casino Resort in Toronto last Friday.
After their successful Winnipeg show, the five SB19 members, Pablo, Josh, Stell, Ken and Justin, will head to Vancouver and Edmonton for the remaining stops of the Canada leg of their "PAGTATAG!" world tour.
Before the group's shows in Canada, SB19 performed in Chicago, Dallas, San Francisco, Los Angeles, New York and Washington, D.C., for its U.S. concert tour.
SB19 debuted with its first single, "Tilaluha," in October 2018 and has since gained global popularity.
The Billboard-recognized Pinoy Pop group is known for its hit songs "Gento," "MAPA," "WYAT (Where You At)," "Bazinga" and "Alab," among others.
The group debuted under ShowBT Philippines in 2018. But SB19 has since departed from the label and founded its own music company, 1Z Entertainment.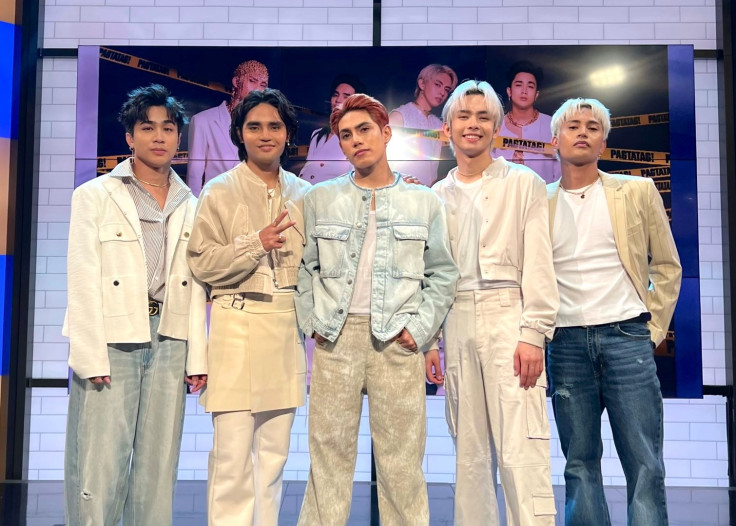 © Copyright IBTimes 2023. All rights reserved.