'Weather Bomb' Causing UK Travel Chaos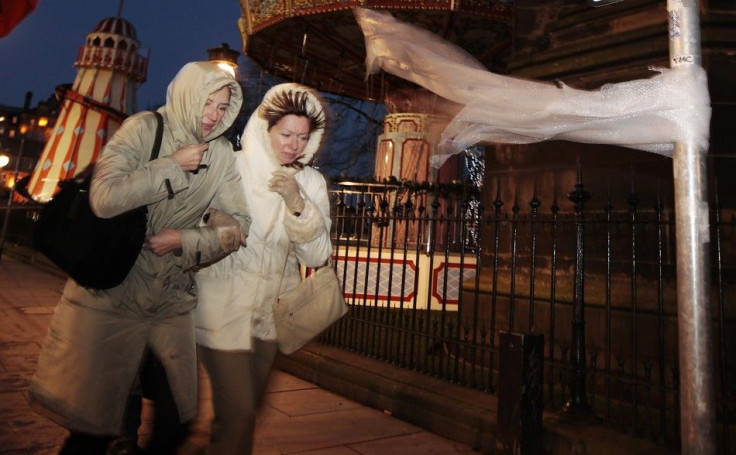 Severe hurricane-force winds battered Scotland and northern England on Thursday, snarling ground and air transport and leaving thousands without power.
As winds gusted well above 100mph in some locations the UK's Met Office issued a red alert. The move marked the first time the Met Office issued a warning to take action for high winds rather than for flooding or snow.
The agency said the red warning was issued because the gales struck large population centers, where the potential for damage and travel disruption was much higher.
I would urge all members of the public to take care and to heed advice from the police and travel authorities, Deputy First Minister Nicola Sturgeon said today in a statement on the Scottish Government's website.
Police officials in at least seven regions advised against all travel.
On the summit of the Cairngorms in Aberdeenshire, at just over 4000 ft., winds were recorded in excess of 150mph, the Met Office said. Closer to the ground, winds near Inverness hovered around 100mph, and in the more populated areas of southern Scotland they were clocked at around 70mph.
Millions of people in Scotland were warned to stay home on Thursday and avoid all travel. The storm closed bridges, rail lines, and roads, forcing the cancelation of over two dozen flights.
Thousands of schools, universities, public buildings, sports centers, and concert halls shut their doors on Thursday and major cities like Glasgow and Edinburgh were virtually shut down.
One of the most powerful storms to hit inland areas in over a decade, meteorologists have called the phenomenon a weather bomb. A Met Office spokesman described it as an explosive deepening, which is caused when atmospheric pressure drops by 24 millibars or more within 24 hours.
On Thursday, the pressure fell by 44mb.
As heavy bouts of rain and hail hit the UK Thursday, nearly 40 flights into Edinburgh and Glasgow airports were canceled. Meanwhile, train services were suspended as Network Rail imposed a 50mph speed limit and ScotRail introduced an emergency timetable.
Glasgow Airport said 37 flights out were canceled, while Edinburgh Airport said 21 were canceled and three diverted.
Edinburgh Airport is experiencing high winds that are making operations extremely challenging, the airport said on its website. This has meant severe disruption to services including lengthy delays and cancellations. Passengers should check with their airlines before travelling to the airport and given the general disruption to Scotland's transport network and Police advice, they should be sure that they can travel to the airport safely.
Glasgow Airport posted a similar message on its site, though the airport tweeted Thursday evening that wind speeds were declining, saying we're not expecting same level of disruption but pls check with your airline b4 flying (sic).
Across the Irish Sea, the wind and rain caused disruptions in Northern Ireland, cancelling ferries and closing bridges.
The red warning expired at 9 p.m. Thursday and it was moved down one notch to orange. Met Office forecasters believe that the winds will die down for much of the country on Friday.
© Copyright IBTimes 2023. All rights reserved.