Welcome To The Gunn Show: How Nicole Perlman Is Being Written Out Of 'Guardians Of The Galaxy'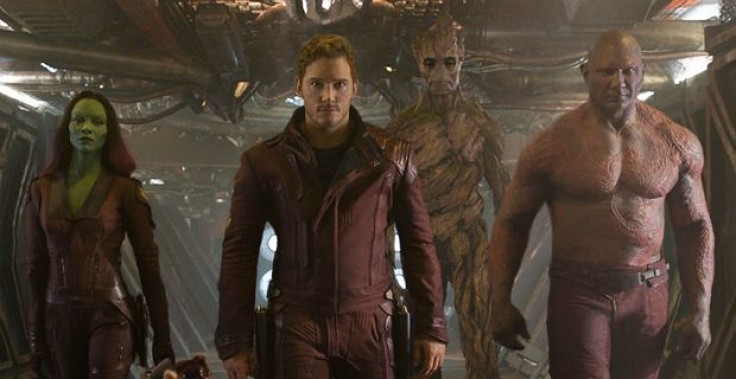 Marvel has sold $182 million in tickets so far to "Guardians of the Galaxy," this summer's thinking-person's blockbuster. But how many of the millions who have flocked to theaters know that a woman played a key role in bringing the comic-book superheroes to cinematic life?
Nicole Perlman, who developed the first version of the screenplay during her residency in the Marvel Writing Program, is the first woman ever to have a writing credit on a Marvel movie. She was the one who recognized the big-screen potential of the little-known superhero team. So this might have been a watershed moment for female filmmakers hoping to be taken seriously in a wildly popular movie genre that is often considered reserved for men. Instead, Perlman's breakthrough is facing pushback.
While she was the subject of a handful of media profiles ahead of the movie's opening, a stubborn black cloud has hovered over Perlman's history-making success. Some Hollywood folks have marginalized her contributions, perhaps none more vocally than "Guardians" writer-director James Gunn, who appears to think Perlman's co-writing credit was undeserved.
Perlman was a relative unknown before the now 33-year-old had a screenplay produced for the first time. The "girl geek," as she has been labeled, made an impression on the industry years ago with her spec script about the 1986 Challenger space shuttle disaster, which was chosen for the storied annual Black List of unproduced screenplays in 2005. Since then, she has worked steadily on uncredited rewrites and wrote an adaptation of Neil Armstrong's biography for Universal. The action-packed "Guardians of the Galaxy" -- which cleared $94 million on its opening weekend and drew nearly unanimous praise from critics -- could have been her time to really shine.
But in multiple interviews, Gunn has taken full credit for the script that made it to the screen, and has in at least one instance been outspokenly critical of the draft Perlman conceived – the same one that convinced Marvel of the potential for "Guardians of the Galaxy" to succeed as a movie franchise. A fan who saw a featurette interviewing Gunn at a Los Angeles screening of "Guardians" noted on Twitter that the director didn't acknowledge Perlman at all in a discussion about the screenplay. But the dismissal that's gotten the most attention was published in an interview on Film Divider:
"Really, in Nicole's script everything is pretty different. I mean the story is different, there's no Walkman, the character arcs are different, it's not about the same stuff," Gunn told Film Divider. "But that's how the WGA [Writers Guild of America, which determines credit] works. They like first writers an awful lot."
After seeing an earlier version of this story, Craig Mazin, co-chair of the WGA credits committee, reached out with a clarification that challenges Gunn's explanation for Perlman's co-writer credit. "In the case of an adaptation like 'Guardians,' the rules don't favor the first writer," Mazin said.
As the blog Cultural Learnings pointed out in a widely circulated post about "Guardians" authorship, Marvel, too, is complicit in marketing the film as a James Gunn vision -- which, to some degree, it likely is. Perlman herself told BuzzFeed that Gunn "put his stamp on it for sure," and admitted that another writer needed to make "Guardians" a comedic project, as she "is not primarily a comedy writer."
It's unclear why Gunn and some film writers aren't willing to afford Perlman the same magnanimity. A handful of articles about "Guardians of the Galaxy" have left Perlman out of the story altogether. One, an interview with Gunn published in Crave Online, was later corrected to credit Perlman. Another, a feature-length article in the iPad-only Backstory Magazine, went deep into the origin story of the "Guardians" adaptation with only veiled and dismissive references to the writers who worked on the screenplay before Gunn, who told Backstory he "wasn't crazy" about the first script he was handed.
IBTimes reached out to the editor in chief of Backstory Magazine, Jeff Goldsmith, who said, "We made the decision to skip interviewing [Perlman] because our inside sources and intel revealed that her script was barely used [and] a Page One rewrite occurred when James Gunn came on." Goldsmith did not address a follow-up question about the intelligence that led to the decision to exclude Perlman from the story, but he agreed there was "no reason why her name can't be in there somewhere" and expressed regret for allowing the story to go to press without acknowledging her at all.
This is not the first time a director has openly challenged a writer's credit, but it's the first time in recent memory that a director who also received a writer credit has. "12 Years A Slave" director and screenwriter Steve McQueen and John Ridley, respectively, had a reported falling out over McQueen's belief that he deserved co-writer credit; similarly, "Belle" director Amma Asante claimed to have contributed heavily to the screenplay, but sole writing credit was given to Misan Sagay.
As an Indiewire article on those disputes indicated, the WGA credit arbitration process at one time required that a director demonstrate the most significant contribution to a script in order to receive a writing credit. But after an earlier version of this story was published, IBTimes learned that was no longer the policy.
"It was once the case that on adaptations (like 'Guardians,' which is based on source material), writer-directors had to show 50% contribution to the final script in order to receive screenplay credit, whereas other writers needed only to show 33%. That was changed a few years ago by membership vote," Mazin said. "There is no difference anymore. Writer-directors and regular writers both require 33%."
Still, no one is disputing that Gunn was a major force behind "Guardians of the Galaxy." The question is why he is so unwilling to share even a sliver of the spotlight with the woman who saw the movie potential in the "Guardians" comics, first introduced to the Marvel universe in 1969 by Arnold Drake.
So why is an inside-baseball screenwriting credit dispute important to the rest of us?
Melissa Silverstein, who runs the blog Women in Hollywood, believes that industry decisionmakers will continue to pass female filmmakers over for big-budget jobs until it's proven they can succeed with movies in the same vein as "Guardians of the Galaxy."
"It's going to take a woman getting a job directing a superhero movie and the world doesn't end" before we can expect a sea change, Silverstein said.
If Gunn's dismissal of Perlman's milestone credit continues to go unchecked, it seems possible that Perlman's involvement in the success of "Guardians of the Galaxy" will eventually be forgotten. As it is, she was not invited back for the sequel, which Gunn will write and direct on his own.
"The industry is listening," said Maria Giese, a film director and activist for gender parity in Hollywood. Giese believes that studio executives are not "interested in advancing women directors or promulgating a female perspective around the world."
"That's why Perlman is important right now," she said.
IBTimes attempted to reach Perlman for comment but was ultimately turned down. At one point, a representative for Perlman said they would consider an interview if IBTimes got approval from Marvel, but calls to Marvel were not returned, and the same representative later declined to participate under any circumstances.
"Hollywood has her trapped," Giese said. "If she stands up for herself, she might not work again."
© Copyright IBTimes 2023. All rights reserved.
FOLLOW MORE IBT NEWS ON THE BELOW CHANNELS