What Is Camembert? Why Google Doodle Is Celebrating Cheese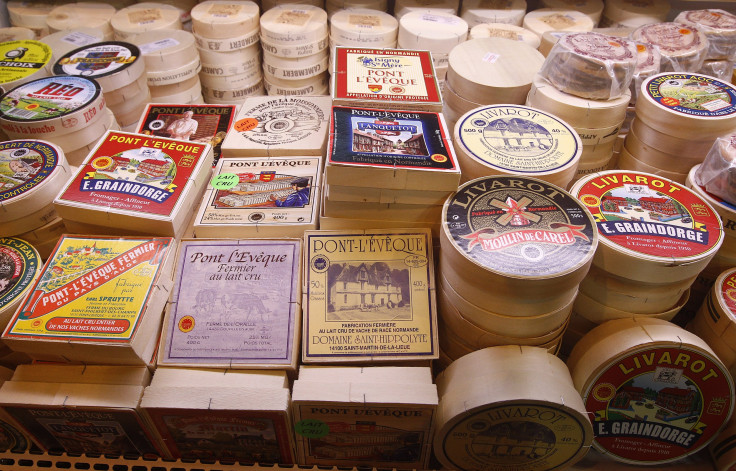 If you were already scrolling through the internet this morning, you might have noticed an intriguing — and adorable — Google Doodle.
The Google Doodle for April 28 is devoted to cheese and commemorates the birthday of Marie Harel, the inventor of Camembert.
Harel would have been 256 years old today, Time reported Thursday. The Google Doodle is generally inspired by major events and holidays — like Halloween or Burning Man — but the fun feature is also known for observing curious days and little-known facts. Celebrating the birthday of the creator of one of the most famous French cheeses likely falls into the latter category.
READ: Today's Google Doodle: Honoring Cassini Spacecraft Dive Between Saturn's Rings
Harel was a dairymaid of 30 who lived in Normandy during the late 18th century. According to legend, a priest — who was said to come from the region of Brie (yes, like the cheese) — was hiding in Vimoutiers during the French Revolution, the region in Normandy where Harel was living at the time. The priest would go on to teach the dairymaid how to create the soft "Brie" cheese.
Harel made minor changes to the priest's instructions by making the cheese without cream and packaging it in smaller wheels in small wood containers, Time reported. Camembert cheese was said to have been officially created in 1791. It was this wooden container that would make Harel's famous cheese easy to transport around the world. It was even noted that French soldiers would carry the Camembert during World War I because the soft cheese was easy to carry.
To further clarify, both Camembert and brie are cheeses made from cow's milk. They both have similar rinds and are a soft, white cheese. Because Camembert lacks cream, it contains 45 percent milk fat while brie has 60 percent, according to Pop Sugar. Color-wise, the two cheese do differ slightly by their inside coloring. Camembert has a more yellowish color while brie is more white. Also, brie cheese may be firmer in feel while Camembert is a bit runny. Finally, when it comes to taste, Camembert will have a more earthy smell with more of a deep, savory flavor, while brie will have a rich, buttery flavor.
To get a sense of how amembert is actually created, the Google Doodle created a mini slideshow depicting a cartoon Harel and her cheese-making process.
© Copyright IBTimes 2022. All rights reserved.
FOLLOW MORE IBT NEWS ON THE BELOW CHANNELS