What Is A 'Crossushi'? New Food Trend Sparks Mixed Feedback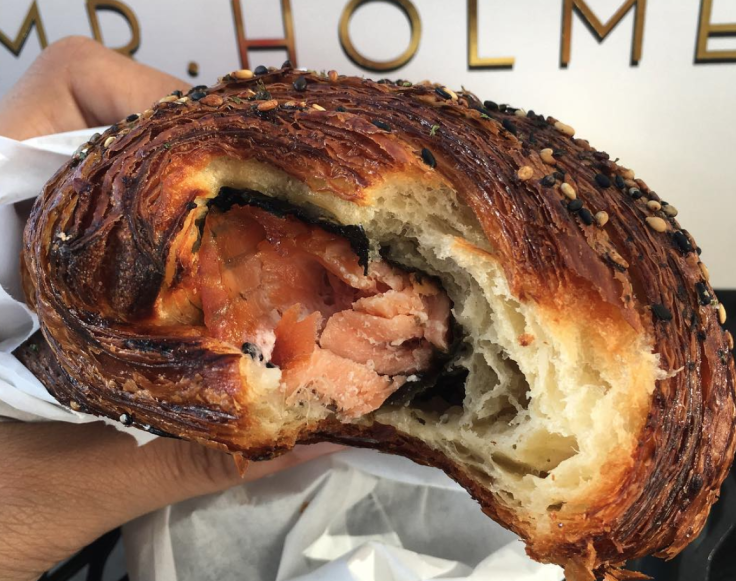 The year 2017 gifted the world with an assortment of creative food options from the "Chocoladilla" to the "Unicorn Frappuccino," and 2018 appears to be no different. Enter the "crossushi," a new food trend that combines the likes of sushi and a French croissant.
The sushi-croissant hybrid first came to view in early 2017 at Mr. Holmes Bakehouse, a pastry shop with locations in locations in Los Angeles and Seoul, among other cities. The trend, however, is now beginning to make waves online. Dubbed the "California Croissant," the classic baked pastry is topped with sesame seeds and stuffed with smoked salmon, nori seaweed, pickled ginger and wasabi.
The "crossushi" appears to be having a moment among social users, but the general consensus is seemingly unfavorable. Some have deemed the creation as "revolting," with others going as far to say "Stop Crossushi 2k18."
Very few individuals claimed they would purchase the Crossushi.
Croissants are typically known as a standalone food item that often associates with the likeness of chocolate, ham, cheese or almond. Aron Tzimas, co-owner of Mr. Holmes Bakehouse's San Francisco branch, told Insider in December 2017 that the shop's crossushi is "actually pretty amazing and sells out super fast."
"Think of a California Sushi Roll: Salmon, Seaweed, wasabi & ginger rolled in CROISSANT DOUGH, baked and served with Kikkoman Soy," Tzimas said of the crossushi on Instagram.
While the sushi-croissant combo doesn't seem to agree with many, this wouldn't be the first experimental snack to emerge from Mr. Holmes Bakehouse. The shop is also the creative minds behind the "cruffin," which is a crossover between the croissant and muffin. The Cruffin boasts an assortment of flavors that rotate per season, Bustle reported.
Cronuts, while not a featured item on Mr. Holmes Bakehouse's menu, have also proven to be a popular item among foodies. Made popular by the Dominique Ansel Bakery in New York City, Cronuts — a croissant-doughnut hybrid — has dozens of customers lined up outside the bakery in anticipation of purchasing the warm pastry.
The crossushi trend came on the heels of another 2018 food trend dubbed "raw water," which is the consumption of spring water that hasn't been filtered or sterilized. Advocates of the movement claim that filtered water removes the liquid's essential elements, such as probiotics and minerals.
© Copyright IBTimes 2023. All rights reserved.