What Does Pro-Life Mean? Donald Trump Opposes Abortion Rights, Planned Parenthood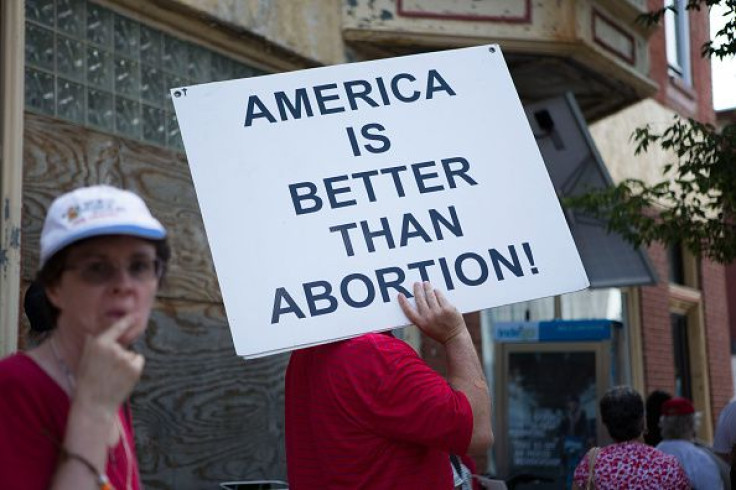 President-elect Donald Trump identifies as pro-life and is prepared to make it harder for women to get abortions in the United States. Trump said during an appearance Sunday on "60 Minutes" that he was interested in overturning the Supreme Court's Roe v. Wade decision that gave women total autonomy over their pregnancies. The interview stirred up the question of what it means to be pro-life vs. pro-choice.
"Well, they'll perhaps have to go — they'll have to go to another state," Trump said of women who would be denied abortion rights if more states limit health care access under his administration.
Merriam Webster defines pro-life as someone "opposed to abortion." The pro-life movement in the United States includes conservative-leaning organizations such as the National Right to Life Committee and the Susan B. Anthony List. The United States Conference of Catholic Bishops also opposes abortion rights.
"Through education and legislation, National Right to Life is working to restore legal protection to the most defenseless members of our society who are threatened by abortion, infanticide, assisted suicide and euthanasia," the group declares on its site.
Pro-life advocates are often critical of Planned Parenthood, a national system of clinics that provided 10.6 million services for 2.7 million clients in 2013. That includes 327,653 abortions, or about 3 percent of Planned Parenthood's total services.
"As far as Planned Parenthood is concerned, I'm pro-life," Trump said during a Republican primary debate in February. "I'm totally against abortion, having to do with Planned Parenthood. But millions and millions of women -- cervical cancer, breast cancer -- are helped by Planned Parenthood."
Media organizations generally instruct journalists to avoid using the terms "pro-choice," "pro-life" and "right-to-life" and instead stick with plain language such as "abortion rights advocate" or "anti-abortion."
"The political and emotional heat surrounding abortion gives rise to a range of polemical language," reads the New York Times stylebook. "For the sake of neutrality, avoid pro-life and pro-choice except in quotations from others."
Roughly 56 percent of all U.S. adults want abortion to be legal in all or most cases, while 41 percent would prefer it be illegal all or most of the time, according to the Pew Research Center.
© Copyright IBTimes 2023. All rights reserved.