What Euro Summit? Italians And Germans Transfixed By Soccer As Monti, Merkel Clash On Finances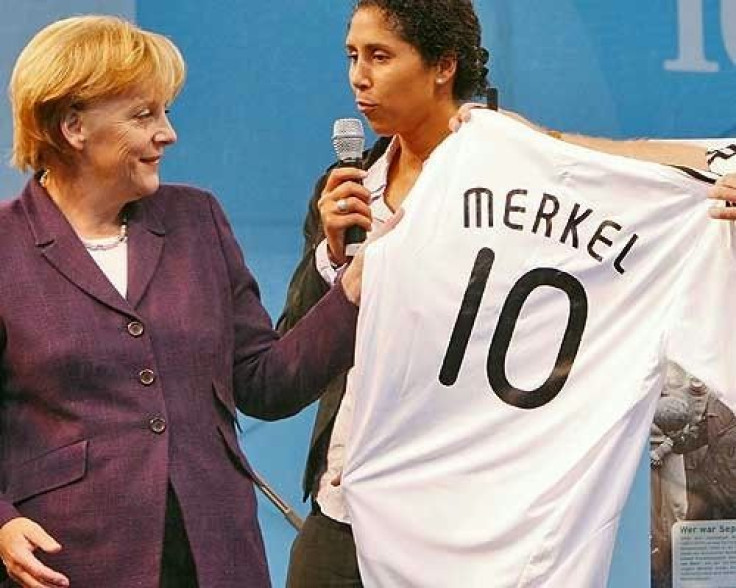 Among financial and economic commentators, the conventional wisdom is that everybody in Europe, if not in the world, will be riveted Thursday and Friday to TV and computer screens, eagerly awaiting the results of a European Union summit that's been touted as the last chance to save the continent's common currency.
Germans on the one side for financial austerity and budget cuts; French, Italians and Spaniards on the other arguing for more public spending and the pooling of the debt of European nations. That's how the experts are describing what they say will be a clash of politicians that will either go down in history as the summit that saved the euro, or be remembered in infamy as the final fiasco that sank it.
But for many Italians and Germans, most in fact, the epic clash they'll be watching transfixedly on their screens on Thursday won't be the Brussels summit. It will be a soccer match from the other end of the continent, the European Cup semifinal between their two countries, played in Warsaw.
It's safe to say that Prime Minister Mario Monti and Chancellor Angela Merkel will be watching too, maybe together. They're both fans, and Merkel famously watched a Germany-England game with British PM David Cameron during another international summit in 2010. It's also safe to say that they will have to exercise diplomatic restraint: Italy versus Germany is a classic soccer rivalry, between two of the sport's titans (Italy has won four World cups and Germany three; only Brazil has done better), that never fails to bring out emotions in both countries.
But, most of all, it's a meeting of two different mentalities. And, because in Europe soccer is universally seen as nothing short of an expression of national character, World and Euro Cup squads are a proxy for their entire countries. Hence the cliché of the weak but cunning Italians who make up with tactical shrewdness for what they lack in offensive heft, while the super-organized Germans try to steamroll opponents with a massive power that sportswriters across the continent equate -- without shame, or editors enforcing American-style political correctness -- to the advance of invading Panzer divisions.
It isn't very hard to see how the stereotype can be expanded to the financial crisis: Happy-go-lucky Italians overspent and incurred huge debt, while thrifty economic superpower Germany accumulated tons of money that it's now asked to spend to bail out less prepared countries.
The weight of all that history will be felt heavily Thursday. Another semifinal game, a 1970 World Cup nail-biter that ended in a 4-3 Italian win, has attained such legendary status that a film called Italia-Germania 4-3 became a hit in Italy in the 1990s -- and a plaque outside the Azteca Stadium in Mexico City, where the game was played, remembers it as "the match of the century". Italians recall religiously the 1982 World Cup final that saw their country trash the Germans 3-1, with then-President Sandro Pertini -- an anti-Fascist Resistance hero who fought the Germans in World War II -- sending his Air Force jet to fly the world champions back home, riding with them to Rome and a heroes' welcome.
But what about the German victories? Well, there simply aren't that many of them. That's because between the two nations, when it comes to soccer it's the financial underdogs who are the clear winners. Stats compiled by the Italian online newspaper Il Post show that Italy and Germany (including West and East Germany, when they were separate countries from 1949 to 1990) have met 17 times on the pitch, with Italy winning 10 and losing three. Only four games ended in a draw, but that won't be possible Thursday: extra time and a penalty shootout, if needed, will determine the winner that will advance to the final game against Spain. That's another, as it happens, of the troubled euro zone nations that may need an international bailout: proof that, in the Europe of 2012, sport and politics are as entwined as they have ever been.
© Copyright IBTimes 2023. All rights reserved.