When And How To Watch Adam Sandler's 'The Do-Over' On Netflix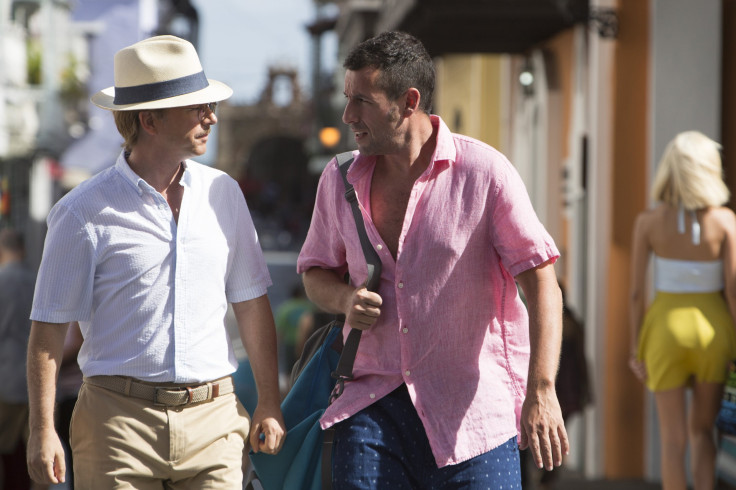 Adam Sandler and David Spade are back together again. The comedy duo team up in Sandler's latest Netflix movie, "The Do-Over," which arrives on Friday. Many are curious to see what Sandler's new film will be like following the streaming success of "The Ridiculous 6" in December.
"The Do-Over" tells the story of two guys, Charlie McMillan (Spade) and Max Kessler (Sandler), who are old friends that reunite at a high school reunion. Both are tired of the lives they are living and decide to fake their own deaths to start fresh. The two pick up two different identities, but they find trouble when the people they choose to be also have difficult lives.
Director Steven Brill told Variety on May 17 that the film has "got a lot of different genres going on" including action, comedy and mystery. Brill previously directed Sandler films "Little Nicky" (2000) and "Mr. Deeds" (2002). He described his latest film as a "fun experience," especially after working with Spade and Sandler.
"The idea of Sandler and Spade together was something I dreamed and fantasized about and it came to be," Brill dished. "I'm more confident now than when we first started, but overall it's Sandler at his best and as you've never seen him before: being interesting, cool, sexy, dirty but also sweet."
"The Do-Over" is Sandler's second film exclusively on Netflix, as the actor has a four-movie deal with the streaming service. His first film on Netflix, "The Ridiculous 6," premiered on Dec. 11 and was welcomed with many negative reviews. Despite what critics thought, Deadline reported in January that "The Ridiculous 6" was the most-watched movie on the platform in its first 30 days of availability.
To watch "The Do-Over" you will need to be signed up for Netflix. Netflix is available for $7.99 a month and if you haven't subscribed yet, you can enjoy "The Do-Over" for free because the streaming service offers a free month trial to new users. The film will be available to be watched on your desktop, TV or through the Netflix app on tablet or cell phone devices. "The Do-Over" will be available for streaming Friday, May 27, at 12:01 a.m. PDT.
© Copyright IBTimes 2023. All rights reserved.