When Will 'American Horror Story' Season 5 Be Available On Netflix? Look For Clues Connecting 'Hotel' To 'Roanoke'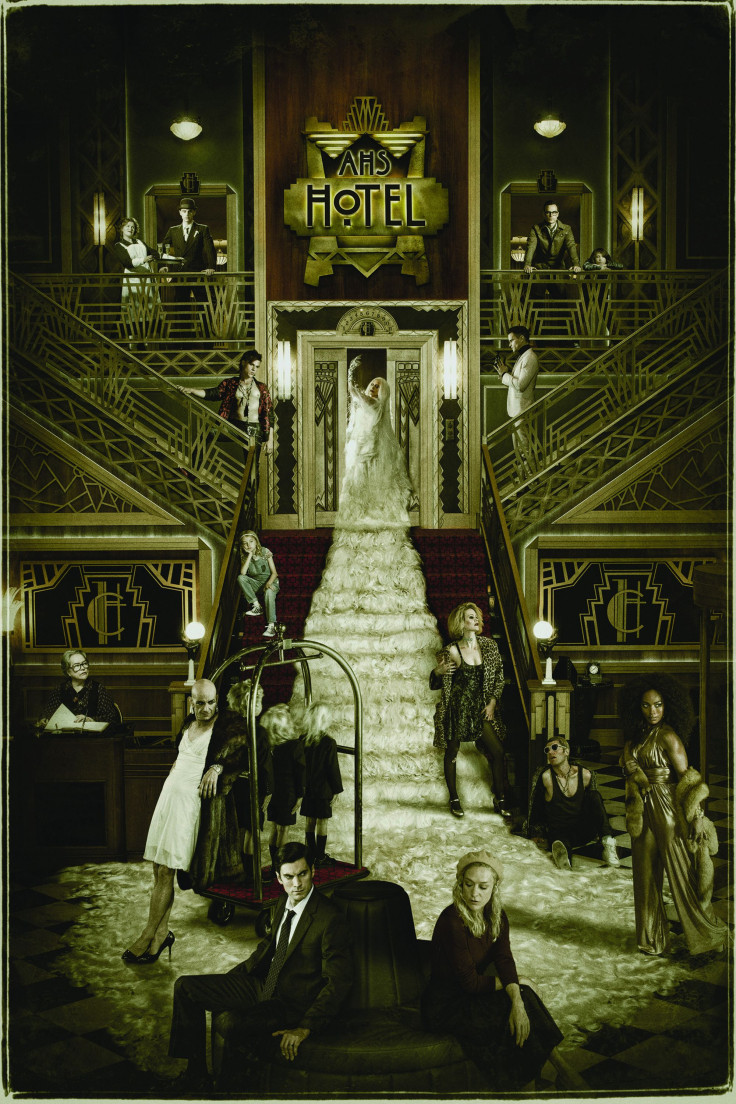 Is "American Horror Story: Roanoke" connected to the previous season, "Hotel"? Fans of the FX anthology series are trying to find connections and it'll become a lot easier when Season 5 is released on Netflix.
The first four seasons of "American Horror Story" — "Murder House," "Asylum," "Coven" and "Freak Show" — are currently available for streaming on the subscription service site. All 12 episodes of Season 5, "Hotel," will be available to binge watch on Tuesday, Oct. 4.
Season 6 of the horror drama premiered on FX on Sept. 14. The new season, which was kept under wraps until episode 1, is titled "Roanoke." Viewers met Matt (André Holland) and Shelby (Lily Rabe), who are telling their story about living in a haunted home in a reality TV docu-series, "My Roanoke Nightmare." Fans watch as actors reenact Matt (Cuba Gooding Jr., reenactor) and Shelby's (Sarah Paulson, reenactor) horrifying experiences.
"American Horror Story" co-creator Ryan Murphy confirmed in 2014 that despite every season being their own "separate" thing, they are also "intertwined." Fans have been looking for the clues to connect "Roanoke" to previous seasons, and are speculating that the "pig" man that keeps resurfacing in the Roanoke farmhouse could be related to the "Piggy Man" from Season 1. The nurses that appeared in episode 2 are also believed to have ties to the nurses murdered in a flashback during Season 1. Although that has yet to be confirmed, Murphy did reveal to Entertainment Weekly that Season 6 has a big tie to Season 4, "Freak Show."
According to Murphy, fans will get to learn the Mott family origin story. For those that don't remember, Dandy Mott (Finn Wittrock) was one of the main characters in "Freak Show." He was a wealthy but twisted young man who demanded that his mother, Gloria (Frances Conroy), get him anything that he wanted. He ended up killing his mother — along with a handful of other people.
"We explain how the Motts began which is funny," Murphy teased.
Other connections from previous seasons of "American Horror Story" will be made clear as "Roanoke" progresses.
How do you think "Hotel" could tie to Season 6? Tweet your thoughts to @AmandaTVScoop and catch "American Horror Story" Season 6 when it airs on FX on Wednesdays at 10 p.m. EDT.
© Copyright IBTimes 2023. All rights reserved.