Where Is General Armageddon? Surovikin Reportedly Absent During Russian Military Chiefs' Meeting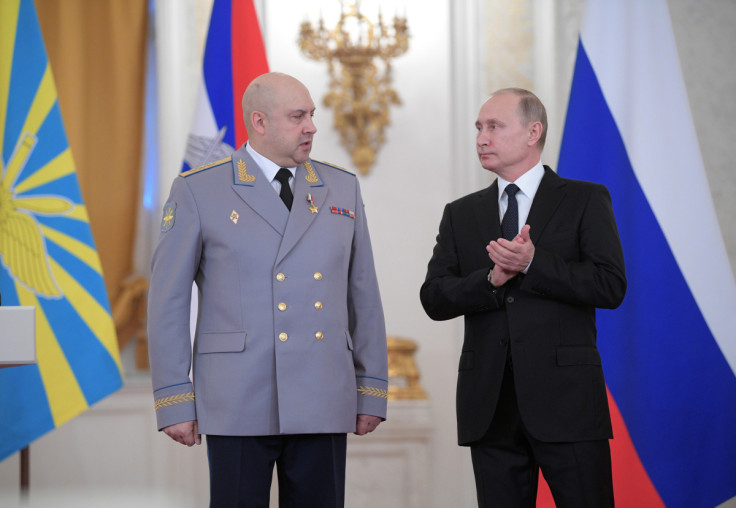 KEY POINTS
Russia's defense minister Shoigu slammed the Wagner uprising during the meeting Monday
Surovikin was last seen in a June 24 video message where he urged Prigozhin to halt the rebellion
Reports said the Russian general was arrested after the failed insurrection
The whereabouts of Gen. Sergei Surovikin, the commander of Russia's Aerospace Forces, is still unknown more than a week after the Wagner Group staged a "march of justice" to Moscow. He was reportedly absent at a Monday meeting between top Russian military chiefs.
Gen. Surovikin, known as "General Armageddon" for his brutal tactics in Syria, did not appear at a meeting of top army chiefs Monday, where Russian Defense Minister Sergei Shoigu criticized the Wagner mutiny, Bloomberg reported.
A person with knowledge of the matter said Surovikin was interrogated over several days last week due to his alleged links to Wagner chief Yevgeny Prigozhin, who is reportedly serving exile in Belarus.
Multiple outlets claimed last week that Surovikin was detained. The Moscow Times reported that the general was arrested on June 25 because "he chose the side of Prigozhin," citing an unnamed source.
Surovikin's daughter, Veronika, reportedly denied that her father was imprisoned. "Nothing happened to him, he is at the workplace," Veronika said, according to a Google translation.
At the military chiefs' meeting, broadcasted by Russian state TV on Monday, Shoigu told officers the Wagner uprising failed because Russian military forces remained "true to their oath," adding that Prigozhin's "provocation" didn't have any effect on Russia's operations in Ukraine.
Last week, the defense ministry said "preparations are underway for the transfer of heavy military equipment from the private military company Wagner to units of the Russian armed forces." It also revealed Wagner fighters were invited by President Vladimir Putin to join the country's military. Mercenaries who won't join the Russian army will be allowed to flee to Belarus.
CNN reported Friday that documents obtained by the Russian investigative Dossier Center showed Surovikin was a secret VIP member of Prigozhin's mercenary group and was assigned a personal VIP registration number back in 2018. The list also included at least 30 other senior Russian intelligence and military officials.
Analysts said the fact that Wagner mercenaries were met with little resistance during the June 24 uprising could have widespread impacts on Russia's military leadership.
While Prigozhin resurfaced Monday through an audio message on Telegram where he thanked Wagner supporters and vowed "next victories," Surovikin was last seen in a video message on the day of the Wagner insurrection. In the video, he urged Prigozhin to turn back.
Alexey Melnikov, secretary of Russia's Public Monitoring Committee, told reporters Thursday that Surovikin wasn't in detention, Russian state-owned news agency TASS reported.
"Representatives of a large number of Russian and foreign media have been calling me quite often in recent days. They ask: 'Is it true that Surovikin is in pre-trial detention?' I answer: he is not in Lefortovo or any other pre-trial detention center," Melnikov said.
Moscow's Lefortovo prison is infamous for being "a terrifying symbol of repression since Soviet times." It is also the facility where U.S. journalist Evan Gershkovich is being held over espionage charges.
Surovikin has been linked to Prigozhin since their operations in Syria. Following the Wagner revolt, there has been "intense" speculation that several military leaders have colluded with Prigozhin and that they may face retribution.
Ahead of the uprising, Prigozhin had been very critical of Shoigu and the chief of the General Staff, Gen. Valery Gerasimov. At one point, the Wagner boss even recommended that Surovikin should replace Gerasimov.
U.S. intelligence officials believe a Russian general had advanced knowledge of Prigozhin's uprising plans, the New York Times reported last week. They are reportedly trying to determine if Surovikin played an active role in Prigozhin's plan. The officials also believe Prigozhin wouldn't have found the courage to stage a rebellion unless he believed other powerful men in Russia would back him up.
© Copyright IBTimes 2023. All rights reserved.