Lukashenko 'Humiliating' Putin? Belarusian Leader Humbled Putin, Emerged As Winner After Wagner Uprising, Experts Say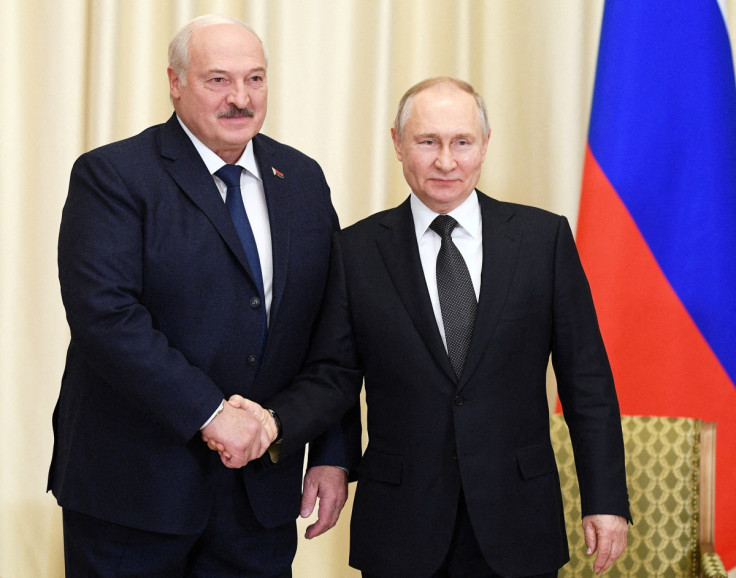 KEY POINTS
"The fact that Putin has not challenged Lukashenko's presentation of events is even more humiliating," experts say
Lukashenko boasted he "suggested Putin should not rush" to "eliminate those involved" in the uprising
Political analysts say Lukashenko has emerged as a "tactical winner"
As tensions over the short-lived mutiny led by Wagner Group chief Yevgeny Prigozhin fizzles out, experts shed light on how Belarusian President Alexander Lukashenko gained the most from the failed uprising and put Russian President Vladimir Putin in a "humiliating" position.
"Lukashenko described at length how he inserted himself into the Putin-Prigozhin conflict in a way that – if Lukashenko's account is true – demonstrates that Lukashenko is a politically savvy actor capable of exercising influence within the upper echelons of Russian politics," wrote six experts with think tank Institute for the Study of War (ISW) in a report Tuesday.
The experts noted how Lukashenko's account of brokering the deal, which according to the Belarusian strongman made Prigozhin order his mercenaries to halt their march to Moscow on June 24, indicates the Belarusian leader "successfully mediated a crisis within Putin's own inner circle that Putin could not." Whether or not his account is true, it is "humiliating" for the Russian chief, they said.
"The fact that Putin has not challenged Lukashenko's presentation of events and has in fact publicly thanked Lukashenko is even more humiliating," the ISW report added.
As Prigozhin starts his exile in Belarus, war experts believe Lukashenko may be looking "to closely control any Wagner Group forces that move into" his country. He has denied that Belarus is building field camps for Wagner mercenaries but said the nation's citizens are free to join the mercenary group.
The think tank believes the powerplay between Putin, Lukashenko and Prigozhin "is not yet over and will continue to have short-term and long-term consequences that may benefit Ukraine."
Lukashenko on Tuesday boasted that he "suggested Putin should not rush" to "eliminate those involved" in Prigozhin's uprising. He claimed he convinced Putin to not "wipe out" Prigozhin when tensions were at their peak over the Wagner chief's call for a rebellion against the Russian army.
Kremlin spokesperson Dmitry Peskov confirmed late Saturday that the Wagner chief has agreed to pull his forces back and move to Belarus following a deal brokered by Lukashenko. As part of it, Russian authorities will drop all criminal charges against Prigozhin. However, Russian media reported Monday that a criminal case against Prigozhin is still open and Kremlin's Federal Security Service (FSB) is investigating it.
While Lukashenko has confirmed Prigozhin's arrival in Belarus, the Wagner leader's exact whereabouts are unknown.
Other analysts and political experts have also commented on how Lukashenko emerged as the apparent winner in the Putin-Prigozhin saga.
"In all of this, Lukashenko looks like a tactical winner and Putin looks weakened, which is something extraordinary," former Belarusian diplomat Pavel Slunkin told France 24 on Wednesday.
Olga Karach, head of the Belarusian civil society initiative Our House, said it appears the tables have been turned. "Before, Lukashenko was in the role of the supplicant who couldn't restore order in his own country on his own ... Now it's Putin who could only restore order with outside help," Karach said.
She believes Lukashenko's latest feat would boost his authority, "especially in the Belarusian security apparatus" and it may also weaken the opposition.
Ryhor Astapenia, director of the Belarus Initiative at think tank Chatham House, told Time that Lukashenko "used this window of opportunity to restore a lot of his agency that he lost after 2020," referring to the widespread protests that erupted in the nation after he was declared the winner following the disputed 2020 presidential election.
On the other hand, Franak Viacorka, chief adviser to exiled Belarusian opposition leader Sviatlana Tsikhanouskaya, told Reuters that Lukashenko's role in mediating the crisis shouldn't be overstated as he "was not saving Putin. He was saving himself" after realizing he "would be the first to crumble" if Prigozhin succeeded in his mutiny.
Viacorka further argued that for now, the Belarusian leader built "a story of himself as a savior of the world." This narrative will work for him and his audiences, but as time passes by and Prigozhin's coup goes down in history as the greatest challenge in Putin's regime, Lukashenko wouldn't "know what to do with Prigozhin's thugs," he added.
© Copyright IBTimes 2023. All rights reserved.