Where To Watch Nicki Minaj And Beyoncé's Tidal Exclusive 'Feeling Myself' Music Video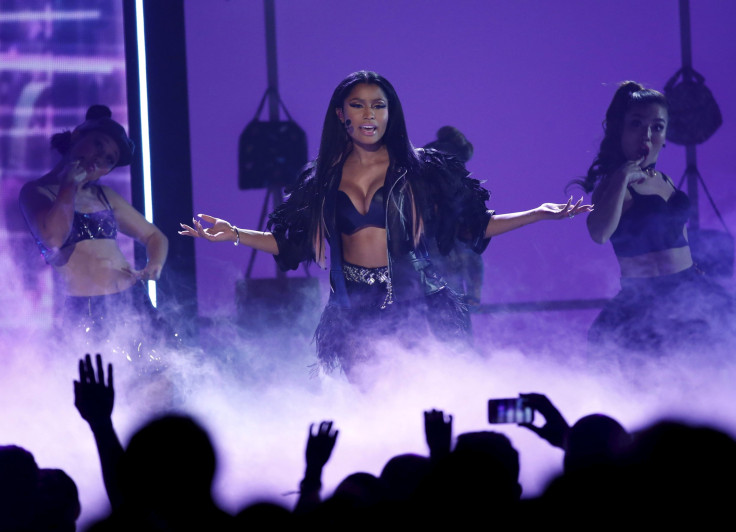 Jay-Z is trying to position his high-fidelity streaming service Tidal as a platform where he and his artist comrades can deliver exclusive music at a premium price. The Internet has other plans. A new music video, which debuted as a Tidal exclusive, has now leaked to the masses and can be viewed for free.
A teaser clip for Nicki Minaj and Beyoncé's "Feeling Myself" was loaded to YouTube Monday. "Watch the full video now exclusively on TIDAL.com," the caption reads. When users access Tidal.com, they will also see the video on the home page.
However, the video, in its entirety, has made its way off of Tidal and onto anonymous sharing websites and various social media outlets.
The "Feeling Myself" music video was anonymously loaded on to Vid.me about 15 hours ago and has been viewed almost 180,000 times, with nearly 5,000 people watching the Coachella-themed spot as of midday Tuesday. It's the number one featured video on the Vid.me homepage.
"Feeling Myself" has also made its way to Tumblr.com, with the post from a single Tumblr user having been shared over 7,000 times.
Users have even attempted to upload the video on to YouTube. However, YouTube has stringent copyright rules. Some Youtube users have found a loophole to load "Feeling Myself." Uploading the video as unlisted helps it go undetected.
While Beyoncé and Nicki Minaj fans are excited to see the video, there has been continued resistance against Tidal, with many thanking those who have uploaded the video and insisting they would not spend money on Jay-Z's endeavor.
Tidal promises High fidelity, or Hi-Fi, quality music streaming, as well as supposedly exclusive content, and charges users between $9.99 and $19.99 monthly. The biggest complaint against Tidal since it launched in March is that there is no free option, similar to rival music streaming services, such as Spotify, Pandora and iTunes. Thus far, Tidal has not drawn legions of fans and fell out of the top 700 apps downloaded in the U.S. in April.
Jay-Z has been extremely vocal about the criticism against the service. He took to Twitter in April, insisting that Tidal has advantages for both users and artists. It allows performers to receive considerably more royalties for their content than rivals like Spotify or YouTube. "The iTunes Store wasn't built in a day. It took Spotify 9 years to be successful. ... We are here for the long haul,"Jay-Z wrote in a Tweet. "Please give us a chance to grow & get better."
The Brooklyn-born rapper hosted an exclusive show for Tidal subscribers (one of the perks of membership) last Saturday at Terminal 5 in New York City, where he took shots at several large tech companies including Apple, YouTube and Spotify.
"Spotify is nine million, they ain't say sh-t / Lucy you got some esplainin' to do / The only one they hatin' on looks the same as you / That's cool, I know they tryin' to bamboozle you / Spendin' millions on me to try to confuse you," he rhymed.
© Copyright IBTimes 2023. All rights reserved.