Whitney Houston and Robyn Crawford: Was Gal-Pal Breakup Cause of Her Despair?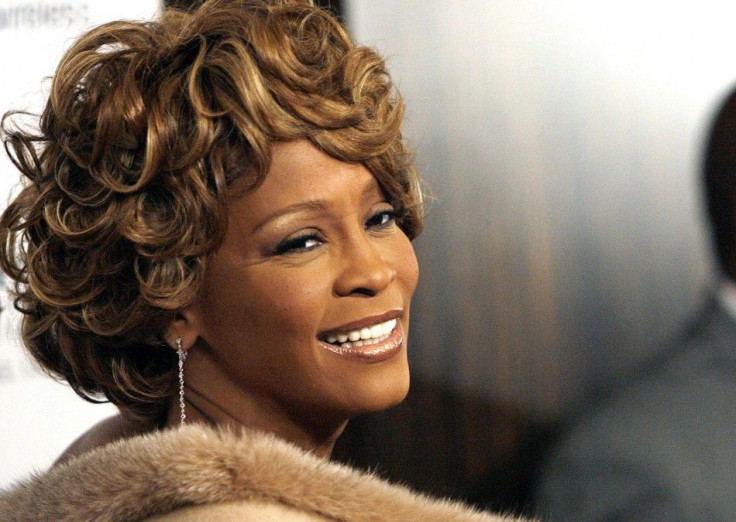 Whitney Houston's life and turmoil have been in the headlines since the superstar singer died suddenly on Feb. 11 at the Beverly Hilton Hotel. Many looked back on her years of drugs use and blamed ex-husband Bobby Brown for her notorious downward spiral. However, rumors are now surfacing that Houston's break-up with lesbian partner Robyn Crawford caused her emotional descent.
Gay rights activist Peter Tatchell wrote an article for The Daily Mail in which he described meeting Whitney Houston and Robyn Crawford, whom he refers to as the singer's female partner, at the Reach Out & Touch HIV vigil in London in 1991. Houston attended the event to advocate the welfare and human rights of those living with HIV.
When I met them, it was obvious they were madly in love. Their intimacy and affection was so sweet and romantic, wrote Tatchell. They held hands in the back of the car like teenage sweethearts. Clearly more than just friends, they were a gorgeous couple and so happy together. To see their love was infectious and uplifting.
According to The Daily Beast, Whitney Houston met Robyn Crawford when she was 16-years-old at a summer job in East Orange, N.J. The two soon became inseparable. Crawford dropped out of Monmouth College to work for Houston. In a 1987 interview with Time magazine, the singer, then 23, said that Crawford was the sister [she] never had.
Both Houston and Crawford denied being romantically involved. My mother taught me that when you stand in the truth and someone tells a lie about you, don't fight it. I'm not with any man. I'm not in love. People see Robyn with me, and they draw their own conclusions. Anyway, whose business is it if you're gay or like dogs? What others do shouldn't matter. Let people talk. It doesn't bother me because I know I'm not gay. I don't care, said Houston.
Crawford told Time, I tell my family, 'You can hear anything on the streets, but if you don't hear it from me, it's not true.'
However, activist Peter Tatchell reports it differently.
Whitney was happiest and at the peak of her career when she was with Robyn. Sadly, she suffered family and church pressure to end her greatest love of all. According to Tatchell, Houston was afraid of the backlash she would face from her family--who raised Houston in the church--and fans if she made her relationship with Crawford public.
Whitney Houston then married Bobby Brown in 1992, just one year after the HIV vigil. Whitney's life started going downhill soon afterwards. Previously wholesome and clean-living, she went on drink-and-drug binges--evidence of a troubled personal life and much unhappiness, wrote Tatchell.
Brown mentioned the relationship between Houston and Crawford in his 2008 autobiography Bobby Brown: The Truth, the Whole Truth and Nothing But..., Brown said: I believe her agenda was to clean up her image . . . The media was accusing her of having a bisexual relationship with her assistant, Robin [sic] Crawford . . . that didn't go too well with her image. In Whitney's situation, the only solution was to get married . . . [to] kill all speculation.
It seems likely that the split with Robyn contributed to her substance abuse and decline. Tatchell noted the correlation between denial of one's sexuality and a propensity to self-destructive behavior.
He said that he has faced criticism from Whitney Houston fans who, after her death, said that he was insulting and smearing her name. Tatchell wrote that this was never his intention, There is nothing shameful about a woman loving a woman. It's not dirty or sordid and shouldn't be kept hidden.
Telling the truth does not besmirch Whitney's memory. It honours the most important relationship she ever had, he wrote. What's wrong is ignoring or denying the one love that made her truly happy.
I want to see a more tolerant society where people don't feel the need to marry to deflect rumours of homosexuality, and where they are not driven to self-destruction because of their inability to accept and express their love for a person of the same sex.
After Whitney Houston's death, Robyn Crawford wrote an open letter in Esquire, described as a look back at the star from one of her closest friends.
She was nothing like the Whitney Houston she became but at the same time she was already there. She knew, and so did everyone around her. She was doing shows in Manhattan with her mother, and she'd change her clothes in the car and get on stage and do her thing. She hadn't signed her contract yet. But she was modeling for Wilhelmina because she was discovered on the street, wrote Crawford.
She was walking in front of Carnegie Hall and someone walked up to her and said, 'There's a modeling agency upstairs that's looking for someone just like you.' She walked upstairs and they signed her. That's what it was like, that's what she gave off. She looked like an angel. When my mother first met her, she laughed and said, 'You look like an angel, but I know you're not.' And she wasn't. But she looked like one.
Must Read: Whitney Houston Remembered by 90-Year Old Dancing Grandma Video Goes Viral
© Copyright IBTimes 2023. All rights reserved.