Who Is Ann-Kathrin Brommel? Mario Gotze's Girlfriend Is German Lingerie Model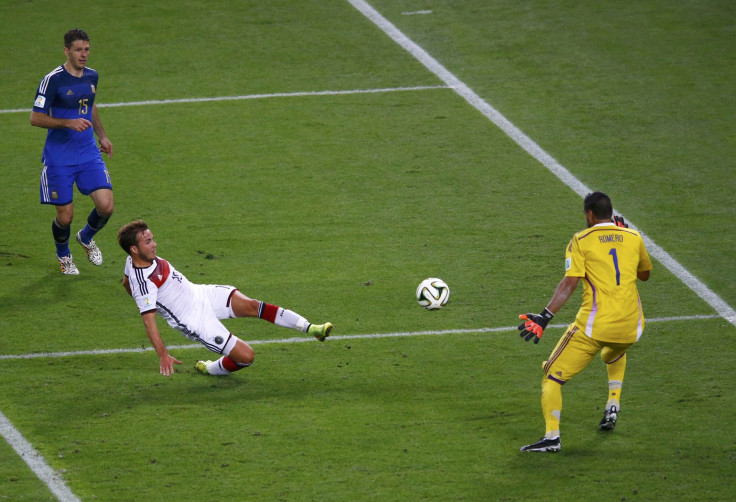 Rihanna may have been in Brazil for the World Cup this weekend, but all eyes were on lingerie model Ann-Kathrin Brommel as the final game ended. The 23-year-old girlfriend of German footballer Mario Gotze, who became an international hero after helping his team win their fourth World Cup, sparked almost as much interest as Gotze did after she congratulated him on the sideline.
Gotze came into the game on Sunday against Argentina as a substitute and scored in the 113th minute of the 2014 FIFA World Cup final to give Germany the 1-0 win.
"It's unbelievable. I scored, but I didn't really know what was happening," the Bayern Munich forward later said. "A dream has become a reality, and we are going to have a great party. It is absolutely sensational. It wasn't a simple tournament for me. I owe a lot to my friends and family."
At the end of the match, Brommel ran over to Gotze and grabbed his neck before giving him a victory kiss. Brommel is a German underwear model, and it is speculated that she and Gotze began dating in 2012.
Brommel began her modeling career at the age of 16 in the northwest of Germany, and she is also a singer, using the stage name Trina B. She has recorded two songs, which have garnered her success. She released "This is Me," in 2010, and "Body Language," in 2011.
Last month, the beauty posed for German GQ for a number of sultry shots. In September, Brommel spoke about her famous beau, how she is simply enjoying their relationship for the time being. "Someone whose purpose in life it is to be the wife of someone, I cannot understand," she admitted. "Although I am also the girlfriend of Mario Gotze, but I have my own personal goals I want to achieve. Otherwise I could not be more happy."
© Copyright IBTimes 2023. All rights reserved.