Who Is Bill Bledsoe And How He Could Help Defeat Lindsey Graham?
Bill Bledsoe, a third-party candidate in the contentious contest for the Senate in South Carolina, is crying foul over a ploy from Democrats to use him against incumbent Lindsey Graham.
Sen. Graham, a Republican, is fending off a challenge from Democrat Jaime Harrison, a former congressional aid. The race looks competitive, with Harrison running a well-funded campaign against Graham whose conservative bent makes him a favorite in the state.
As the race moves closer to the finish line, Harrison is looking to make a run on Graham's chances by pulling in Bledsoe from the right-wing Constitution Party to improve his chances.
In ads and mailers to Republican voters, Harrison described Bledsoe as "too pro-Trump," riding on the narrative that Graham's steadfast loyalty to the president is a political handicap. Bledsoe dropped out of the race earlier this month and endorsed the incumbent senator.
Politics can be dirty, particularly during an election cycle, though Bledsoe is crying foul over Harrison's tactics.
"Their goal is to divide conservatives so Jaime Harrison can win, and I will not stand for it," he was quoted by South Carolina newspaper Post and Courier as saying. Politico has Bledsoe saying the tactics are "dirty tricks" launched by "radical liberals."
Harrison was a guest on comedian Stephen Colbert's "The Late Show" on Wednesday and challenged Graham's authenticity. Graham is on record saying a vote for a vacant Supreme Court seat should not be held during an election year, though he voted in favor of Amy Coney Barrett filling Ruth Bader Ginsburg's seat earlier this week.
"The gravest tragedy you can do as a public servant is to lie to the people that you represent," Harrison said.
Bledsoe pulled out of the race too late to get his name off the ballot. Harrison's team suggested that makes him a fair target.
"Jaime has two opponents on the ballot, and we are making sure voters know the facts about each, and about Jaime, before they vote," Guy King, a spokesperson for Harrison's campaign, told Politico.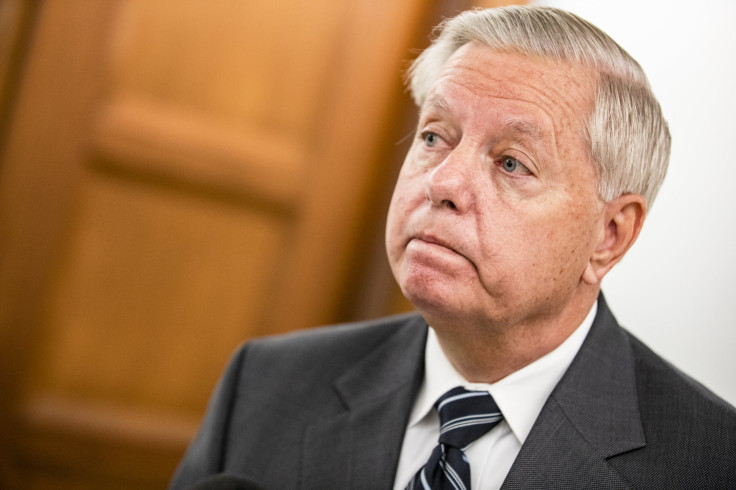 © Copyright IBTimes 2022. All rights reserved.
FOLLOW MORE IBT NEWS ON THE BELOW CHANNELS