Who Did Nate Silver Predict Would Win The Election? Why Voters Say He Failed
It seems Nate Silver, the curator of the popular polling site 538, may have missed again in his presidential election prediction, and his image was tarnished in social media threads.
Running simulations for some 40,000 different scenarios, 538 gave former U.S. Vice President Joe Biden an 89% chance of winning the election. His model was right on giving Arizona to Biden, but wrong on Florida, where he showed Biden with a 50.9% advantage.
Silver in the 2016 contest gave former U.S. Secretary of State Hillary Clinton a 71.4% chance of beating Donald Trump with an estimated 302 votes in the Electoral College. Trump lost the popular vote by 2.8 million, but secured 306 votes in the Electoral College to win the presidency in an upset.
One commentator on Twitter said Silver's 2020 prediction amounted to "total and complete humiliation."
"We ran 40,000 simulations of the election forecast and Nate Silver was wrong in 90% of them," read another tweet.
As of 5:34 a.m. ET, Silver was still defending his model, saying he saw Biden's path to victory moving through Michigan.
"At this point, here's what you get if you move Michigan from 'tossup' to 'lean Biden,' keeping other states the same," he stated, referring to a map with Michigan shown in light blue. "Biden winds up with an 88 percent to win, eventually."
Michigan was too close to call, though Trump's narrow advantage was diminishing early Wednesday as more votes were tallied.
Silver was not the only pollster to suggest Biden had an easy path to victory. With no toss up states, an aggregate from Real Clear Politics suggested Biden would win at least 300 votes in the Electoral College. That map shows Florida in Biden's column, though it went to President Trump.
Trump falsely declared victory, though no election official or media outlet followed suit. As of Wednesday morning, Biden has 238 votes in the Electoral College to Trump's 213, with 87 votes outstanding, according to NPR. The winner needs 270 votes.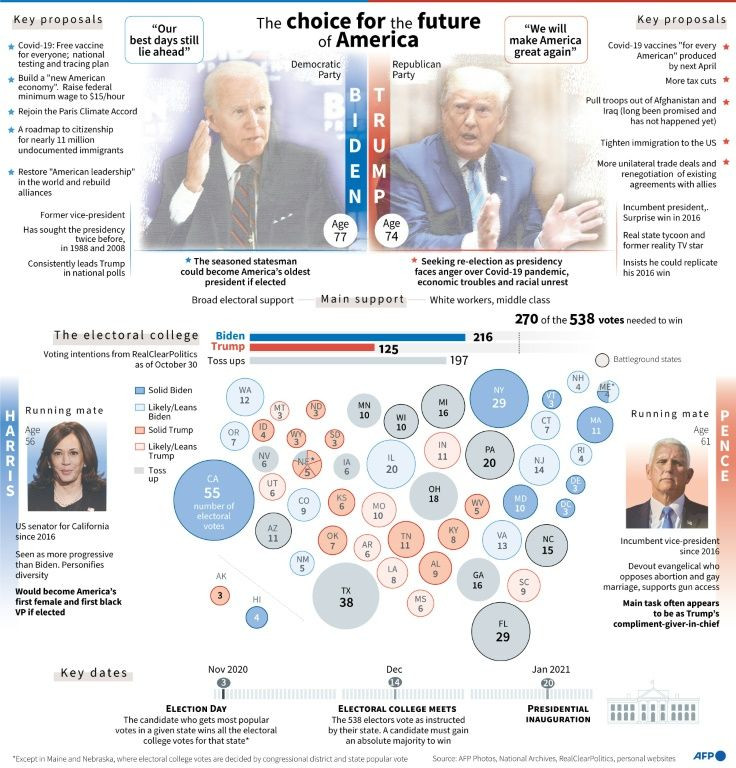 © Copyright IBTimes 2023. All rights reserved.