Who Is Esteban Santiago? Fort Lauderdale Airport Shooter Identified After Killing 5 People, Florida Senator Says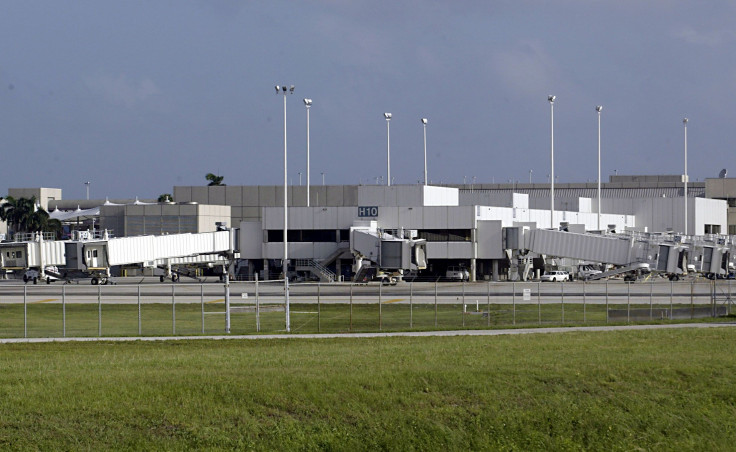 UPDATE: 5:01 p.m. EDT -- Esteban Santiago, the alleged perpetrator of the mass shooting at Fort Lauderdale-Hollywood International Airport Friday, reportedly told the FBI's office in Anchorage, Alaska in November of last year that he was being forced to fight for the Islamic State terror group, CBS News reported.
Sources also told CBS that the suspect, either in 2011 or 2012, had been investigated for child pornography but there was not enough evident to prosecute him.
Santiago's aunt, Maria Ruiz, spoke to Telemundo about her nephew and said he lives in Naples, Florida, which is about 110 miles west from Fort Lauderdale, completely across the peninsula.
"Why did he do it? He didn't think," a translation of Ruiz's interview said. "That hurt me as if he were my own child. He needs to be calm and trust God."
Ruiz also said that Santiago had served in Iraq, which has not been confirmed, and six months after returning his father passed away.
UPDATE: 4:37 p.m. EDT -- A picture believed to be of Esteban Santiago, the alleged shooter who killed five people at Fort Lauderdale-Hollywood International Airport Friday afternoon, has started to circulate and a new report claims he posted to a forum used to download terrorist videos in 2007.
Many images flashed across social media as more information of the shooting, which also saw eight people injured and taken the hospital, but many of the images have been panned as not showing Santiago.
The site posted that it is "99%" sure that two other pictures supposedly of Santiago are not of him, and the one shown above is a 26-year-old from Alaska.
Earlier reports said Santiago was from the New York area, however, ABC News is reporting Santiago was not only a member of the National Guard but was also based in Alaska before leaving in August. He was reportedly honorably discharged.
UPDATE: 4:08 p.m. EDT -- Esteban Santiago, the alleged shooter who killed five people and injured eight others at Fort Lauderdale-Hollywood International Airport Friday afternoon, was reportedly a former member of the U.S. military, ABC News reported.
ABC was also able to confirm Santiago's travel over the last 24 hours. According to senior officials, Santiago first flew from Anchorage, Alaska, to Minneapolis, Minnesota, before finally landing in Florida early Friday afternoon.
UPDATE: 3:55 p.m. EDT -- Little information was known about Esteban Santiago, the suspect who was taken into custody for a mass shooting at Fort Lauderdale-Hollywood International Airport, immediately after he reportedly opened fire Friday and killed five people. Santiago had a military ID on him during the shooting and was suspected of being a former U.S. Army soldier from the greater New York state region, according to media reports.
Photos claiming to be of Santiago were widely shared on social media, but there was not a confirmed image of him.
UPDATE: 3:40 p.m. EDT -- Police have taken Esteban Santiago into custody for allegedly shooting and killing five people and hurting eight others Friday at Fort Lauderdale-Hollywood International Airport.
Senior U.S. Senator Bill Nelson (D-Fla.) first said a military identification was found on Santiago, and his military affiliation was confirmed by The Evening Standard. Santiago is, or at least in the past, was a member of the U.S. Army.
Broward County Commissioner Chip LaMarca also provided further details on Santiago and what he was doing at the airport, The Florida Sun Sentinel reported. Santiago was passenger on an Air Canada flight and had checked a gun with his luggage. He then claimed his bag, entered a bathroom to load his gun and started shooting in the baggage claim area.
Original Story:
The gunman who shot and killed five people at Fort Lauderdale-Hollywood International Airport Friday afternoon has reportedly been identified as Esteban Santiago. The revelation came from senior Florida Sen. Bill Nelson, who said Santiago's motive was not immediately known.
The shooter was reportedly alive and taken into custody by local police.
Nelson also told CNN that the alleged shooter also had a military identification. However, officials did not offer immediate confirmation of that claim. Nelson also said that when people bunch up at airports it makes for a "soft target."
Santiago is a 26-year-old from New Jersey, a law enforcement source told Fox News. Nelson said Santiago's name was found on his military ID.
Eight other people were transported to a hospital, the Broward County Sheriff's Office said according to CNN. The total number injured was also not immediately known.
The shooting took place early Friday afternoon at around 1 p.m. EST at the airport's Terminal 2 baggage claim, in the 21st busiest airport in the country.
The alleged shooter reportedly ran out of ammo and then laid on the ground "spread eagle," supposedly waiting for law enforcement to arrive, witnesses told CBS affiliate WPEC.
The shooting was first reported by former White House Press Secretary Ari Fleischer via Twitter.
The Federal Aviation Administration announced that as of 2:15 p.m. that all flights within 50 miles and bound for FLL would be allowed to land, but all other aircraft are either being delayed or diverted to other airports. All other flights scheduled to leave FLL have been grounded for now.
FOR FREE to continue reading
✔️ Unlock the full content of International Business Times UK for free
offer available for a limited time only
✔️ Easily manage your Newsletters subscriptions and save your favourite articles
✔️ No payment method required
Already have an account?
Log in
© Copyright IBTimes 2023. All rights reserved.