Who Is Felicity Smoak? 'Arrow' Star Emily Bett Rickards Spoils Character's Origins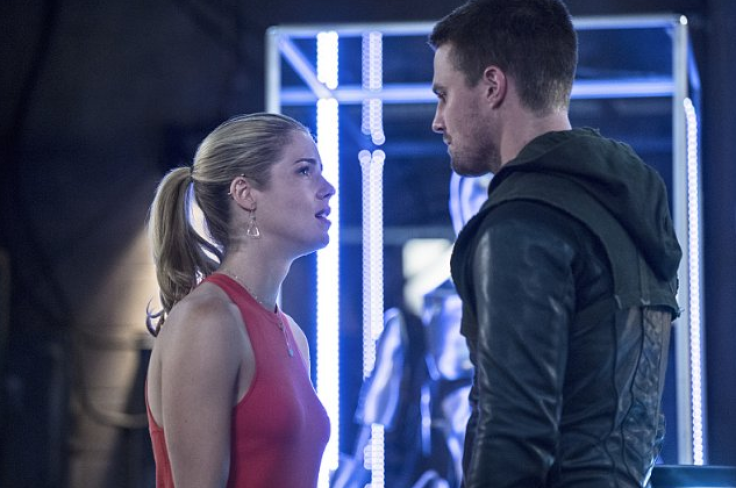 "Arrow" character Felicity Smoak will get her own original story in the upcoming episode, Entertainment Weekly reported Tuesday. Viewers will get a glimpse of Felicity (played by Emily Bett Rickards) when she was a hacker at MIT and a look into her home life with her mother Donna, Rickards told EW.
Rickards said she was "so excited" when she found out Felicity was going to get her own origin story. "The two things I really, really wanted to see in the season -- for my own selfish reasons of loving Felicity so much -- were seeing her parents and her apartment, and they delivered," she said.
Felicity's mother, Donna, "unessentially" winds up in Starling City because she misses her daughter, which isn't the best thing, according to Rickards. "Felicity saves the city for a living, so that's a very hard job for a living," she said. Even though the women love each other, it's a "flaky" relationship.
Rickards explained the differences between the two women. "I would say 99.997% different, but their emotional intellect and nurturing ability, their willingness to accept everyone and non-judgmental personality [are the same]," she said."
As far as Team Arrow is concerned, even though she meets the team, she doesn't know their secret. Instead, she serves as a "distraction."
Viewers will not find out who Felicity's father is in the next episode, but fans will learn what it was like for Felicity and Donna after he left.
Along with showing a flashback of Felicity at MIT, where she "hadn't found who she was yet," Rickards gives hints about her relationship with another hacker. Because of a mistake they made in the end, "It ends pretty sad and brokenhearted," she said.
"Arrow" airs Wednesdays at p.m. EDT on The CW.
Follow me on Twitter @mariamzzarella
© Copyright IBTimes 2023. All rights reserved.