Who Is Martha Payne? 5 Things To Know About 9-Year-Old Blogger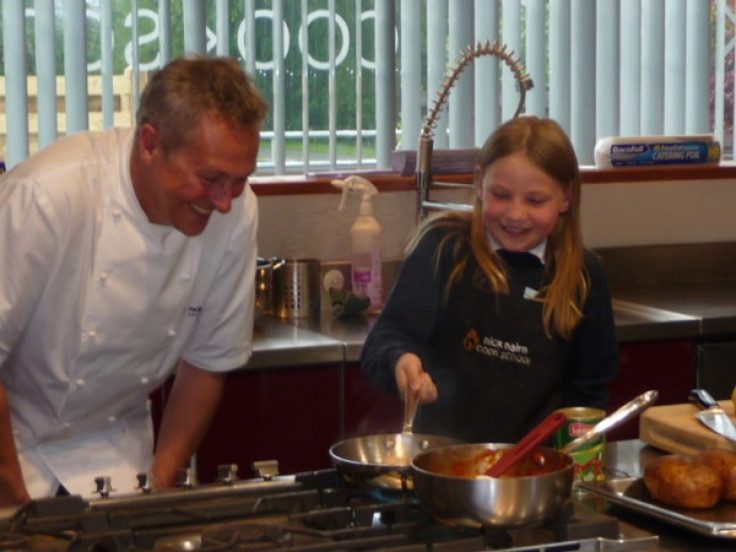 An international incident was ignited this week when school officials tried to stop 9-year-old Martha Payne from blogging about how disgusting the lunches served at her Scottish school were.
On Friday, the Argyll and Bute Council overturned a ban on cameras in her school's dining hall, just hours after the council's members had lambasted the girl for her blog posts.
The story has gotten worldwide attention, as it gets to the heart of issues about food security, nutrition, censorship and fairness, but not much is known about Martha Payne, the newest in a recent emergence of young food celebrities.
Here's 5 things you should know about Payne, the Scottish sensation who is working to improve the lunches at schools across Great Britain:
1. She's quite the branding expert: Martha Payne may just be 9 years old, but in just three months and 28 posts she has created a worldwide Internet sensation. Her blog, entitled NeverSeconds: One primary school pupil's daily does of school dinners, got 2 million hits on Thursday, according to Payne, who has also already raised more than £33,500 ($52,475) for charity. Overall, the blog has a total of more than 3,370,000 pageviews. She's been written up in hundreds of newspapers and other media outlets from The [U.K.] Telegraph to The Huffington Post. And the press and good wishes keep coming. The Telegraph even compared her to celebrity chef Jamie Oliver. Not bad for a primary schooler.
2. She's doing good works: Last year, Martha Payne and her friends made felt soaps and candle holders and sold them at her school, raising £70 for charity. But once Payne realized the reach she had through her ultra-popular blog, she decided to go bigger and set up a charity website through justgiving.com aimed at raising money for Mary's Meals. My blog is being read all over the world and some people have said I am very lucky to have lunch at all. They are right. Lots of readers have asked how they can support Charity Children but because I can't make enough felt soaps it is best if you support Mary's Meals directly, she writes on her justgiving.com site. The charity is an international organization that sets up school feeding projects in communities where poverty and hunger prevent children from gaining an education, according to an online description of the charity.
3. You can get involved with her movement: Though she is upset about the nutritional content of the food being served to her and her classmates, Martha Payne has the awareness to realize that she is in a position to help kids who are unable to get any kind of sustenance at their schools in impoverished communities throughout the world. As of Friday morning she had raised 2,534 donations totaling £33,564.37 for the charity -- far surpassing her goal of raising £7,000 -- and since it costs just £10.70 for Mary's Meals to feed a child for a year, that means she has already brought in enough money to feed 3,136 students. Click here to donate to Mary's Meals via Payne's effort.
4. Her family instilled in her an interest in nutrition and health: Martha Payne's parents have been a big part of her burgeoning interest in improving the foods she and her classmates consume. Wired magazine reports that her mother is a doctor, while her father runs a small farm, both of which have influenced her lifestyle and her focus on health. Beyond her culinary criticism, she's a member of an athletics club (where she unfortunately broke her arm doing a race with her team on Tuesday), and she is very aware of her eating habits, as evidenced by her dedication to the blog aimed at increasing the nutritional levels of school lunches.
5. She's become an anti-censorship icon: Though it was most likely an unintentional result of her crusade for better school lunches, Martha Payne has become a young icon for anti-censorship. She was taken to an administrator's office earlier this week and told she would no longer be able to take photographs of her food, as cameras were banned from the cafeteria. But because of her massive popularity, the outcry against that step was fierce, and the Argyll and Bute Council backed off, overturning the ban on cameras, thereby allowing her to continue her coverage. She has not yet responded on her blog to this most recent positive news, but it has been seen as a big win for anti-censorship folks.
© Copyright IBTimes 2023. All rights reserved.