Who Is Melania Trump? 10 Fast Facts About The New First Lady As Donald Trump Is Inaugurated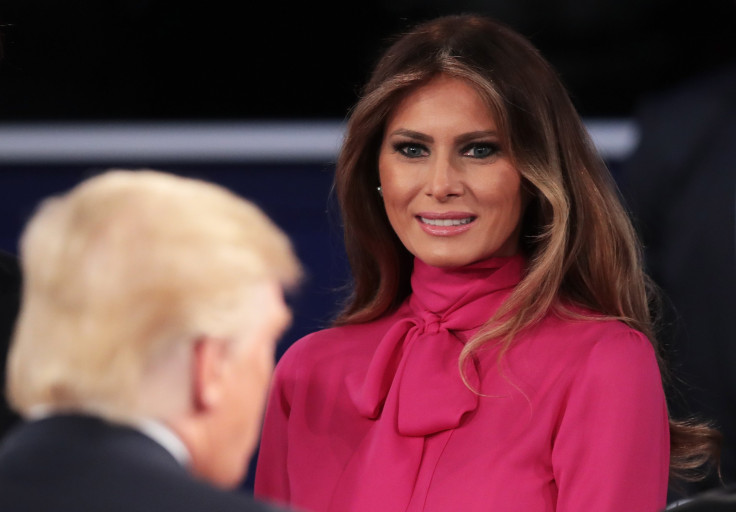 Melania Trump, the third wife of president-elect Donald Trump, stayed relatively out of the spotlight during her husband's presidential campaign. But now that she is on the verge of becoming the 45th first lady of the United States, it's likely the American people will be seeing much more of her. Here are 10 fast facts about the future first lady.
PICTURES: Melania Trump'S Best Looks, Clothes, Outfits, Styles And Fashions
Her role as first lady has not yet been defined. First ladies typically take up a cause. Michelle Obama focused on nutrition for children and education for young girls. Trump hasn't yet decided what she'll do as first lady. She did mention the possibility of focusing on cyberbullying in a speech prior to the election.
She won't move into the White House right away. In a break from tradition, Trump plans to not accompany her husband into the White House right away. Instead, she'll remain in New York City, so her and the president-elect's son, Barron, can continue his schooling.
She served as an American Red Cross Ambassador. From 2005 to 2009, Trump was an ambassador to the organization. She has also been involved in a multitude of other charities, including Love Our Children USA and the Boys Club of New York.
She'll be the first first lady born in a communist nation. Trump was born near Sevnica, Slovenia, which was part of communist Yugoslavia at the time. She'll also be the first presidential spouse to be born outside the United States since John Quincy Adams' wife, Louisa Adams, in 1825.
She speaks five languages. She can speak French, Serbian and German, as well as English and Slovenian.

Donald and Melania Trump greet reporters in the spin room following a debate at the Fox Theater in Detroit, Mar. 3, 2016.

Getty

She's not a fan of the president-elect's Twitter habits. In an April interview with NBC, Trump was asked what habit of her husband's she'd get rid of given a choice, she had her answer at the ready. "The tweeting," she said.
Her favorability rating is low. In an August poll on presidential spouses conducted by the Washington Post, Trump had the lowest favorability among voters since Hillary Clinton was first lady. Clinton's, however, was still much lower.
She gives the president-elect advice on politics. "I don't agree with everything that he says, but you know, that is normal," she told CNN in an October interview. "I'm my own person. I tell him what I think."
She has her own jewelry and makeup lines. Trump has a line of antiaging cosmetics called the Melania Skin Care Collection, a line of skin products infused with caviar. She also has a luxury jewelry line sold on QVC.
She's handled critics with poise. "I'm very strong. Don't feel sorry for me. I can handle everything," she told CNN's Anderson Cooper in October. In an interview with Refinery29 in 2012, she shared similar sentiments: "People can say whatever they want, but first, you need to happy with yourself. People say all sorts of stuff, and they will talk, but you just need to live your life."
© Copyright IBTimes 2023. All rights reserved.