Who Is Responsible For The Rise Of ISIS? Hillary Clinton Blamed For Islamic State Group During GOP Debate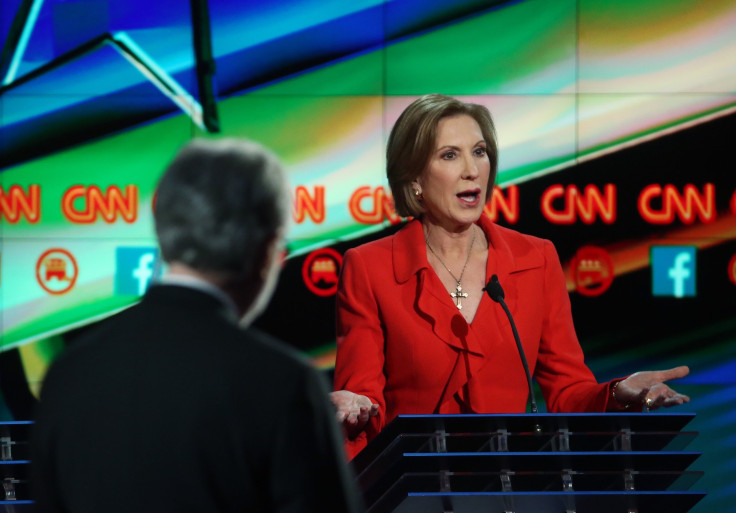 In discussing the root causes of the rise of the Islamic State group -- also known as ISIS or ISIL -- Republican candidates during CNN's debate Tuesday night blamed Democratic candidate Hillary Clinton. Businesswoman Carly Fiorina, the only other woman seeking the presidency, did not parse her words when slamming the Democratic hopeful's foreign policy track record.
"Hillary Clinton and Barack Obama are responsible for the growth of ISIS," Fiorina said. The GOP candidate and former Hewlett-Packard CEO criticized Clinton's policies not only in the Middle East but worldwide, saying, "Hillary Clinton has gotten every foreign policy challenge wrong."
Clinton will likely be asked to defend her record Saturday during a Democratic presidential debate. She has often praised President Barack Obama while also sharing her own policy views.
Fiorina has struggled to differentiate herself in a crowded Republican race and has tried to do so in the past by attacking Clinton. In some previous GOP debates, Fiorina performed well, according to journalists and polling data, winning voters over with her direct approach to talking about her stance on issues from abortion to taxation. But her history at HP has come under fire during recent debates, with candidates and moderators alike questioning her business savvy and ability to lead the U.S. economy in a responsible way.
The Republican hopeful has largely been overshadowed by GOP front-runners Donald Trump, Dr. Ben Carson, and Texas Sen. Ted Cruz in recent weeks. In a recent media-grabbing move, Fiorina ate dog food on camera, in an apparent attempt to seem more down-to-earth.
Journalists have criticized Fiorina in recent debates for citing statistics and anecdotes that were factually untrue. In a September debate, for instance, Fiorina referenced a video that she said was of a Planned Parenthood abortion.
"Anyone who has watched this videotape, I dare Hillary Clinton, Barack Obama to watch these tapes," Fiorina said in a September debate. "Watch a fully formed fetus on the table, its heart beating, its legs kicking, while someone says 'We have to keep it alive to harvest its brain.' This is about the character of our nation." Fact-checkers found that the scene Fiorina described did not exist in any of the Planned Parenthood videos, the Annenberg Public Policy Center reported.
Recent polling data from Real Clear Politics, which takes the average of the most recent polling data, put Fiorina's support at 2.3 percent, putting her in eighth place among GOP candidates ahead of next year's primary elections.
© Copyright IBTimes 2023. All rights reserved.