Who Won The CNN, Flint Democratic Debate? Bernie Sanders Ramps Up Attacks On Hillary Clinton In Michigan Event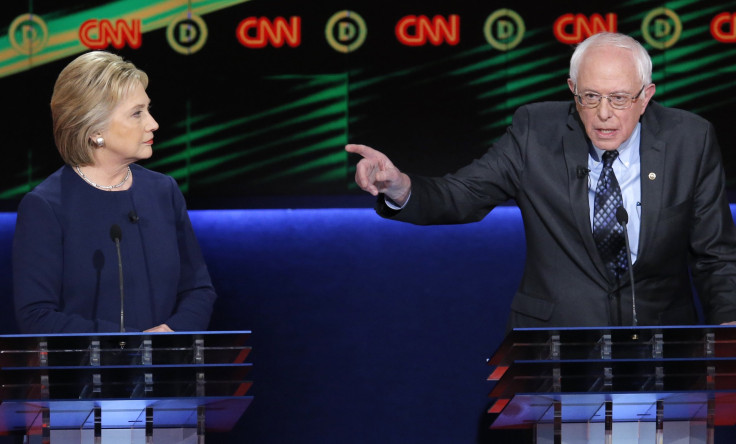 In a debate that featured heated exchanges and barbs, including one in which Vermont Sen. Bernie Sanders snapped to be allowed time to talk, former Secretary of State Hillary Clinton and her rival White House hopeful faced off in a seventh Democratic debate Sunday in Flint, Michigan. A quick look at Twitter and viewer polls seemed to show that many users thought Sanders won the debate, but both candidates experienced triumphs and stumbles along the way.
Since perhaps no clear winner emerged, a perceived tie would likely benefit Clinton, who already leads by a large margin in the delegate count and is ahead in the polls. Sanders likely would need to change the political conversation and steer away from his campaign's typical talking points to make headway.
Clinton and Sanders took to the stage Sunday night at Whiting Auditorium knowing that next Tuesday a significant number of delegates were up for grabs in the Michigan and Mississippi presidential primaries. Numbers from Twitter indicated that Sanders had dominated the conversation on social media, drawing more conversation than his competitor by a margin of 55 percent to 45 percent. Chris Cillizza at the Washington Post, however, felt Clinton won, saying Sanders had a few hiccups that may have cost him while the former secretary of state did not lose any ground.
The CNN debate, hosted by Anderson Cooper, was expected to center around the Flint water crisis. A coalition of environmental and racial justice groups called on the Democratic National Committee to make environmental racism the focus of the debate, along the way collecting more than 80,000 petition signatures.
The beginning of the debate was indeed largely focused on the crisis, with each candidate discussing how they would work to fix the issues that have left Flint with lead-contaminated water. Sanders said that after meeting with residents, "what I saw literally shattered me." Clinton, meanwhile, said money had to be sent to the city. "I know the state of Michigan has a rainy day fund for emergencies. What is more important than the health and well-being of the people, particularly children?" she said. "It is raining lead in Flint, and the state is derelict in not coming forward with the money that is required."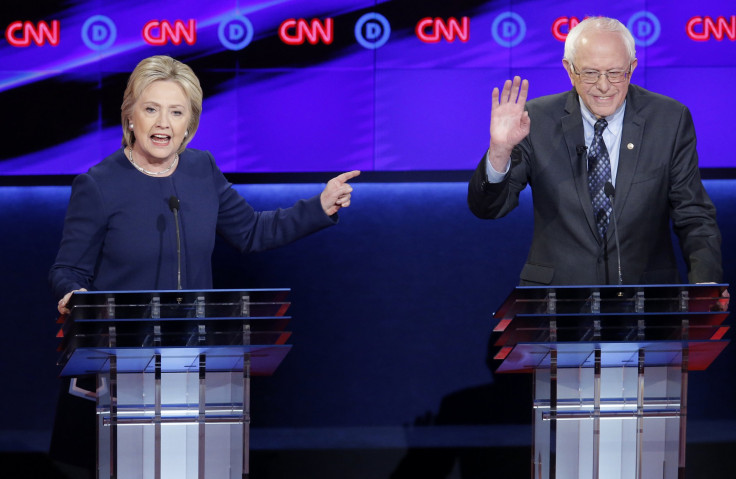 Sanders and Clinton put the blame on local leaders for bungling the crisis and causing harm to the citizens of Flint. The Vermont senator said he would fire anyone responsible, while Clinton added that the country needs to improve infrastructure nationwide. Both candidates suggested they would be open to firing the head of the Environmental Protection Agency should that person be found responsible for allowing the crisis to happen.
One of the most contentious moments of the debate came after discussions on the water crisis in Flint, when Clinton challenged Sanders for not voting for a bailout that aided the auto industry, which largely calls Michigan its home. Sanders countered that he was not satisfied how it would have helped workers and that it aided Wall Street. But the exchanges resulted in one of the most contentious moments of the Democratic campaign that has featured less charged rhetoric than the Republican race. Clinton attempted to cut in to make a point and Sanders responded sharply, "Excuse me, I'm talking."
Some on Twitter pointed toward this moment as a bonus for Clinton, saying it may have made women "cringe" and that it was an effective challenge from the former secretary of state.
While addressing jobs being sent overseas, Clinton said incentives needed to be created to keep manufacturers in the U.S. Sanders hit back hard, saying to applause, "I am very glad, Anderson, that secretary Clinton discovered religion on this issue but it's a little bit too late. Secretary Clinton supported virtually every one of the disastrous trade agreements written by corporate America."
Clinton and Sanders further debated gun control. Both candidates said Congress had not gone far enough. Some pundits pointed out that Sanders' record did not reflect well on gun control. Sanders defended his positions but did not go as far as saying manufacturers should be held responsible for mass shootings.
The debate, held in a city that is largely African-American, later shifted to race relations, and CNN's Don Lemon asked each candidate what they would identify as their "racial blind spots." Clinton said she has not had experiences that much of the audience had gone through. Sanders while answering the question said, "When you're white, you don't know what it's like to be living in a ghetto," which led many to point out people of all races live in bad neighborhoods.
On the issue of climate change and fracking, Clinton provided a long response listing the conditions that would have to be met for fracking to be carried out. Sanders earned large applause for simply countering that he would not support fracking.
Perhaps one of the biggest moments of applause during the night was when Clinton referenced the Republican debates, which have often turned raucous, saying she and Sanders had been more civil in their debates. "You know we have our differences, and we get into vigorous debate on issues," Clinton said. "But compare the substance of this debate with what you saw on the Republican stage last week." Sanders in response made a joke about mental health, which some commented may have been insensitive or a curious choice.
When asked about religion, both candidates said faith mattered to them, Sanders discussing his Jewish roots and experiences with the Holocaust. Clinton, meanwhile, said she was a prayerful person and that even if she wasn't, being in the White House would have turned her into one.
In their closing statements the candidates reiterated points that were made throughout the debate. Sanders said the city of Flint failed its citizens, while Clinton said systemic racism had to be stopped in the U.S.
Heading into the debate Sunday, Sanders won caucuses in Nebraska and Kansas on Saturday, while Clinton took a primary in Louisiana. Still, after Saturday Clinton held a delegat lead over Sanders, 1,121 to 481, largely because to the former secretary of state's commanding lead in superdelegates, who can shift their vote. As the debate played out Sunday, Sanders was called as the winner in Maine's caucus, a contest worth 30 delegates (25 delegates and five superdelegates).
As the cycle has progressed, Clinton has seemingly turned her attention toward a more national, general election focus. The RealClearPolitics average of polls has Clinton at a nine-point lead over Sanders nationally and leading GOP front-runner Donald Trump in most matchups, but behind Republican candidate Ted Cruz, who has recently tightened the gap behind Trump.
FOR FREE to continue reading
✔️ Unlock the full content of International Business Times UK for free
offer available for a limited time only
✔️ Easily manage your Newsletters subscriptions and save your favourite articles
✔️ No payment method required
Already have an account?
Log in
© Copyright IBTimes 2023. All rights reserved.