Who Won The MSNBC Democratic Presidential Debate? Clinton Delivers Strong Performance Against Sanders' Attacks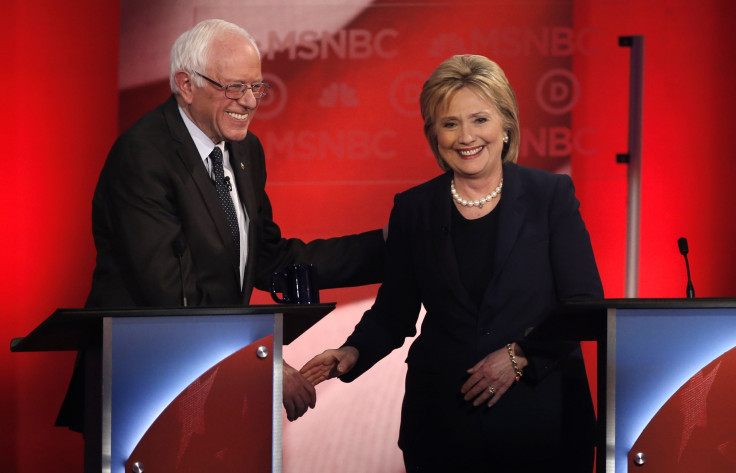 Hillary Clinton and Bernie Sanders traded sharp jabs in Thursday's presidential debate, but the consensus about the evening's winner seemed relatively clear: Journalists and political observers alike quickly crowned Clinton the champion. In a debate dominated by arguments over which candidate was the true progressive, the former secretary of state came out swinging.
Early in the evening, Clinton struck at Sanders' idealism, suggesting that his ideas were not realistic. "I'm not making promises that I cannot keep," she said, adding that a true progressive was "someone who makes progress."
The Los Angeles Times and the Washington Post favored Clinton's performance, with the former calling her "the aggressor" and the latter praising her defenses against Sanders's attacks.
"Clinton repeatedly challenged Sanders, at one point saying that his criticisms that she had taken too much Wall Street money was an insinuation that she was 'bought,'" the Washington Post wrote.
Many Clinton critics, however, weren't won over. Several online polls indicated fans of Sanders saw their pick as the winner. And the debate audience in Durham, New Hampshire, showed enthusiastic support for Sanders, with cheers and clapping often breaking out as he brought up economic issues and talked about wanting to make public college tuition free. A Time.com online poll after the debate found that 90 percent of respondents crowned Sanders the debate's winner.
Still, he continued to struggle on foreign policy issues as he has in previous debates. The Los Angeles Times pointed out that Sanders looked uncomfortable when discussing the topic, and he initially struggled to name which country was the biggest threat to national security when given a choice of three nations.
"As the debate continued, the two moved into another intense exchange over foreign policy, with Sanders appearing ill at ease as the moderators, Rachel Maddow and Chuck Todd, pressed him to detail his views," the L.A. Times reported.
Social media users on Twitter praised both candidates for sticking largely to substantive issues and presenting a unified front against Republicans. Unlike the GOP debates, which have sometimes been described as circus-like for veering off in long fights between certain candidates, Sanders and Clinton ended the evening with a conciliatory message.
"I happen to respect the secretary very much. I hope it's mutual," Sanders said. "On our worst days," he continued, "we are 100 times better than any Republican candidate." "That's true," Clinton chimed in.
Prior to the debate, Clinton led Sanders by double digits nationally, according to polling averages compiled by Real Clear Politics. The former secretary of state had 51.8 percent support compared with 36.3 percent for Sanders, but in New Hampshire polls, the opposite has been true.
A new CNN/WMUR poll released Thursday showed Sanders with 61 percent support in the Granite State, up from the 57 percent he had in the same poll late last month before the Iowa caucuses. Clinton had 30 percent in the CNN/WMUR poll, which represented a slide from the 34 percent she held in the January poll, and a significantly lower showing than other recent polls in the state, which have shown her polling in the high 30s.
Tension between Clinton and Sanders has been building for weeks, and the Democratic candidates traded sharp criticisms at a town hall in New Hampshire the day before Thursday's debate. There, Sanders accused Clinton of not being a true progressive and slammed her on issues ranging from her vote on the war in Iraq to her super PAC's funding from Wall Street.
While Clinton defended herself from similar attacks in Thursday's debate, it remains to be seen if her reasoning will resonate with voters and if she will be able to recruit more support next week in New Hampshire's primary contest.
"I have stood up and I have represented my constituents to the best of my abilities," Clinton said at one point. "And I'm very proud of that."
© Copyright IBTimes 2022. All rights reserved.
FOLLOW MORE IBT NEWS ON THE BELOW CHANNELS