Why Alicia Keys' Performance For Queen Elizabeth's Jubilee Left Fans Confused
KEY POINTS
Alicia Keys performed at the "Platinum Party at the Palace" concert Saturday for Queen Elizabeth's Platinum Jubilee
She performed "Empire State of Mind," "Girl on Fire" and "Superwoman"
Her song choices left some fans confused
Alicia Keys wowed the crowd at Queen Elizabeth's Platinum Jubilee concert Saturday, but her choice of songs left some fans confused.
Keys was among the many artists who performed at the star-studded "Platinum Party at the Palace" tribute concert outside Buckingham Palace in London Saturday night. The two-and-a-half-hour musical extravaganza was held in honor of the 96-year-old monarch's 70 years on the throne and was attended by members of the royal family and more than 20,000 Brits, Page Six reported.
The 41-year-old singer performed several of her hit songs, including "Empire State of Mind," "Girl on Fire" and "Superwoman," drawing praise on social media.
"Alicia Keys singing 'Superwoman' and then saying, 'Yes Queen,' in a cape right outside Buckingham Palace. I don't think I could love her more," ABC News foreign correspondent James Longman tweeted.
"The awesome Alicia Keys," Camilla Tominey, associate editor at The Daily Telegraph, wrote alongside a clip of Keys singing "Girl on Fire."
"The amazing Alicia Keys singing 'Girl on Fire' as Buckingham Palace is illuminated with a message for Her Majesty the Queen: 'Superwoman,'" Roya Nikkhah, royal editor at The Sunday Times, posted on Twitter.
But some fans were confused about why Keys chose to perform "Empire State of Mind," whose lyrics were written about New York City, at the British celebration.
"The funniest thing about the Platinum Party at the Palace is Alicia Keys singing New York in London," one Twitter user wrote.
Another fan tweeted: "I love Alicia Keys and everything, but if this is meant to be best of British, why are we singing about New York in the middle of London?"
"Absurdly funny to me that they got Alicia Keys to perform 'Empire State of Mind' during a celebration of English monarchy. Happy Jubilee, here's a song about that colony you lost, "a third user joked.
During her performance of the song, Keys switched the lyrics in the second verse from "New York" to "London" after appearing to catch on to the crowd's confusion, according to Page Six.
Keys also received mixed reactions over her "Girl on Fire" performance.
"Alicia Keys singing 'Girl On Fire' to commemorate 30 years since Windsor Castle burned down and forced the Queen to start paying her taxes because the public was furious at the suggestion they'd be footing the bill for repairs," one Twitter user wrote.
"Can't believe Alicia Keys thinks it's appropriate to sing 'Girl on Fire' in a city that was famously ravaged by flames just over 350 years ago. Disrespectful," another joked, appearing to poke fun at the criticism toward the singer.
Other artists who performed at Saturday's concert include British rock group Queen, Adam Lambert, Simon Le Bon, Rod Stewart, Andrew Lloyd Webber, Lin-Manuel Miranda, Hans Zimmer, Ella Eyre, Craig David, George Ezra, Andrea Bocelli and Diana Ross.
Elton John appeared in a pre-recorded performance because he couldn't perform in person due to his touring commitments.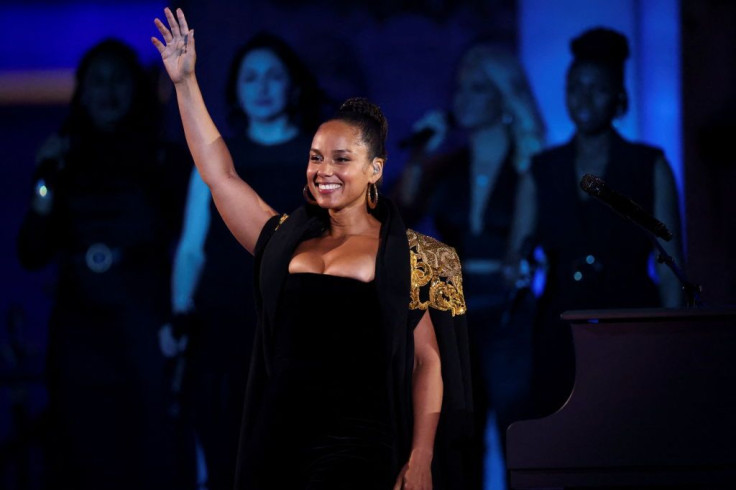 © Copyright IBTimes 2023. All rights reserved.