Why Barnes & Noble's Nook Is Failing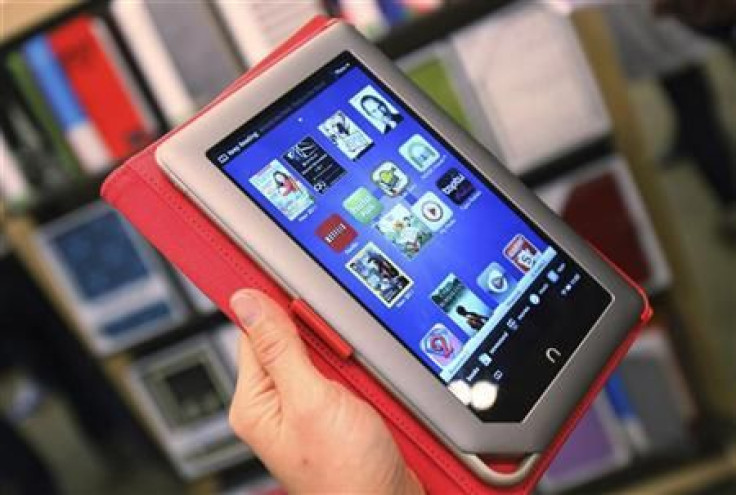 When Amazon.com Inc. (NASDAQ:AMZN) released its first Kindle e-reader in 2007, the book-publishing industry may not have been expecting to be upended by the tiny device. But it was -- and quickly.
Five short years later, the Pew Research Center reported, almost one in four Americans reads books electronically, and Amazon controls some 60 percent of the e-reading market.
For Barnes & Noble Inc. (NYSE:BKS), once the country's dominant book retailer, the plan to reclaim its bookselling crown has been steadfastly single-minded: If it acts like Amazon, it can beat Amazon. Two years after the Kindle came on the scene, Barnes & Noble followed up with its Nook e-reader, and it has been playing catch-up ever since.
But while the Nook has won a few loyal defenders, it has never wooed more than 25 to 30 percent of the e-reading public. And with e-bookvine's recent report that sales of all e-readers are losing ground to tablets such as the iPad offered by Apple Inc. (NASDAQ:AAPL), it doesn't look like it ever will.
On Friday, the New York Times reported that Barnes & Noble's sales were weaker than expected this holiday season and that the Nook will fall short of projections for next year. The dismal outlook framed Friday's news that Barnes & Noble is selling a 5 percent stake in its Nook Media division to the British publishing company Pearson PLC (NYSE:PSO), an attempt to capitalize on the growing market for educational e-books. The move underscores the bookseller's realization that it needs serious help if it is to prevent the Nook from becoming the Edsel of e-readers, but, on a broader level, it points to some of the gaping holes in Barnes & Noble's beat-Amazon-at-its-own-game strategy.
As Reuters reported last month, the Nook has been a strong revenue booster for Barnes & Noble -- accounting for 8.5 percent of its total revenue during the last quarter.
But research and development of the product is expensive, particularly for a company whose core business is decidedly low-tech. However, what is particularly perplexing is that Barnes & Noble, in its race to prove itself Amazon's tech equal, has sacrificed its biggest advantage -- physical bookstores -- by transforming much of its prime retail space into Nook showrooms. As a result, shoppers who once scooped up enticing impulse buys from the piles of books that lined the front ends of Barnes & Noble stores are now turning cold shoulders to the sterile Nook kiosks that took their place.
Perhaps the one bright spot in Barnes & Noble's fight against Amazon is that the latter has made few friends in its position as the domineering market leader.
Pearson, Barnes & Noble's newest business partner, has already been taking steps to defend itself against the online retail giant. In October, it announced that it is merging its Penguin Books unit with Random House to create the world's largest publisher of consumer books.
And where Barnes & Noble has found an overpowering competitor in Amazon, it has found new allies in fellow retail giants Wal-Mart Stores Inc. (NYSE:WMT) and Target Corp. (NYSE:TGT), both of which have stopped carrying the Kindle while willingly engaging in promotions for the Nook.
During an investor conference last month, William Lynch, Barnes & Noble's CEO, said that, because of such help, the Nook is "holding on to its market share," even if profits for the device are still elusive. In the end, that may be the difference between holding on and hanging by a thread.
© Copyright IBTimes 2022. All rights reserved.
FOLLOW MORE IBT NEWS ON THE BELOW CHANNELS