Why Did Trump Delete Tweets Endorsing Luther Strange? To Hide His Embarrassment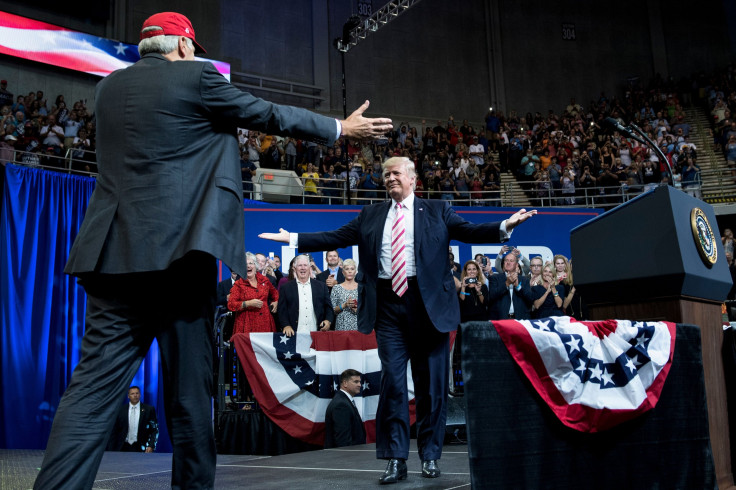 President Donald Trump, who had been rallying behind Sen. Luther Strange (R-Alabama), deleted a string of tweets where he was endorsing Strange, as soon as he lost the state senate primary to former Alabama Supreme Court Justice Roy Moore on Tuesday.
Trump was throwing his support behind Strange despite the fact that the president's own supporters such as former White House Chief Strategist Steve Bannon, former Alaska Governor Sarah Palin, Secretary of Housing and Urban Development Ben Carson, and former Deputy Assistant Sebastian Gorka supported Strange's opponent, Moore, according to Mediaite.
During a rally in Alabama on Friday, Trump acknowledged that if Strange lost, it would bring him great embarrassment personally because he was the one who stuck up for the candidate. "If Luther doesn't win, they're not going to say we picked up 25 points in a very short period of time," Trump was quoted as saying in a report by Raw Story. "They're going to say, 'Donald Trump, the president of the United States, was unable to pull his candidate across the line. It is a terrible, terrible moment for Trump. This is total embarrassment.'"
Ahead of the results, Strange tried to cash in on the fact that POTUS was rallying behind him, urging the people of his state to vote for him.
By Monday, however, Trump had given in to the idea that he might have to make peace with his candidate being defeated. At a conservative dinner, held the day before the results, Trump was seen admitting he had underestimated Moore's appeal in the state.
"He went around the room and wanted to know what everyone thought," American Conservative Union head Matt Schlapp, who was at the meeting, told Politico. "He was trying to figure out if there was going to be damage from this," another attendee said.
Trump deleting his tweets on Strange might be his way of damage control. After erasing the tweets, Trump tweeted out a congratulatory message for Moore, only to delete it later. The president tweeted mistakenly that the general election was in November, which is actually on December 12.

Trump later reposted the corrected version of the same tweet.
After winning the primaries, Moore stood up for the president, saying he would always support him, despite the fact that Trump backed Strange. "Don't let anybody in the press think that because he supported my opponent, I do not support him," Moore said in his victory speech, NBC News reported.
Twitter users, on the other hand, were quick to notice that Trump deleted the tweets where he endorsed Strange.
© Copyright IBTimes 2023. All rights reserved.