Why Kate Middleton Wears 3 Rings On Finger Just Like Meghan Markle
Kate Middleton has been photographed wearing three rings on the same finger.
On the online forum site Quora, royal fans revealed what each of the rings means and why the Duchess of Cambridge wears them at the same time.
Jade Welch, a British royalty fan, said that the first and biggest ring on Middleton's finger is her engagement ring. The stunning piece of jewelry was previously owned by Princess Diana.
Prince William decided to give it to his wife after he asked for her hand in marriage in 2010. The engagement ring features a blue sapphire.
Middleton's second ring is her gold wedding band, which she first wore on the day of her wedding. The band was made from a special nugget of Welch Gold, in accordance with royal traditions.
The third ring on Middleton's finger is the eternity ring that was given to her by her husband. Prince William reportedly gave his wife the eternity ring after the birth of Prince George in 2013.
Scarlett P. Bassett, an avid royal watcher, echoed the other royal fan's explanation.
"Catherine wears her infamous Ceylon sapphire and diamond engagement ring every day, she also wears her Welsh gold wedding ring and in the last few years has worn a diamond eternity ring. Only the wedding ring is yellow gold," she said.
Meanwhile, Middleton isn't the only member of the royal family who wears three rings on her finger. The Duchess of Sussex also wears three beautiful rings.
The first one was the engagement ring that was given to her by Prince Harry when they got engaged in November 2017. The second ring that she was photographed in was worn for the first time at her wedding last year.
And following the birth of her son, Archie, on May 6, Markle stepped out in public with a third ring on her finger. Just like Prince William, Prince Harry gifted his wife with an eternity ring to celebrate their son's birth.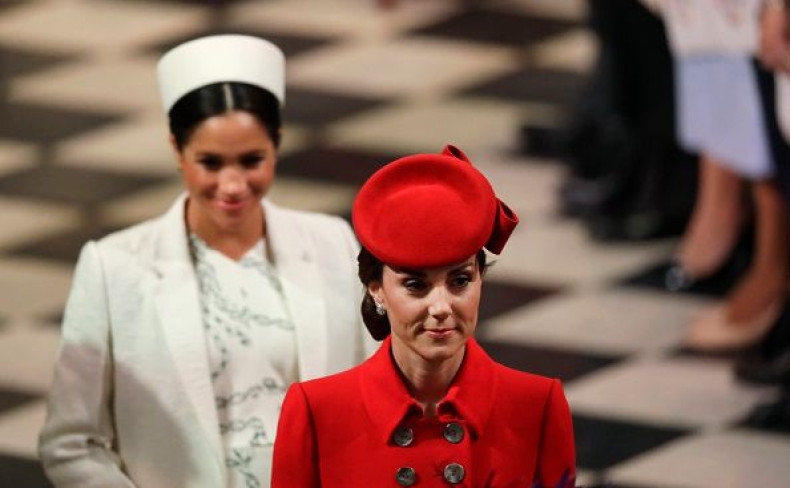 © Copyright IBTimes 2022. All rights reserved.