Why Monty Python Will Reunite For Absolutely Anything
Analysis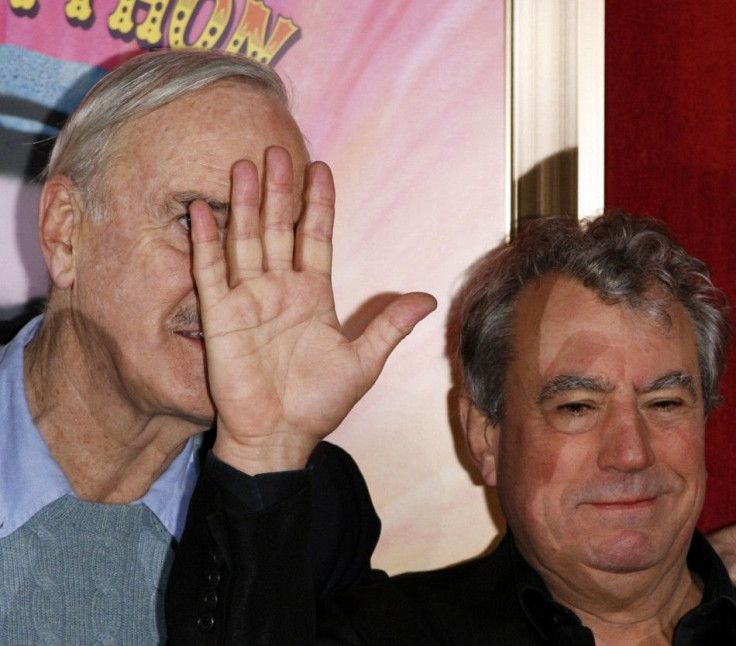 British sketch comedy group Monty Python will reunite and perform together for the first time since 1989 to collaborate in a new film called Absolutely Anything. The film, co-written and directed by original Python Terry Jones, will reportedly combine CGI and live action for a sci-fi farce about a group of aliens who use an earthling as their plaything. Gavin Scott also helped pen the script for the new Python film, the group's first since 1983's Meaning of Life.
Monty Python founding members John Cleese, Terry Gilliam and Michael Palin are all officially signed onto the film. With Jones behind camera, the only Python yet to confirm is Eric Idle.
Other Python production alums are getting involved in Absolutely Anything, including Mike Medavoy, who recently produced Black Swan but previously worked with the Pythons for their 1979 film Life of Brian. Comedian Robin Williams will also lend his voice to a film for a talking dog character named Dennis. Medavoy hopes Williams will also sign on for a live-action role in the film, too.
The Monty Python gang, which produced four seasons of its irreverent Flying Circus BBC show and four original feature films, last performed together at the group's televised 20th anniversary special in 1989, Parrot Sketch Not Included - 20 Years of Monty Python. On the eve of their anniversary, founding member Graham Chapman finally succumbed to throat and spinal cancer. Chapman was 48.
At Chapman's funeral, Cleese offered an irreverent but fitting tribute to his old writing partner:
Graham Chapman, co-author of the Parrot Sketch, is no more. He has ceased to be. Bereft of life, he rests in peace. He's kicked the bucket, hopped the twig, bit the dust, snuffed it, breathed his last, and gone to meet the great Head of Light Entertainment in the sky. And I guess that we're all thinking how sad it is that a man of such talent, of such capability for kindness, of such unusual intelligence, should now so suddenly be spirited away at the age of only forty-eight, before he'd achieved many of the things of which he was capable, and before he'd had enough fun. Well, I feel that I should say: nonsense. Good riddance to him, the freeloading bastard, I hope he fries. And the reason I feel I should say this is he would never forgive me if I didn't, if I threw away this glorious opportunity to shock you all on his behalf. Anything for him but mindless good taste.
Four of the Pythons, Cleese, Gilliam, Palin and Idle, came together to play various roles in the 1996 film adapation of The Wind in the Willows, which was later released in the U.S. under the title, Mr. Toad's Wild Ride.
Why The Group is Reuniting
The surviving members have not explicitly stated why they're getting back together to perform again, but there have been several hints over the last several years which may give a clue as to why they've chosen 2012 for Monty Python's comeback tour.
The Pythons were most active in the 1970s, creating three films, nine comedy albums and countless stage shows. But now that it's been more than 20 years since the passing of Chapman, the Pythons have been slowly coming back together. For the last decade, the Pythons have been receiving awards and honors in tribute to the group, but their Tony Award-winning musical Spamalot is the closest the group has come to performing together.
Based on the group's most popular film, Monty Python and the Holy Grail, the Spamalot musical has sparked a new interest in the decades-old comedy group. PBS has begun re-airing episodes of Flying Circus, as well as one-hour specials based on each member of the group, called Monty Python's Personal Best.
In 2009, the group celebrated the 40th anniversary of the first Flying Circus episode, with three members appearing in a production of Not the Messiah (He's A Very Naughty Boy) at the Royal Albert Hall in London.
In 2011, Terry Jones announced that Monty Python would begin a new film project, called A Liar's Autobiography. It would be an animated 3D movie based on the memoirs of Chapman, using the late member's own voice from a reading of his biography before he died of cancer. The film, which was originally slated for an early 2012 release, reportedly had 15 animation companies build chapters from three to 12 minutes in length, each drawn in a different style.
Nobody knows what happened to that film, but as with Absolutely Anything, all original Python members, save Idle, had confirmed working on the film.
Monty Python's Influence on Culture
Since 1969, Monty Python's influence in the comedy world has been compared to Elvis Presley's influence on music. Its experimental, absurdist form of sketch writing completely changed the way audiences knew comedy, both on television and in film, and its surreal style can be found in countless modern comedy projects, from Adult Swim programs to Saturday Night Live. Beyond SNL, America's comedic cornerstones list Python as a profound influence in their lives, including The Simpsons creator Matt Goening and author and actor Steve Martin.
Monty Python's famous sketches have inspired normal people to do some crazy things. In 2010, Elon Musk's commercial space company SpaceX launched a wheel of cheese in low earth orbit and returned it safely to earth, all done as a tribute to Monty Python. In 2007, Terrys Jones and Gilliam led 5,567 people in clip-clopping coconuts in rhythm to the Python classic song, Always Look On The Bright Side of Life. The attempt set a new Guinness World Record for the world's largest coconut orchestra. (The record remains unbroken.)
Monty Python is also responsible for the names of seven asteroids, an endangered lemur, a Ben & Jerry's ice cream flavor, beers, bands and book characters. The word pythonesque was even added to most standard dictionaries, which is defined as an adjective denoting a kind of humour that is absurd and unpredictable; zany.
The fact that 'Pythonesque' is now a word in the Oxford English Dictionary shows the extent to which we failed, said Terry Jones.
© Copyright IBTimes 2023. All rights reserved.