Why Prince William Had Doubts About His Relationships With Kate Middleton, Meghan Markle
Prince William and Kate Middleton had a fairytale wedding, but the Duke of Cambridge wasn't always confident about their future together. Although the couple had been married for several years, William's relationship doubts reportedly resurfaced when Prince Harry decided to marry Meghan Markle.
Since Meghan joined the royal family, there have been reports claiming she caused Harry's rift with William and Kate. However, one royal expert believes Prince William's commitment to Kate led him to question Prince Harry about Meghan.
During an episode of the "Royals" podcast, Angela Mollard claimed William's past affected his relationship.
"I suspect there is some tension between them. William is a very dutiful man. He himself, in his relationship with Kate, when that had been going on for many years, he had to question himself, whether or not this relationship was going to last the distance."
Kate and Prince William broke up in 2004 and 2007, but reconciled, and announced their engagement in 2010. "He didn't want to have a broken marriage. They had a bit of time apart, and then, of course, got back together," Mollard said.
Although he became confident about his relationship with Kate, William began to doubt his younger brother's romance with Meghan. "I think he was concerned Harry hadn't known Meghan for very long, and that they were marrying," Mollard said.
"We don't actually know what went on between the two brothers, but it would not be unreasonable for an older brother to question a younger brother. A younger brother who has spoken about his own vulnerability, about his own grief, about mental health issues."
While the royal expert claimed Prince William was right to share his doubts about Harry's relationship, she insisted the Duke of Sussex was justified to feel attacked by his brother. "It wouldn't be unreasonable, I think, for William to sit down with his brother and question [him]," Mollard explained.
"Now, we're always very protective of relationships, particularly in that phase that we call the limerence phase in the first three years when we're deeply infatuated. It takes three years for it to soften out to a normal relationship. They haven't got to that point, and in a sense, they didn't have the time to get to that point," she continued.
Royal watchers suspect Prince William's hesitations about committed relationships come from Prince Charles and Princess Diana's marriage. The couple's union was riddled with scandals that were publicized by the press.
Despite his concerns, William and Kate's relationship appears to be on good terms. The couple is now parents to three children, Prince George, Princess Charlotte, and Prince Louis.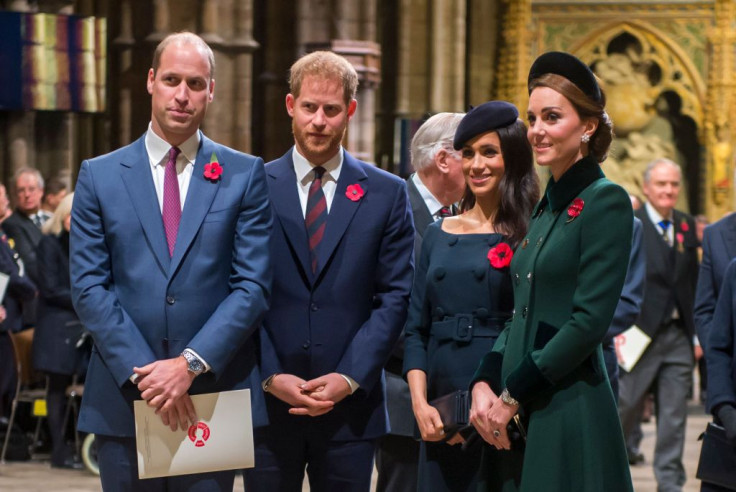 © Copyright IBTimes 2023. All rights reserved.