Will Jon Ossoff Win In Georgia's June Election? Young Democrat Has A Shot, Poll Shows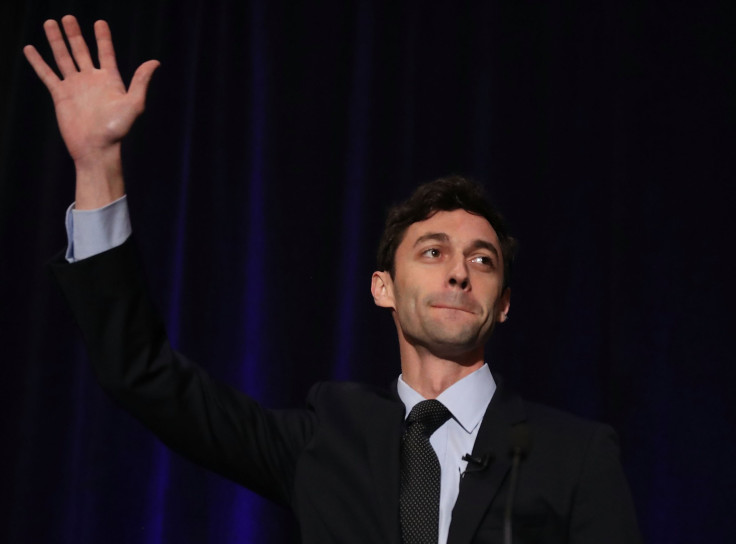 Democratic candidate Jon Ossoff is expanding his lead ahead of the runoff election to represent Georgia's 6th district on June 20. Republicans are bleeding support and fleeing their party in favor of the young Democrat.
An Atlanta Journal-Constitution poll released Friday showed Ossoff with a 7 percent margin over Republican Karen Handel. Among likely voters, the poll showed 51 percent supported Ossoff, while 44 percent supported Handel.
Among voters from their opposing parties, Ossoff received the support from 13 percent of Republicans, while Handel only received 3 percent support from Democrats. It also shows that the Democrat receives 44 percent support from white voters — a significant number from the Republican stronghold.
The poll was conducted June 5-8 by Abt Associates and involved 1,000 registered voters. About 5 percent of the voters remained undecided and the poll had a margin of error of 4 percent. This is the second poll released that shows a 7 percent lead for the 30-year-old aspiring representative.
READ: Who Is Jon Ossoff? Liberal Georgia Representative Candidate Faces Smear Ads From Republican PAC
Ossoff's lead comes after polling in April and May showed Ossoff and Handel in a "dead heat." The race was within two or three percent. Following a debate on Tuesday, the Democrat pulled away with an initial lead of 2 percent, according to a poll released Thursday by WSB, Landmark Communications.
Both candidates fired off statements spinning the results of the debate and subsequent poll:
"After two disastrous debates in which Karen Handel was forced to admit she led the effort to defund breast cancer screenings while at Susan G. Komen, it's clear Georgia voters want fresh, independent leadership in Washington, not another career politician," read Ossoff's statement Thursday.
Handel's campaign subsequently attacked her opponent as a "puppet" for the Democratic Washington establishment and House Minority Leader Nancy Pelosi.
"Our internal numbers show that this is truly a toss-up," her campaign responded. "Karen has faced an unprecedented flood of out-of-state money — raised from Nancy Pelosi and the 'resistance' — to fund ads falsely attacking Karen. We are confident that the people of the 6th are not going to let Pelosi's puppet steal a seat in Georgia."
READ: Why Isn't The Democratic Party Helping In Georgia Race? In Sixth Congressional District, Big Outside Group Donations Favor GOP
This is a very important special election for the Democratic Party. It's the first chance for Democrats to compete in a meaningful way on the local level and test messages on how to combat the Republican party supporting President Trump's policies.
Ossoff's campaign tried to appeal to both liberals that are outraged by Trump's policies and antics, and moderates and independents who typically vote for the GOP. He has raised over $23 million — $15 million over the last two months — compared to $4 million raised by Handel in the same period of time, according to a report released Friday by the New York Times.
Georgia's 6th district has a long history of notable Republicans. It was held by former Speaker of the House and Trump supporter Newt Gingrich for twenty years — from 1979 to 1999 — and recently vacated by Rep. Tom Price, who was nominated by Trump to be the Secretary of Health and Human Services.
In a special election in April, Ossoff came out the leader in an 18-candidate field. However, he fell shy of getting the required 50 percent majority, triggering the upcoming runoff on June 20.
© Copyright IBTimes 2023. All rights reserved.