Will The Patriots Win The Super Bowl Against The Falcons? Only 27 Percent Want Tom Brady To Beat Atlanta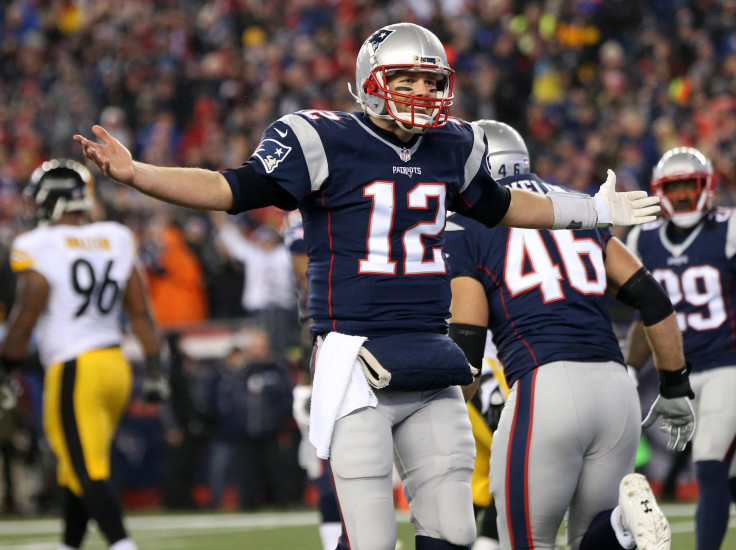 More than 110 million people will gather in front of televisions across the U.S. Sunday to watch the 51st Super Bowl. And most of them will be rooting for the Atlanta Falcons to defeat the New England Patriots, according to poll data released Monday.
Just 27 percent of Americans said they were rooting for the American Football Conference champion Patriots to win their fifth Super Bowl this weekend, compared to 53 percent who were pulling for the National Football Conference champion Falcons to hoist their first Lombardi trophy, according to Public Policy Polling.
The poll also found the Patriots weren't just less popular than the Falcons — they were less popular than every other NFL team. The Patriots were the most hated team in the NFL, according to the poll, with 21 percent of all fans listing the Patriots as their least favorite NFL team.
Much of the hate toward the Patriots was also directed at the face of the Patriots franchise, quarterback Tom Brady, who is also one of the most popular players in the NFL. The poll showed that respondents listed Brady as their favorite quarterback, while simultaneously— and by a greater margin — bestowing on Brady the distinction of being named America's "least favorite" quarterback. At 39 years old, Brady is coming off one of the best seasons of his, or any other, career.
Much of the hatred toward the Patriots and Brady can be traced to allegations of cheating. Brady was suspended for the first four games of the 2016 season by the league, which accused him of tampering with game balls. The investigation and the lengthy legal saga that followed became known as "Deflategate." Public Policy Polling noted that the Patriots took the mantle of America's least favorite NFL team from the Dallas Cowboys only after news of Deflatgate broke.
Another reason for widespread animosity for the Patriots could be the organization's ties to President Donald Trump, who has generated record-setting unfavorability ratings in his first few weeks in office. Tom Brady was photographed with a "Make America Great Again" hat in his locker in 2015, Trump read a letter on the campaign trail from Patriots head coach Bill Belichick, and Patriots owner Robert Kraft has called Trump a "good friend."
But perhaps the most obvious reason for the widespread dislike of the Patriots was the most simple: The Patriots are good — and have been for a historically long period of time. Brady and Belichick were set to play in the seventh Super Bowl together in Houston on Sunday, a record, and the Patriots have played in the last six straight AFC championship games. Nothing breeds contempt quite like success.
© Copyright IBTimes 2023. All rights reserved.