Wine Tasting Trips: How To 'Experience' Australia's Barossa Valley Beyond The Cellar Door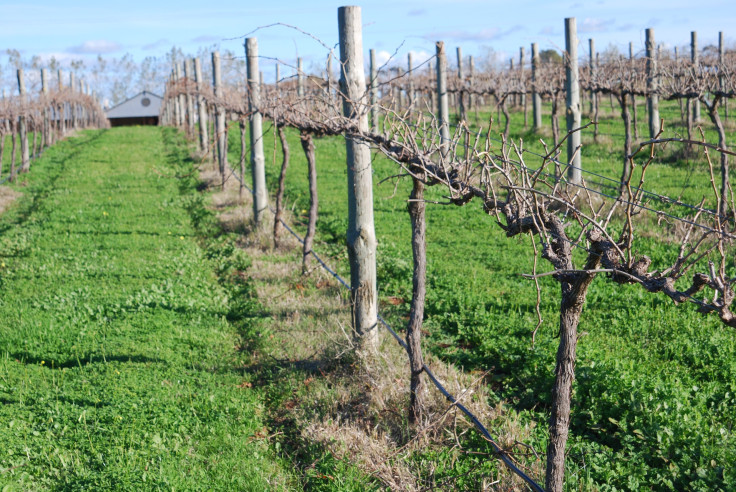 Wine regions may be the most underutilized tourist destinations on the planet. We breeze through in cars, limos or charter buses, taste enough vino to become tipsy at far too early an hour and move on with it. Few visitors, it seems, really take the time to do anything more than just sniff, swirl and sip.
But why not fully experience wine country? Why not learn how the wine is made, eat amid the vines and find the best local produce to pair with that newly purchased bottle?
The Barossa Valley, Australia's most internationally renown wine region, brims with such experiences. Its marketing team no longer sells it strictly as a "wine destination" -- that would be too obvious. Rather, they've unleashed a A$6 million campaign to sell the Barossa, and indeed all of South Australia, as the total-package wine, food and culture getaway under the motto: "Barossa. Be consumed."
The restaurants here are "farm to table;" the eggs are "free-range," the meat is "hormone-free," the wine is "biodynamic," the trash is for "compost," and the vegetables come from the "community garden" and are "homegrown." And heaven forbid you don't "buy local."
If it sounds a bit pretentious, it is. But the Barossa never feels elitist. In fact, many of the guys who spout out these words are farmers who look like beefy rugby players, and the best place to meet them (and dip your toes into Barossa food culture) is the Angaston Farmers Market, which takes place at the crack of dawn each Saturday. Call it the tasting room (or cellar door, as they say in Australia) for the region's best produce. This exclusive market -- which denies far more growers than it accepts due to its exceptionally high standards -- is where the locals shop, eat and share ideas, but it's also where the restaurateurs and gourmands nab their goods.
"If you can grow good grapes, you can grow good food," explained market manager Jess Greatwich. Indeed, growing good grapes is what South Australia is known for.
Australia is the world's fourth largest wine exporter with bottles for sale in more than 100 countries. While the U.S. and Canada are two of the biggest consumers in the $1.9 billion export market, it's the U.K. that's No. 1, importing more wine from Down Under than from its neighbor France. Most of that wine comes from the Barossa and its South Australia neighbors, which all encircle the region's biggest city, Adelaide.
Yet, South Australia is lesser known internationally for its budding food scene. "It's all about integrity in the Barossa," Greatwich explained. "Who grew the vegetables? Who smoked the meat? That's ingrained in everything we do here, and it's the greatest gift the early Lutheran settlers gave us. That's why we don't have any McDonald's."
Jess pointed to several chefs, each of whom, she said, was shopping for Saturday night degustation menus in the area's finer restaurants. One of them was multi-award-winning Lachlan Colwill, whose artful creations I would soon experience at Hentley Farms.
Discovery is the name of the game at Hentley Farms' gracefully restored stables, where Lachlan pairs exciting wines with unconventional food. The baby-faced chef dreams up the kind of meals that challenge you -- and if you are not a picky eater, the rewards are plentiful: pasta made of squid; oysters infused with passion fruit; a dessert tucked away inside a hollow eggshell. It's part magic and part science -- and it's a farm-trotting exploration for your senses.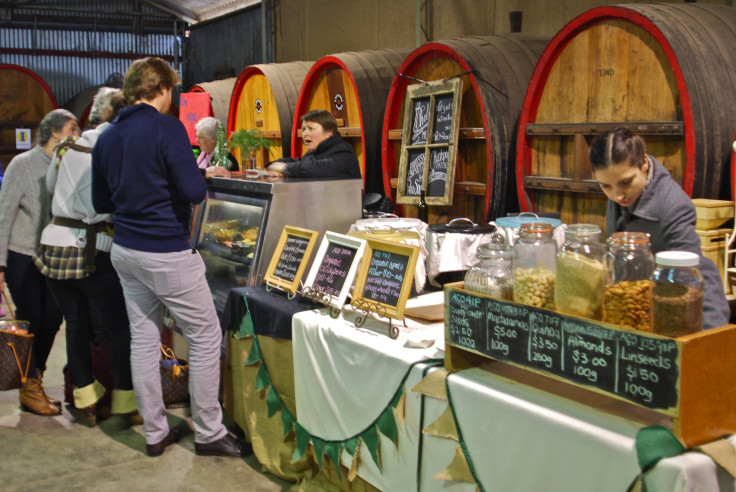 What Does Your Age Taste Like?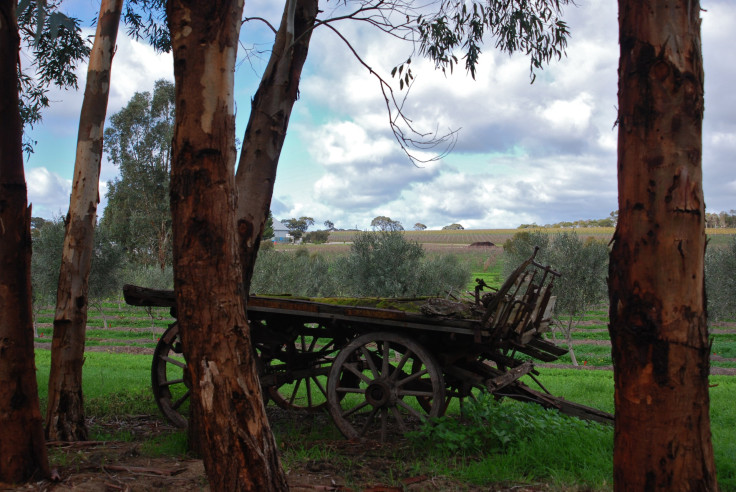 I enlisted the help of the wildly mustachioed John Baldwin who guided me toward some of the best experiences in the Barossa in his 1962 Daimler Majestic Major. The Barossa can feel like an old boy's club, but when you ride through it in a beauty like the Daimler, you're instantly part of the crew.
John and I started at the Lyndoch Butcher Shop to learn the sacred art of smoking meats from an old pro who, after years on the job, looked a bit like smoked meat himself. Then, we progressed to Torbreck Vintners to check out one of the Barossa's original German settler's cottages. The building was stylishly restored into a tasting room, and over a glass of 2010 RunRig shiraz -- my tasting notes: "big, Bold, BANG" -- John explained how South Australia was the continent's first freely settled province with a proud Prussian heritage that differs from the earlier convict settlements to the east.
To learn more about Barossa history, he drove me to Seppeltsfield, one of Australia's oldest wineries, founded in 1851 by Joseph Ernst Seppelt. Joseph died before the winery opened, but his eldest son Oscar Benno Seppelt proved a worthy successor. When he wasn't making babies (he and wife Sophia Schroeder had 16), he transformed the place into Australia's largest winery, producing 2 million liters annually by the end of the 19th century.
Others eclipsed Seppeltsfield when fortified wines went out of fashion in the 1950s, but Benno was a forward-thinking man. He set up a cellar in 1878 to store tawny port for 100-year vintages. Thus, winemakers have set aside barrels every year since, giving Seppeltsfield the longest single line of wine in the world and making it one of the few places on planet Earth where you can walk up and sample a drink made more than a century ago. You can also "taste your birth year," one of the Barossa's more intriguing experiences.
To savor a piece of history and discover how wines change over the years, Seppeltsfield's Centenary Tour is a fascinating journey back in time. If you find port too sweet to begin with, however, wait until you try one from the year you were born, let alone one from 100 years ago. The pucker face may be hard to resist.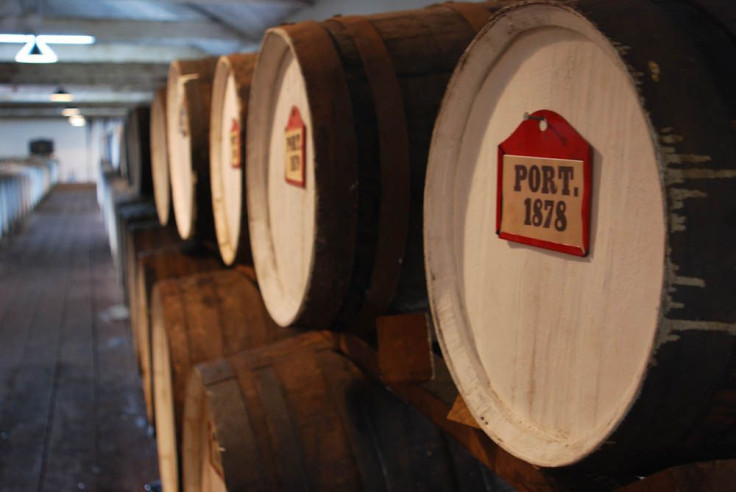 Oaking, Blending And Crafting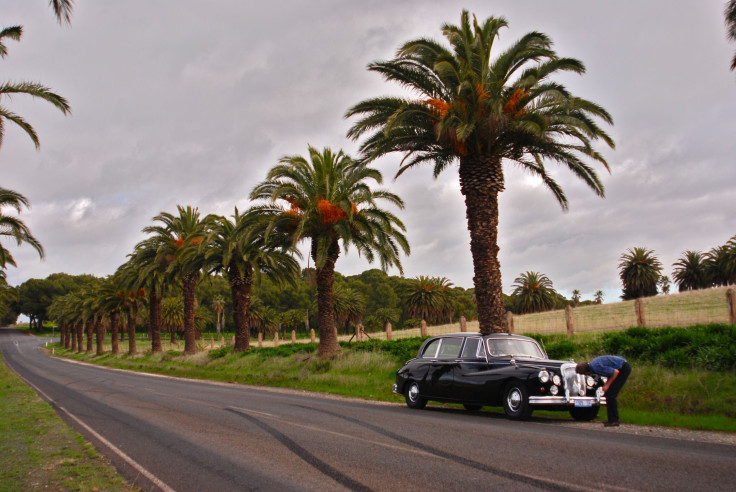 Thanks to Benno's productivity in the bedroom, the Seppelt dynasty is strong in the Barossa. John and I drove through the Valley streets lined with 2,000-plus Persian date palms -- a fanciful Seppelt idea to keep workers busy during the Great Depression -- over to Oscar Benno descendant Andrew Seppelt's Murray Street Vineyards.
Sitting in a rustic stone cellar as the sun set, Andrew and I sampled the same 2012 single vineyard Gomersal Shiraz against a series of oak influences (neutral, New American, French/Bordeaux, French/Cognac) to see how the wine had changed. It's part of Murray Street's Importance Of Oak tour, which gives enthusiasts a chance to step inside the mind of a winemaker and explore the oft-overlooked science of oaking.
"My aim is to show people what it takes to make good wine, and explain that this ancient craft goes beyond a vineyard value," Andrew said. A booklet he gave me to take away put it more bluntly: "Oak is not an ingredient. Wine is not a commodity. Winemaking is not a recipe."
For more on the science of winemaking, I hopped over to Penfolds the next morning, whose products are a Barossa staple found in wine shops the world over, with a rich history dating back to 1844. Through Penfolds' Make Your Own Blend class I delved into another discipline my tongue enjoys but my mind often overlooks: blending.
Dressed in a lab coat and armed with samples of Barossa's three major red varietals -- Grenache, Shiraz and Mataro (also known as Mourvedre), I tried my hand at creating the perfect GSM blend. After several unpalatable attempts, I used Mataro (20 percent) as the backbone, Grenache (20 percent) for a hint of spice and Shiraz (60 percent) for a fruit-forward core. Thus, as my teacher Sharon Lewis explained, the Grenache would hit in the front of the mouth, Shiraz the middle and Mataro the back.
I booked a tasting (available to anyone serious about purchasing some fine vino) with 2012 Young Gun of Wine-winner Abel Gibson in his bohemian private residence for a true wine education from a man who's part mad scientists, part hopeless romantic.
Gibson crafts his wine under the label Ruggabellus in his backyard, though that's no reflection of its quality. A departure from the heavier beasts of the Barossa, the Latin-named GSM blends Archaeus, Efferus and Timaeus may just be the finest lineup in the whole Valley, and are easily the best bang for your buck at A$40 apiece.
Gibson is passionate about biodynamic viticulture, natural methods and aromatics. "I'm keen to make wines in the most natural way I can using techniques that have been around for years," he said while extracting some young wine from a backyard barrel using a pipette. "I'm also trying to capture the perfume everywhere I can. I just love the perfume of wine." This is evident when you sample the lean, satiny reds, whose aromas of pepper, blackberries and rose petals linger on the nose long after you leave.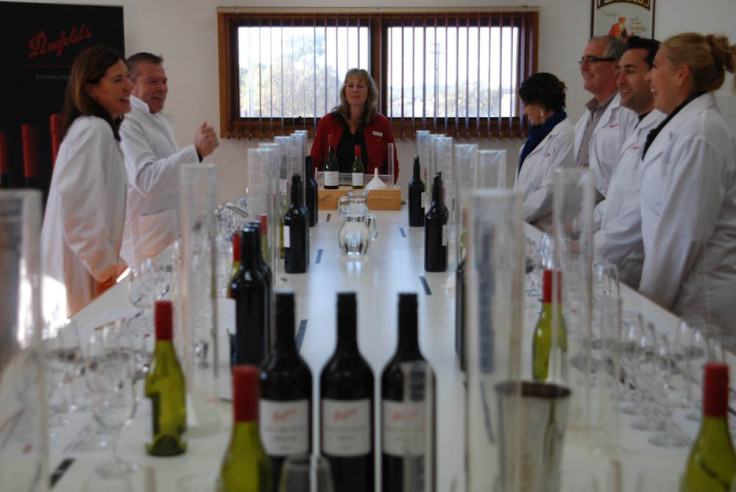 'Barossa. Be Consumed'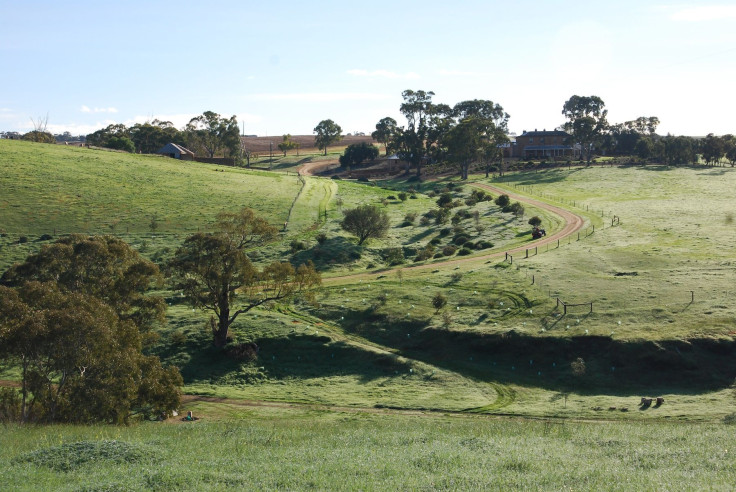 I dipped back into Barossa's historical roots and capped off my stay in the Valley with a night in the heritage-listed Kingsford Homestead. The two-story Georgian house boasts just seven luxury suites and lies on a massive property better known as Drovers Run in the popular TV series "McLeod's Daughters," which ran for eight seasons in 41 countries before the estate became a guesthouse last year.
"Kingsford is a place that is synonymous with Australia's history," caretaker Steve Underwood explained as we ate an intimate meal in the candlelit stone cellar with his wife, Jenni. Indeed, a stay here is like a journey back to the 1850s, when Kingsford was a watering point for coach companies, drovers and bullock teams passing into the great unknown desert to the north -- though the food, drinks and amenities are surely much better in the 21st century.
As I'd come to expect, the fare on the table was locally sourced, the meat was smoked by the guy who looked like smoked meat, the wine was biodynamic and came from a vineyard down the street, and, in true Barossa fashion, the entire five-course degustation took about three hours to complete.
As the waitress took away the second desert and the wine stopped flowing from bottle to belly, I thought back on the region's new tagline: "Barossa. Be Consumed."
It turns out the word "consumed" can mean many things. A: To take in, eat or drink up. B: To be absorbed or engrossed. C: To be destroyed, expended or wasted. Or, as my two days in the Barossa proved, D: All of the above.
Getting To The Barossa Valley:
The Barossa Valley is located about an hour northeast of Adelaide, the capital and largest city in South Australia. Most international visitors arrive via a connection from Sydney or Melbourne on Qantas or Virgin Australia (about 1.5 hours). The best way to get to the Barossa Valley on your own is either by renting a car at the airport or hiring Smart Car Australia. Several tour companies run group trips from Adelaide, or you can hire Barossa Daimler Tours for a more intimate experience once you get there.
Where To Stay:
For a luxurious and relaxing stay in the Barossa, hunker down at Kingsford Homestead (all-inclusive rates start at A$760 per night). The Novotel Barossa Valley Resort is a great choice in the mid-rage (rates start at around A$150 per night), while Barossa Backpackers caters to the budget crowd (private rooms start at A$80 per night).
FOR FREE to continue reading
✔️ Unlock the full content of International Business Times UK for free
offer available for a limited time only
✔️ Easily manage your Newsletters subscriptions and save your favourite articles
✔️ No payment method required
Already have an account?
Log in
© Copyright IBTimes 2023. All rights reserved.