Women's Day 2012: Hillary Clinton, Meryl Streep, Angelina Jolie Among Hosts at Conference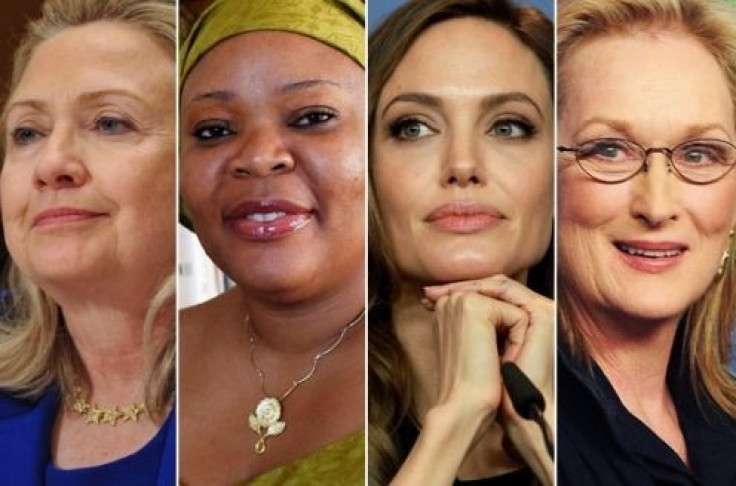 U.S. Secretary of State Hillary Rodham Clinton will join a host of accomplished women including Meryl Streep, Angelina Jolie and Nobel Peace Prize laureate Leymah Gbowee at the third annual Women in the World Summit, which kicks off Women's Day on Thursday.
Women leaders, advocates and activists will come together in New York to tell their stories about women who are battling the status quo, opposing wars, violence, slavery and exploitation while shattering glass ceilings across the world.
Some of the highlights of the event hosted by Newsweek and the Daily Beast include:
The Rescue of a British Bride from Islamabad: Chaz Akoshile, co-leader of Forced Marriage Unit UK, will tell the story of the dramatic rescue of a woman from Islamabad, Pakistan, who was forced to marry against her will. The panel, moderated by CBS 60 Minutes correspondent Lesley Stahl, will ask the question: Are mothers to blame for forced marriage?
Sandra's Story: Sandra Uwiringiyimana, a Rwanda genocide survivor and spokeswoman for the Foundation of Hope Ministries, will tell her story.
Testimony: Delivered by Angelina Jolie, writer, director, Academy Award Winner and Goodwill Ambassador for the United Nations.
Firebrand for Peace: Nobel Laureate Leymah Gbowee of Liberia, will talk with Tina Brown, the Editor in Chief of Newsweek & The Daily Beast, about women in conflict zones.
Cracking the Code: Muhtar Kent, Chairman and CEO of the Coca-Cola Co., will be giving his opinion on why women around the globe are set to become key participants in cracking the code for job growth.
The Arab Spring: Have Women Lost? Since the Egyptian Revolution women have been attacked, jailed and marginalized. A panel including Namees Arnous, Sondos Asem, Dr. Omaima Kamel and Dalia Ziada will talk about their efforts to elevate the influence of Egyptian women beyond the revolution.
Africa: Bagging Hunger: Lauren Bush Lauren, the CEO, Creative Director and Co-Founder of Project Feed and granddaughter and niece of U.S. presidents, will be talking about her efforts in the Feed Project, where the sale of artisan-made bags have provided over 65 million school meals for children around the world.
Tribute by Meryl Streep: Three-time Oscar-winng actress Meryl Streep will be giving her tribute before closing comments by Hillary Clinton.
The summit will be live streamed through video and a liveblog of the event can be accessed through The Daily Beast's Twitter and Facebook pages.
© Copyright IBTimes 2023. All rights reserved.