Women's World Cup 2015: One Foreign Soccer Player Stands Out Above The Rest -- Get To Know Brazil's Marta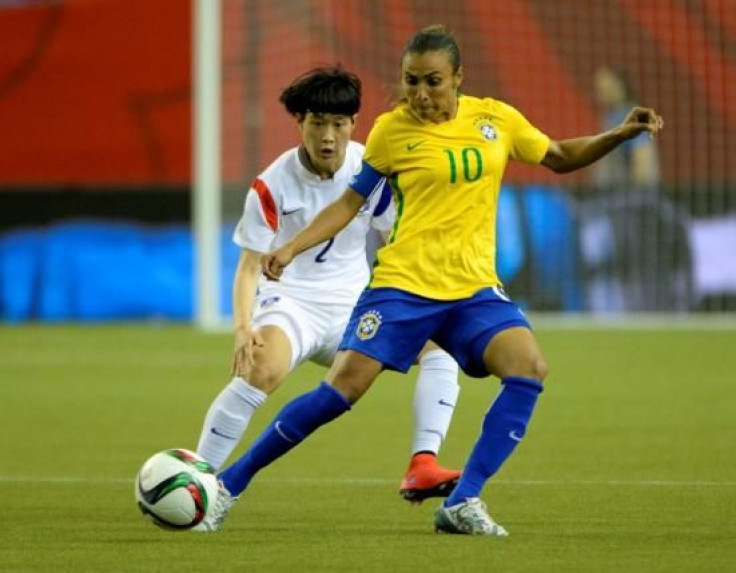 A great deal of attention has surrounded the U.S. Women's National Team with the plethora of stars that include Abby Wambach, Alex Morgan, Megan Rapinoe and Hope Solo. But one foreign player has garnered more global attention due to her exceptional play over the past dozen years, and Americans who don't know her name probably should by now.
Brazilian superstar Marta has been one of the game's best players, and continue to be a dominant figure in women's soccer. The 29-year-old has scored 91 goals in 91 appearances for the national team, and has performed brilliantly in club action. She has played for nine clubs, including three in the U.S. (Los Angeles Sol, FC Gold Pride and Western New York Flash), having scored a staggering 237 goals in 282 matches.
Yet, she may not be receiving the attention she deserves in the U.S., as she's overshadowed by more recognizable American players. CNN.com used the caption: "Is Marta the greatest soccer player you've never heard of?"
Marta, whose full name is Marta Vieira da Silva, has won the FIFA World Player of the Year Award five times, from 2006-2010. That's a feat that neither Lionel Messi nor Cristiano Ronaldo has ever accomplished, let alone the countless superstars who have come from Brazil in the past 30 years, like Zico, Socrates, Careca, Ronaldo, Roberto Carlos, Ronaldinho, Kaka and Neymar. When Marta hasn't won the award, she has come in second or third place. She has been described as "Pele in a skirt." Marta takes it as a compliment, but said she would be pleased if a male player was called "Marta with pants."
But as she approaches her 30s, has her game slipped? Are we seeing the decline of a soccer legend? There might be a dip in overall play, but only because she was at such a high form in her prime years.
"It is obvious that I can't run for 90 minutes with the same intensity as when I was 20 to 18 years old," Marta told Grant Wahl of Sports Illustrated. "But I try to read the game situations a little better in order to bring in my rhythm, according to the opportunities that arise during the match. But my playing style is the same."
In a December match against the U.S. in Brasilia, Marta read things just fine, and showed why she is still one of the best players in the world. She dribbled half the length of the field through several American players, and then delivered a stunning left-footed shot as part of a hat trick against one of the best teams in the world. It was another vintage play from the 5'4 forward from the small town of Dois Riachos.
But international team success has eluded Marta. Brazil have never won the Women's World Cup and have failed to win a gold medal at the Olympics. (She does have two silvers.) Winning in Canada this summer would be excellent timing considering the disaster the men endured last summer in the World Cup semifinals as the host nation. Brazil is also suffering through a troubling economy, with indications that things may get worse, and a long-awaited soccer title for the women would provide a morale boost for a country with a climbing jobless rate.
"I don't see it as extra pressure because I'm used to it," she told sport360.com. "I'm very competitive and throughout my life the biggest pressure has been the one I place on myself."
This year, Brazil have a young, talented team with a FIFA ranking of No. 7 in the world, and Marta will be called upon to be more of a leader. In Brazil's first match, she scored off a penalty kick in a 2-0 victory over South Korea. The goal, her 15th in a World Cup, made her the tournament's all-time leading scorer. Brazil take on Spain on Saturday, in a crucial group match before ending with Costa Rica. Marta may not be needed to provide most of the scoring in group matches, but should Brazil reach the knockout rounds, the squad will likely look to their shining star to help them get past the likes of Germany, U.S. and France.
There is also the question of retirement. Marta says she is going to continue playing as long as she plays at a "very competitive level." She will be 33 when the next World Cup rolls around. Germany's Brigit Prinz, who Marta supplanted as the world's best player, retired after the 2011 World Cup at the age of 33 after failing to win her third consecutive World Cup. Before Prinz, it was Mia Hamm who was the world's best player, and the American superstar retired at age 32. In other words, Marta may be running out of time.
Should Marta fall short in Canada, there's always next summer. Rio will host the 2016 Summer Olympics, and Marta may have a chance to bring glory to Brazil on their home soil.
© Copyright IBTimes 2022. All rights reserved.
FOLLOW MORE IBT NEWS ON THE BELOW CHANNELS