The World's Best National Parks That You've Never Heard Of (But Will Want To Visit)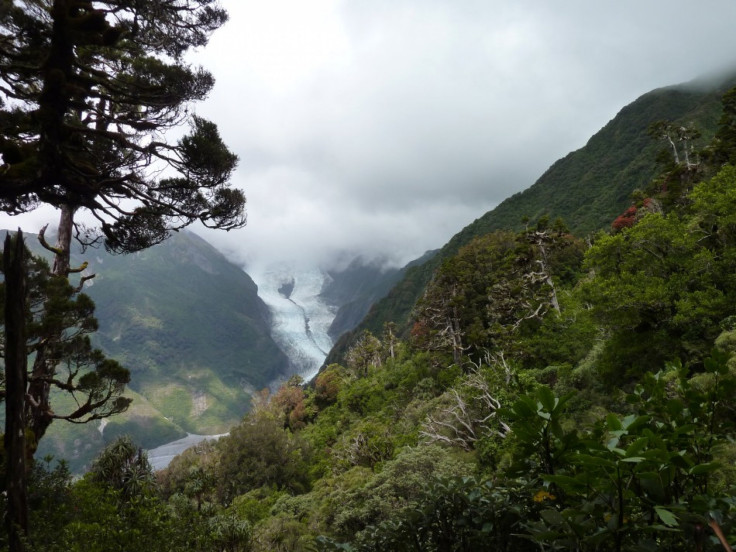 Westland National Park, New Zealand
Ready to be confused: Extending from the highest snowcapped peaks of the Southern Alps to the windswept beaches of the South Island's West Coast, this park boasts a dense blanket of rainforest that's bisected by several dramatic glaciers. Indeed, if you're looking for a land of contrasts, you needn't look any further than Westland National Park. There are few places on earth where you can hike amidst a stunning, sloppy mess of fern and vine, slap on some crampons and walk through a city of blue ice and then return to the forest at night to dance beneath the disco lights of a thousand glowworms. Wet, wild and wondrous, Westland National Park is an outdoor enthusiast's dream.
Where to stay: Te Waonui Forest Retreat (Rates start at about $450 including meals)
Conguillio National Park, Chile
With its dazzling lakes, puffing volcanoes and ancient trees, Conguillio National Park is one of the last places on earth that looks as it did when the dinosaurs roamed the planet. In fact, when the BBC filmed its series "Walking with Dinosaurs," it set many of its computer-generated creations against the backdrop of this faraway land. The park's centerpiece is the towering Llaima volcano, a conical peak whose last major eruption in 2009 covered portions of the terrain in steaming lava. But the real showoff here is the transfixing Araucaria tree -- better known to many as the Monkey Puzzle. Often described as a "living fossil," this awkwardly tall umbrella-like evergreen juts out in all directions from the mountainous Andes, creating a surreal landscape befitting a long-lost era.
Where to stay: La Baita Conguillio (Rates start at $100 per night)
Vatnajökull and Skaftafell National Park, Iceland
Close your eyes and imagine Iceland. What did you see? Grassy knolls? Snowcapped peaks? Slow-moving glaciers? Steaming volcanoes? All of this and more can be found about four hours east of Reykjavik in Vatnajökull and Skaftafell National Park. Combined, the neighboring reserves cover 40 percent of the island nation and form Europe's largest park. This serene amphitheater of glistening blue ice and mossy mounds boasts a network of popular trails that take visitors through misty fields past thundering waterfalls and twisted birch woods. Though some will never understand the appeal of a glacier-filled terrain, Icelanders clearly do. Why else would over 150 living Icelandic mean bear the name Jökull (Icelandic for glacier)?
Where to stay: Bolti Farmhouse (Email bolti123@gmail.com for rates and availability)
Kaieteur National Park, Guyana
Kaieteur National Park occupies a sizable patch of land in the center of the Guiana Highlands (or Guiana Shield), thought to be the earth's oldest surface at roughly 2 billion years old. The park's crowning jewel and biggest attraction is Kaieteur Falls which, like many other cascades in the area, pours over one of central Guyana's signature table-top mountains. The tannin-stained water falls from a height of 251 meters (822 feet) during rainy season when it's shrouded in rainbow-filled mist. Beyond the falls, the surrounding rainforest is home to a pristine ecosystem with rare species like the bright orange cock of the rock, the golden frog and the ocelot (dwarf leopard).
Where to stay: Kaieteur Guesthouse (See website for details and contact information to inquire about rates).
Kakadu National Park, Australia
Australia's largest national park (it's half the size of Switzerland!) is as notable for its natural beauty as it is for its historical artifacts. The Aboriginal people have occupied the Kakadu area near-continuously for at least 40,000 years, and there are more than 5,000 recorded art sites, including cave paintings and rock carvings of long-extinct giant kangaroos and thylacines. The Aborigines now act as part-owners of the park, helping the Australian government preserve this biologically diverse patch of tropical forests, tidal flats, floodplains, lowlands and plateau. If that isn't enough to sell you on the place, how about this: Kakadu National Park was the iconic Australian landscape featured in "Crocodile Dundee."
Where to stay: Gagudju Dreaming (Rates for the hotel or lodge start at $57)
Guilin and Lijiang River National Park, China
Like a watercolor come to life, this dreamy park harkens back to a simpler time where water buffalo patrol the fields, laborers tend to their rice paddies and fishermen set out each morning in search of their evening meal. What makes the park even more special is the gorgeous maze of karst peaks that offers a new surprise at each bend. Most come to this part of China for the Li River cruise and bamboo rafting down the Yulong River, but outside of the water, there is much to be explored on land and plenty of opportunities to hike or bike your way off the beaten path.
Where to stay: Li River Retreat (Rates start at $47 per night)
Bwindi Impenetrable National Park, Uganda
Fancy a date with a gorilla? With about half of the world's population of the critically endangered Mountain Gorillas, Bwindi Impenetrable National Park is fast becoming one of the last places on the planet to spot the gentle giants in the wild. Though the gorillas are certainly the star attraction, nine other primates (including chimpanzees), 350 species of birds, 310 species of butterfly, 51 reptiles and countless others seek refuge in the park, giving it one of the richest ecosystems in all of Africa and indeed the world. Most visit the park on a gorilla safari which, while not cheap, does contribute to the animal's conservation.
Where to stay: Bwindi Safari Lodge (Email for rates and availability).
Canaima National Park, Venezuela
For those that like to see the biggest, smallest, longest and oldest of everything, here's something to check off your list: Angel Falls, the world's tallest waterfall. Located in southeast Venezuela, Angel Falls drops for over 1,002 meters (3,287ft), or more than half a mile. Yet, the waterfall is just a dot in this massive park. About 65 percent of it is occupied by bush-covered plateaus of rocks called tepuis, which house 118 mammals, 550 birds, 72 reptiles and 55 amphibians. The forests and savannah are also home to the Pemon people, Amerindians of the Carib family who still maintain their traditional way of life within the park boundaries.
Where to stay: Waku Lodge (Rates start at $221 per night and include airport transfers, three meals and a boat tour)
Wadi Ayhaft National Park, Yemen
The Arabian Sea archipelago of Socotra is often called the most alien-looking place on earth -- and it's not hard to see why. Over 90 percent of its reptile species and some 40 percent of the plant species are endemic to the island chain, including the striking, umbrella-like dragon's blood tree, whose thick, red sap gives it its fairytale name. With deep karstic caves, towering mountains and bone-white beaches, any outdoor enthusiast or avid photographer would have a field day traversing Socotra's mystery-riddled paths. Below the surface, the islands' coral reefs are no less diverse, awash as they are with species you won't find anywhere else on the planet. Remote, rustic and little-visited, this Unesco World Heritage site is one of the world's last untouched wonders.
Where to stay: Summerland Hotel (Rates start at $70 per night)
Sagarmatha National Park, Nepal
You may never have heard of Sagarmatha National Park, but you're no doubt familiar with its most famous landmark: Mount Everest. Perhaps nowhere else on earth will make you feel as delightfully small as these Himalayan highlands (if you've ever wondered what it would be like to be an ant crawling up the side of a picnic basket, Sagarmatha is the spot for you). The Everest region has a trail for people of all abilities, and many first-time visitors are surprised to find so many picturesque villages tucked in the foothills of what they consider a foreboding place. Yet, unless you're hiking to the top of the world, you'll likely encounter the friendly Sherpa people every step of the way as you follow the trails, their age-old highways.
Where to stay: Most visitors to the park come on trekking expeditions and either camp or stay in the various "tea houses" along the way.
FOR FREE to continue reading
✔️ Unlock the full content of International Business Times UK for free
offer available for a limited time only
✔️ Easily manage your Newsletters subscriptions and save your favourite articles
✔️ No payment method required
Already have an account? Log in
© Copyright IBTimes 2023. All rights reserved.