WTA Leader Sees More Growth Via TV, Fan Input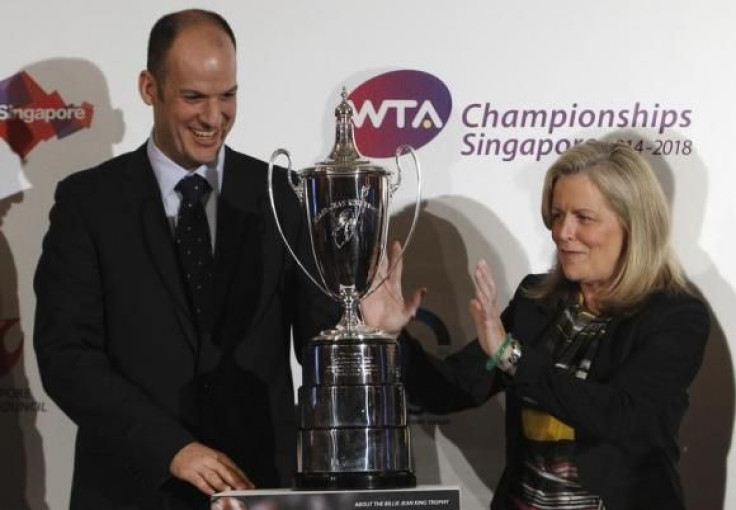 With gender equality achieved and a host of new sponsors brought in, WTA chairman and CEO Stacey Allaster has set her sights on further growth of the tour via a landmark television deal and by enhancing the fan experience.
Allaster, who took over as the tour's leader from Larry Scott in 2009, believes the sky is the limit for the Women's Tennis Association (WTA) because of its global reach and a plethora of top players from different countries.
"We have a terrific opportunity in this global world," Allaster, who has been named by Forbes magazine as one of the "Most Powerful Women in Sports," told Reuters.
"When we go in and make (business) pitches, we are on every continent with 55 events in 33 countries, 92 different nations represented.
"When you've got a strategic market around the globe, it's pretty easy for us to piece together either an event or an athlete to create local activation strategies for commercial partners."
Allaster, whose tour includes more than 2,500 players competing for in excess of $120 million in prize money, is especially excited about the WTA's television deal with Perform, starting in 2017.
"It's a 10-year deal worth a minimum of $525 million and it will be the game-changer moment for us because it is all about giving women's tennis more exposure," said the dynamic 51-year-old Canadian.
"We only have one-third of our matches (televised) today but in 2017 we will do all 2,000 of them across multiple platforms in multiple forms, short-form as well for the younger consumer who might only want two or three-minute highlights of matches.
"We'll be able to have the pipeline to distribute and that ultimately will have a dramatic impact on building our fan base and showcasing our product because when people see it, they cannot believe how talented these athletes are."
A BONUS AND CHALLENGE
Allaster, who was tournament director of the Canadian Open for 15 years before rising up through the WTA hierarchy and becoming chairman and CEO in July 2009, regards the tour's global reach as both a bonus and challenge.
"A lot of sports leagues would love to have what we have, to be truly global," she said of the WTA, whose top 10 players come from nine different countries. "To have 10 official ranking events in China, most leagues can't do that.
"They have to come in with friendlies or exhibitions, but we have the official product happening annually in China. In Asia after the U.S. Open we truly have a bona fide Asian swing. But it is also a challenge that we're so global.
"The tour has 305 days of competition and we need more investment in the central organization to be able to scale this business, to do the marketing and invest in technology and in data for us to be able to connect with our fans 365 (days of the year)."
The fans are a specific target for Allaster, who not only wants to see the spectator experience maximized through product innovations but also through direct feedback.
"The WTA is all about being the most inspirational and exciting sport entertainment experience on earth," said Allaster, who was an instrumental figure in securing equal prize money for men and women at all four grand slams.
"To build our strategic plan for growth, we asked fans what they want from the WTA. We did not talk to tennis fans. We have them. We asked sports fans what we could do to improve the product so that they would watch more, follow more."
The global survey of 5,000 fans from countries such as China, Brazil, Australia and Spainrevealed that a desire to have national tennis heroes and emerging stars topped the list.
"They also wanted to see better tournament scheduling, a more defined season and a greater distribution of fan-friendly platforms. The biggest surprise was that on-court grunting was not an important issue for the fans," Allaster smiled.
(Reporting by Mark Lamport-Stokes in Los Angeles; Editing by Frank Pingue)
© Copyright IBTimes 2023. All rights reserved.
FOLLOW MORE IBT NEWS ON THE BELOW CHANNELS