WTC Accident: 40 Tons of Steel Fall 40 Stories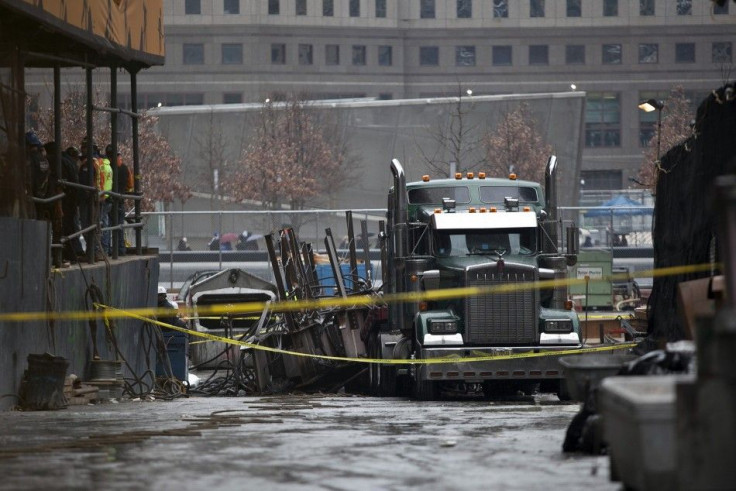 Emergency workers responded to an accident at the World Trade Center on Thursday morning after a crane cable snapped and thousands of pounds of steel beams fell about 40 stories onto a truck.
The fallen beams completely destroyed the vehicle, barely missing the crane operator, reported the Daily News. There were no reported fatalities.
It's a miracle that no one was killed said steamfitter Mark Sherank, 45, who was in the middle of a safety meeting when the cable snapped, reported the Daily News. I looked outside I saw the truck it's a pancake now. A noise like that, you know something's wrong.
When the beam fell, it created a sense of confusion. There was an extremely loud noise and dust flew up in the air.
It sounded like a bomb, said Frank Pensabene, 25, an ironworker from Staten Island, reported the New York Post. The workers raced to the scene of the accident to see if there was anything they could do to help.
Everybody was running to see if they could help, said the worker, who declined to give his name to the Daily News. Suddenly there was a lot of noise and everybody ran for cover.
The accident occurred just before 10 a.m. near Church Street and Cortland Street.
The cable of a crane broke, causing the steel it was lifting to fall approximately 40 stories back onto the flatbed truck that had transported the steel into the World Trade Center site, said John Gallagher, a spokesman for the company working on the World Trade Center Construction. He did not speculate how heavy the beams were, but workers estimated it could be approximately 35 to 40 tons.
The work site was temporarily shut down so police and inspectors from the Buildings Department could investigate the scene. While the investigation is still ongoing, some theories say that there was a failure in the hydraulic system that could have the caused the cable to snap. Another possibility was that an engineer made a miscalculation, reported the Post.
Until the investigation is concluded, there will not be any construction activity at the site.
© Copyright IBTimes 2023. All rights reserved.