Yankees Rumors: Who's Next After Aaron Judge? Carlos Rodon, Andrew Benintendi Among Options
Signing Aaron Judge to a historic $360 million contract is unlikely to be the New York Yankees' final move in free agency. Now that the team has kept its best player, the Yankees will look to improve other areas of the roster.
What's next for the Yankees after re-signing Judge? According to the latest rumors, New York is trying to make upgrades in the starting rotation and left field.
The Yankees have been linked to Carlos Rodon for months. New York explored acquiring the starter from the San Francisco Giants at the 2022 trade deadline. The Yankees were reportedly interested in signing Rodon before locking up Judge, and New York still has its eyes on the left-hander.
Now that Jacob deGrom and Justin Verlander are off the market, Rodon is the best pitcher available in free agency. Rodon had a 2.88 ERA in 31 starts for the Giants last season. In 24 starts for the Chicago White Sox in 2021, Rodon pitched to a 2.37 ERA. The 29-year-old was a top-six Cy Young finisher in both seasons.
Rodon is believed to be seeking a six-year contract worth $180 million. The Yankees might not be willing to offer more than a five-year deal to a pitcher who was limited to 41 starts from 2017-2020 because of injuries.
Jameson Taillon has signed with the Chicago Cubs after ranking second on the Yankees in innings pitched. Gerrit Cole, Luis Severino, Nestor Cortes, Frankie Montas and Domingo German currently make up New York's rotation.
The Yankees have a couple of potential options when it comes to their second corner outfield position. New York could sign Andrew Benintendi, who joined the team at the trade deadline but was limited to 33 games with them because of a wrist injury. Japanese outfielder Masataka Yoshida has also drawn interest from the Yankees, according to The Athletic's Ken Rosenthal.
Benintendi finished the 2022 season with a career-high .304 batting average, though he only hit .254 as a Yankee. Benintendi hit for a high average with a relatively low strikeout rate, two skills that New York's lineup lacks.
ESPN has reported that Yoshida is set to become eligible to sign with an MLB team. The 29-year-old hit .335/.447/.551 with 21 home runs for Japan's Orix Buffaloes last season.
The Yankees have shown interest in Brandon Nimmo, but New York might be unwilling to meet his asking price now that the team will be paying Judge $40 million per season for close to a decade.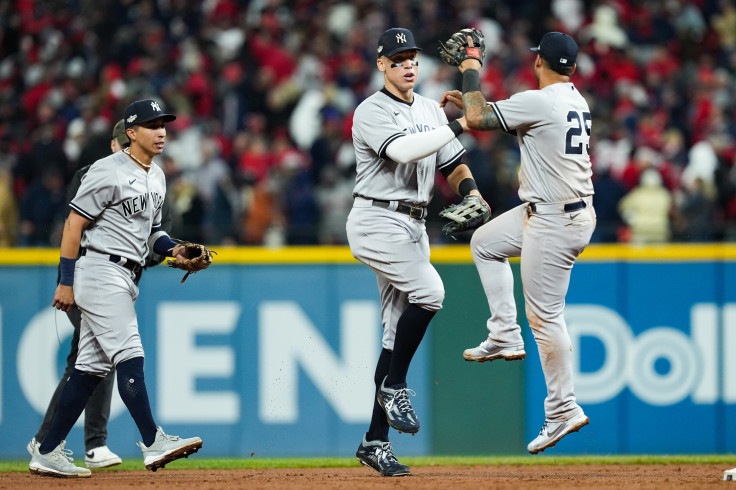 © Copyright IBTimes 2023. All rights reserved.