'Young And The Restless' Spoilers: Cane Makes Lily Suspicious With Bizarre Behavior
He wants to make sure his wife never finds out about his one-night stand with another woman while he was in Tokyo, but Cane's behavior may wind up making Lily even more suspicious on the Friday, May 26 episode of "The Young and the Restless."
Cane (Daniel Goddard) was informed that Hilary (Mishael Morgan) was aware he cheated on Lily (Christel Khalil) with Juliet (Laur Allen) in Tokyo. His wife and former sister-in-law have always had a contentious relationship on the CBS soap, so he's been worried Hilary may get some sort of vengeance on Lily by spilling his secret. Initially, after learning Hilary had given Lily a flash drive with her interview from L.A. on it, he didn't think anything of it, and still doesn't. But when he gets frantic trying to find it when it goes missing, Lily could become suspicious of why he's so worried about it.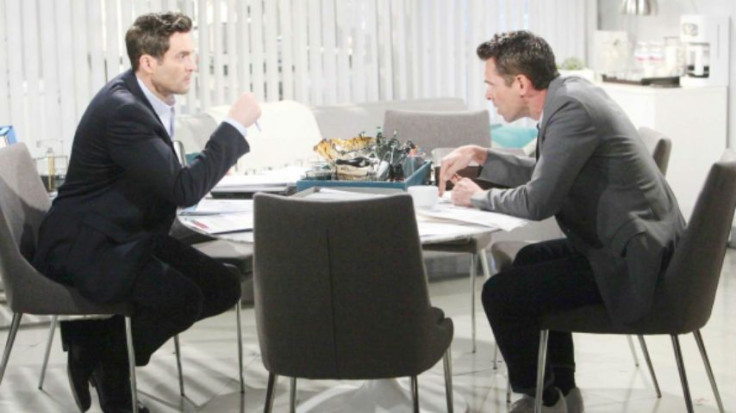 "Do you know where it is? Do you know where that flash drive is? Just tell me that you haven't sent it to your agent," he says to Lily in a preview clip.
Read: 7 Moments You Missed Last Week On "Days Of Our Lives, " "Young And The Restless," And "Bold And The Beautiful"
However, when Lily gets a little suspicious about why he's anxious to have the flash drive, Cane will reveal it's about something else. While they and the rest of the Brash and Sassy team were in L.A., he set Billy (Jason Thompson) up to look bad by editing footage that showed Billy joking with hockey players about betting on games and getting it aired on Hilary's show. That footage wound up costing Brash and Sassy their deal with the hockey league for a cologne.
Since their return to Genoa City, Victoria (Amelia Heinle) has been working as hard as she can to get the deal back, and has since informed her staff that it is now back on. The conditions were that she had to fire the person responsible for the footage getting out, and she had to scrap the initial commercial. Cane will assume that Billy is the one who gets fired, though Victoria will instead set her sights on Juliet. However, when he told Victoria that Lily has some footage from the initial plan, Victoria replied that he needed to make sure it is destroyed.
Read: Nick Is Appalled By Victor's Request On "The Young And The Restless"
However, while that will explain Cane's desperate attempt to find the flash drive and make sure it is destroyed, he won't actually be destroying the footage he thinks he is. After Hilary got Juliet to confess to the affair, she taped it, and put it on a flash drive as well. She then switched the two flash drives and gave the one containing Juliet's confession to Lily. While Cane has now destroyed the confession that could end his marriage, it means Hilary is in possession of the footage that can destroy his career.
"The Young and the Restless" airs weekdays at 12:30 p.m. EDT on CBS.
© Copyright IBTimes 2023. All rights reserved.