'Young And The Restless' Spoilers: Nick Is Appalled By Victor's Request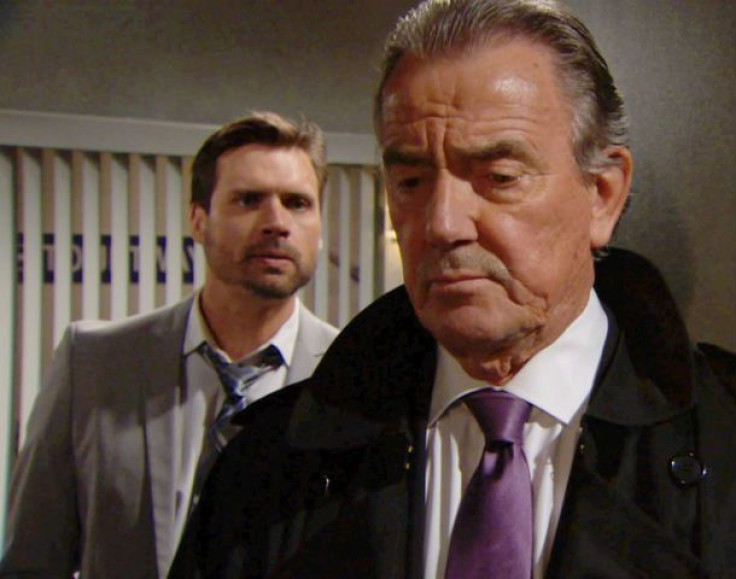 He has disowned his father after realizing the role he played in his brother's death, but Nick will be left stunned when Victor makes an unexpected request of him on the Thursday, May 18 episode of "The Young and the Restless."
After witnessing Victor (Eric Braden) help Chloe (Elizabeth Hendrickson) escape town when she was outed as having murdered Adam in the cabin explosion, Nick (Joshua Morrow) realized his father was Chloe's accomplice all along when it came to Adam being framed for Constance Bingham's murder and everything else he suffered through ahead of his death. As a result on the CBS soap, he, Victoria (Amelia Heinle) and Nikki (Melody Thomas Scott) have all disowned him, but are keeping that fact, and what he did, to themselves so it doesn't destroy their own reputations as well.
One of the people who doesn't know that Nick knows the truth about Chloe's accomplice is Adam's widow, and Nick's current girlfriend, Chelsea (Melissa Clare Egan), who has now made it her mission to find out who helped Chloe escape town and get out of the country. Unaware that Victor is the last person she should be seeking advice from, she will go to him first, clutching the fake passports he provided to her and Adam so they could skip town the night he died. Hopeful for answers, she will ask him if the same guy he hired to create those could have helped Chloe out, but will be discouraged when Victor reports back to her that it isn't the case.
Read: 5 Moments You Missed Last Week On "Days Of Our Lives," "The Young And The Restless," And "The Bold And The Beautiful"
Now, as he continues trying to make sure his tracks are covered, Victor will seek out Nick to request that he find a way to end Chelsea's investigation once and for all, and Nick will be shocked that his not only thinks he will help him, but that he will dare to tell Chelsea what to do.
"You want me to spy on my girlfriend and report back to you?" Nick asks in a preview clip.
"That's right," Victor replies.
Read: Victoria Reveals Plans To Win Billy Back On "The Young And The Restless"
Nick will be stunned that his father is requesting this information from him, but he may wind up actually considering trying to stop Chelsea's quest, He has tried to talk her down from it before to no avail, but may realize that her potentially discovering the truth won't only destroy the cover-up he and his family have put into place, but it could also destroy his own romance with her, because she'll never forgive him for lying and helping keep the man who inadvertently caused Adam's death out of prison.
"The Young and the Restless" airs weekdays at 12:30 p.m. EDT on CBS.
© Copyright IBTimes 2023. All rights reserved.