11 Celebrities Who Have Come Out As Bisexual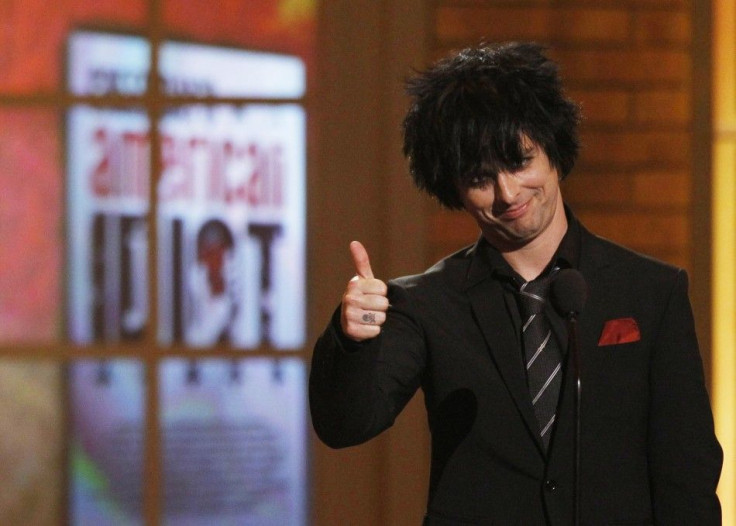 KEY POINTS
Amber Heard wanted to offer young people "someone to look up to" when she came out.
Shay Mitchell subtly hinted at being bisexual in a recent TikTok post
Kit Connor was "forced" to come out as bisexual following "queerbating" allegations
Some of Hollywood's biggest stars have become more open about discussing their sexual orientation in the media over the past years, including the events that led to their coming out story and advocating for fellow LGBTQ+ members.
Below is the list of 11 celebrities who publicly came out as bisexual, according to Us Weekly.
1. Billie Joe Armstrong
Rock band Green Day's lead singer Billie Joe Armstrong first made his bisexuality public in the early 1990s. But it was only in 2010 that he addressed his sexual orientation among concerned fans during an interview with Out magazine.
"The fact that it is an issue is kind of phobic within itself. At some point, this should be something that's just accepted," the "21 Guns" singer told the outlet at that time, according to Us Weekly.
He continued, "I don't really classify myself as anything. And when it comes to sex, there are parts of me that are very shy and conservative. I want to respect my wife."
Armstrong married his wife, Adrienne Armstrong, in 1994. They share two sons, who are also in the music industry, 27-year-old Joey, and 17-year-old Jakob Danger.
2. Amber Heard
"Aquaman" actress Amber Heard has always been open to speaking about her sexual orientation. In 2010, during GLAAD's 25th anniversary event, she admitted to having "successful relationships" with both men and women.
The 36-year-old actress was married to "Pirates of the Caribbean" star Johnny Depp from 2015 to 2017 and is reportedly dating cinematographer Bianca Butti since 2020.
Heard also revealed that being open about her bisexuality was a move made because she felt a responsibility toward the younger fans struggling to find their true selves, according to her interview with Italian publication IO Donna, Pink News reported.
"But to be silent about something means to admit underneath that thing is wrong. But I knew it was not like that," Heard explained. "So, I told myself to describe reality in a truthful way and to offer young people, someone, to look up to since those of my generation had grown up without any model of reference."
3. Michelle Rodriguez
Michelle Rodriguez publicly came out in 2013 when she admitted to Entertainment Weekly that she had "gone both ways."
"I've gone both ways. I do as I please," Rodriguez told the outlet. "I am too f--king [curious] to sit here and not try when I can. Men are intriguing. So are chicks."
The 44-year-old "Fast & Furious" star dated her co-star Vin Diesel in 2001 after wrapping up the film. In 2014, she briefly dated "High School Musical" alum Zac Efron, then model Cara Delevingne in December of the same year.
4. Shay Mitchell
The "Pretty Little Liars" alum subtly hinted at being bisexual earlier this month when she dueted a TikTok video posted by user @NourishedWithTish, with audio that said, "If you identify as bisexual, do you own a green velvet couch?"
The 35-year-old Canadian actress then panned her camera to show her sitting on her green velvet sofa, leading fans to speculate that she might have come out.
5. Cynthia Erivo
In celebration of Pride, the British Vogue cover story featured various well-known Hollywood personalities who have publicly opened up about their sexuality, including the award-winning actress Cynthia Erivo.
The "Harriet" star revealed in the interview that it took time before she got the confidence to share "she is bisexual" and expressed that many members of the LGBTQ+ community still need to justify why they "deserve to be treated as equal beings" when they should be given the right and "space to show up fully as who they are," instead of being "chastised."
6. Elizabeth Corrigan
"The Bachelor" alum Elizabeth Corrigan publicly came out as bisexual during Pride Month this year via an Instagram post, explaining that it seemed like the "right time" to speak about her sexual orientation.
"Waking up this morning to my first Pride in NYC I was so excited. I sprung out of bed, went to get a coffee — bought a flag — and quickly began feeling anxious. Overwhelmingly so. Am I ready? No. Am I scared? Yes. Will 'the right time' come? Qualify it. ... It's important to me today to share with you all that I am queer," Corrigan admitted.
7. Lili Reinhart
Lili Reinhart, the actress famous for her role as Betty Copper on the CW teen drama series "Riverdale," first acknowledged her sexual orientation two years ago through her Instagram Story. Months later, she divulged details of her coming out story with Flaunt magazine and explained why she was hesitant about sharing it with the public.
"I knew full well that I was attracted to women from a young age," Reinhart explained before adding that because she had "exclusively been in heteronormative relationships" it was easy for the media or any outsider to speculate that she was "faking" being bisexual to gain attention.
"To my close friends and those in my life, my bisexuality has been no secret," she added.
8. Megan Fox
"Transformers" actress Megan Fox admitted that she never questioned being bisexual; however, she bluntly revealed she "would never date a girl who was bisexual" because it meant that she was also sleeping with men.
"I'm also a hypocrite: I would never date a girl who was bisexual, because that means they also sleep with men, and men are so dirty that I'd never want to sleep with a girl who had slept with a man," Fox told Esquire in 2009.
However, she married Brian Austin Green in 2010. But they finalized their divorced in February of this year. Fox is now engaged to rapper Machine Gun Kelly almost two years after meeting each other in 2020.
9. Angelina Jolie
Angeline Jolie, who was one half of the iconic Hollywood couple "Brangelina," was revealed to also have emotional and sexual feelings toward women in an interview with 20/20 back in 2003.
"[I was] surprised when I suddenly found myself having these feelings I always had for men, but for a woman, and wanting to kiss her and wanting to touch her," Jolie admitted.
The "Mr. and Mrs. Smith" actress dated model Jenny Shimizu from 1996 to 2000 and was married to Brad Pitt from 2014 to 2016. Jolie and Pitt share six children, including 21-year-old Maddox, 17-year-old Zahara, 16-year-old Shiloh, 18-year-old Pax, 14-year-old Knox, and 14-year-old Vivienne.
10. Drew Barrymore
"50 First Dates" star Drew Barrymore revealed that she has "always considered" herself bisexual in an interview with Contact Music in 2003.
It has not been reported that she had been in a relationship with a woman, but she was married to her ex-husband Will Kopelman for four years before they divorced in 2017. The ex-couple share two children together, 10-year-old Olive and 8-year-old Frankie.
11. Kit Connor
"Heartstopper" star Kit Connor is the latest Hollywood celebrity to come out of the closet following his portrayal of a bisexual character in the Netflix coming-of-age series. Connor played rugby player Nick Nelson, who developed a romantic relationship with Charlie Spring (Joe Locke).
But his coming out wasn't what he imagined it to be, for the star claimed he was "forced" to admit his sexual orientation.
"Back for a minute. I'm bi. Congrats [on] forcing an 18-year-old to out himself. I think some of you missed the point of the show. Bye," Connor said in a post shared via Twitter on Monday.
It was unclear why the star felt forced to come out. But Variety reported that it might have been due to the "queerbating" allegations after photos of him holding hands with Maia Reficco, his co-star in "A Cuban Girl's Guide to Tea and Tomorrow," surfaced online.
© Copyright IBTimes 2023. All rights reserved.