11 Hallmark Stars Reveal Their New 2020 Movie Plans
There are still about 10 new Hallmark movies set to premiere this year as part of the Countdown to Christmas and Miracles of Christmas events, but Hallmark stars are already looking ahead to next year's lineup of romantic comedies and mysteries.
International Business Times got the scoop on what many of your new, longtime and returning Hallmark favorites are working on for 2020. Get all the details below!
Katrina Law:
After revealing during a recent Reddit AMA that she might have a new TV movie in the works, Law, whose last Hallmark movie was 2015's "12 Gifts of Christmas," shared a few more teases with IBT, saying: "I'm not sure that I can necessarily talk about it, but it might have to do with someone I've already worked with at Hallmark, coming back and doing something again. I'll just put that little teaser out. But we're definitely working on a new project, another Christmas movie. And hopefully that gets up and running and goes through and everything is good. I'm pretty excited about it.
The "Hawaii Five-0" actress added: "I absolutely love doing Hallmark Christmas movies. I love that they're completely different than anything else that I do. Just the fact that I go into work and we're laughing and there are Christmas trees and nobody's getting punched and there's no blood and you get your person at the end, it's quite wonderful."
Nikki DeLoach:
After starring in two movies with Michael Rady this year and then calling him her creative soulmate while in conversation with IBT, we had to ask if she would want to continue working with him in the future but as a crime-solving duo in a Hallmark Movies & Mysteries franchise.
"Uh, dude, I've been trying to get [Hallmark] to do it since I did 'Love to the Rescue' with him," DeLoach said. "So, I'm starting a petition."
She continued: "I called Hallmark and was like, 'How can we figure out a way for the two of us to work together?''And, obviously, a mystery wheel would be one of those ways. We're really trying to figure that out because I think that not just Michael and I would love it but, I think, the fans would love it because I get it all the time from fans, of people saying, 'Wow, I love the two of you together. It's so crazy how great you are.' And I think that they would love it, too."
The "Two Turtle Doves" actress currently has a pitch with Hallmark that she, not wanting to lie, said it "is pretty incredible." She came up with the idea for it with her friend, and fellow Hallmark actress, Lisa Durupt.
"We came up with this idea that's very different from any mystery wheel that they have, and I can't tell you exactly what it is that would make it different from all the others, but what I can tell you is that it would be the ultimate fan experience for people who love Hallmark."
Aside from the mystery wheel she's working on, DeLoach also has two other films she's putting together. And, after first telling IBT last year that she'd love to work with actor Wes Brown, she shared during this most recent interview that it might finally end up happening in 2020.
The most recent one that she and her writing partner wrote and sold to Hallmark takes place in the South, "and I also have another concept that I'm developing with them currently that also takes place in the South. And, for me, Wes Brown has that feel, like he grew up in Louisiana, he gets it, and he has that feel about him," DeLoach said. "You put some cowboy boots on him, and you believe that he is a cowboy. He's my top choice on both of those movies, across the board. I think that he would just really, really knock it home. Hopefully we're gonna be able to make both of those in 2020 and I can get Wes on one of those. That would be my dream."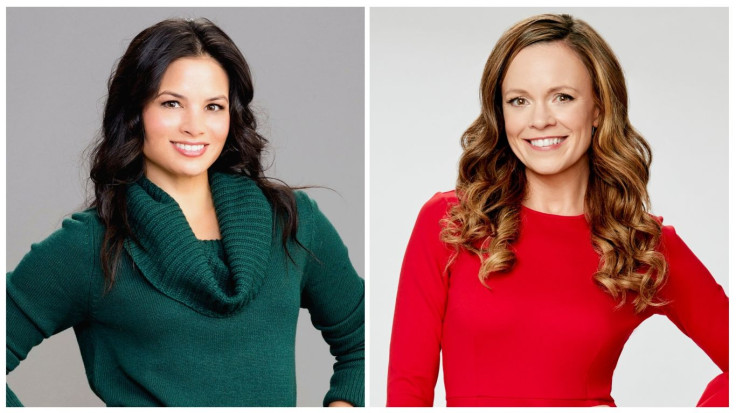 Lacey Chabert and Jonathan Bennett:
Bennett told IBT the "big thing" they're trying to do for next year is a 2020 Hallmark Christmas movie starring him and Chabert. "I think it's time to reunite us on camera," he added, before going on to explain what he might want the movie to be about.
"I think we should go somewhere in New York City. Like a 'Sleepless in Seattle' in New York City," he said. "We're gonna start the hashtag, #JonathanAndLacey2020, and tag Hallmark Channel."
Of the idea of doing a movie with her fellow "Mean Girls" alum, Chabert said it "would be so much fun. I love him so much. He's such a good guy, and we've known each other forever."
Jack Wagner:
During the "When Calls the Heart" panel as Christmas Con 2019, Wagner revealed his wedding movie franchise isn't over yet, and he'll be doing a "Wedding March 6" in the spring.
Rachel Boston:
Earlier this year, Boston starred with Paul Campbell in "The Last Bridesmaid," written by Nina Weinman, and she's hoping to make a sequel to it in 2020.
"That one did so well, and we had so much fun making it," Boston told IBT. "…We have our whole outline in. We're approved for development, and that's what we're working on. That would be the first one for 2020."
She continued: "I've got [that] sequel that's in development right now, and I've got a few [other] projects that are in development. Two for Hallmark. And then two others that we're working on that we will absolutely bring to Hallmark, first and foremost, and then we'll see where else they could go."
Cameron Mathison:
While Mathison doesn't yet have a movie on the books for 2020, he did share that "these films come together quick" and he could be added to one shortly before filming begins. "Sometimes they'll attach an actor and the people once they've already got the location, they know the script, they know everything, and they're just gonna plop in a few actors," he said, before adding that he does need a little bit of notice, though, because they'll have to find someone to fill in for him on "Home & Family."
"I probably will start having those conversations in the new year," he said. "…It would be kind of fun if I did a Christmas movie every year. I mean, I'm just putting that out there. It would be kind of fun if that was an annual tradition."
Holly Robinson Peete:
"We have one ['Morning Show Mysteries'] that we know we're gonna do, but I wanna do many more," the actress told IBT. "I'm really hoping that we do more because I love working with Rick Fox and Al Roker and wanna see more mystery movies."
Ashley Williams:
Aside from working on getting a Christmas duology with her sister, Kimberly Williams-Paisley, off the ground at Hallmark, Williams shared she's also working on another project she hopes the network will greenlight.
"I've got another project that they don't even actually know about yet. But I have the script. I got my friend to write it, and it's really sweet."
She added: "This is about a small-town girl, who is an architect and a designer, who gets paired up with this guy, that she absolutely cannot stand, to rebuild and restore the town hall, where everybody gets married and takes their pictures. And they may or may not fall in love…It's called 'Built for Love.'"
Niall Matter:
The "Christmas at Dollywood" star filmed a movie called "Country at Heart" that was set to debut on Hallmark Channel during their Fall Harvest 2019 event, but it was ultimately pulled from the schedule. Matter, who is "really excited about that film," told IBT he believes it will now be coming out fall 2020, instead.
Chad Michael Murray:
While the "Write Before Christmas" star didn't share exactly where the next feel-good movie he's working on might end up, Murray did say during his Christmas Con 2019 panel that these types of movies make him happy because "putting out good content in the world that's not gratuitous is a beautiful thing." He went on to say that "Hallmark's been doing a great job with that, so, I thought, 'What am I doing? It's time to start writing some of my own.'"
He continued: "I am working on creating one right now that I've been writing and breaking down that would be kind of a gift from me to you guys because it's a lot of winks and nods to things over the course of the last 20 years of my career, with other actors that I've worked with to bring into the mix. It's like...winks and nods, with Christmas. It's charming. It's cute. It's exactly what it's supposed to be. And I love it and hope to be able to bring it to you guys."
FOR FREE to continue reading
✔️ Unlock the full content of International Business Times UK for free
offer available for a limited time only
✔️ Easily manage your Newsletters subscriptions and save your favourite articles
✔️ No payment method required
Already have an account? Log in
© Copyright IBTimes 2023. All rights reserved.