15 Las Vegas Cabbies Arrested During Strike Protests Outside Convention Center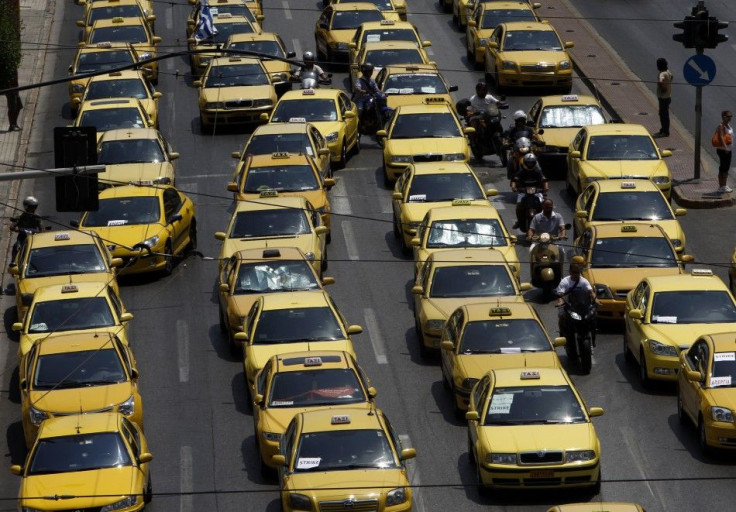 Fifteen cab drivers were arrested on Wednesday during a protest in front of the Las Vegas Convention Center. The drivers had been striking for over a month while hoping to get higher wages and better working conditions.
According to Fox 5 Las Vegas, a group of about 400 cab drivers took to the streets outside the Convention Center to protest against the Yellow checker Star cab company. The center was in the midst of hosting the National Association of Broadcasters convention. With more than 90,000 people in town for the event, cab drivers hoped that the convention would give a large audience to their grievances.
Bloomberg Businessweek reports that 14 of the arrested cab drivers were booked for traffic-related violations. Twelve cab drivers were arrested for failing to obey a traffic signal -- one for walking in a roadway, another for disobeying a police officer.
"The majority of those are people not obeying the traffic control devices at the crosswalks," Las Vegas Metro Police Capt. Todd Fasulo told Fox 5. "What they specifically do is when they go to cross the street, they will wait, and the light will turn red, and then they still go out into the street in an attempt to stand in front of certain vehicles and conduct their protest."
Cab drivers began protesting the National Broadcasters convention on Monday, hoping that by grabbing the attention of the several thousand convention-goers, they could gain a wider audience for their grievances. Protesters were also hoping to discourage attendees from using Yellow Checker Star cabs during the convention. Drivers have officially been on strike since March 3.
"We're the ambassador of the city, as they call us, because we're the first ones to greet the conventioneers and the tourists," said striking cab driver Ermias Aboye. "How come nobody is hearing us right now? So we need to raise our voices and let the people hear us."
According to protesting cab drivers, Yellow Checker Star treats its cab drivers unfairly and does not offer a competitive living wage to drivers.
"I started driving in 1976 up in Reno, and I've driven in other cities," said striking cab driver Michael Reid. "I can tell you this is the worst city in the country for a cab driver. They treat you like garbage. They treat you like you're nothing."
© Copyright IBTimes 2023. All rights reserved.