This 1868 Law Could Ban Trump From Running For President In 6 States
KEY POINTS
The Reconstruction-era law could ban Trump from the presidential ballot in six southern states
The six states make up 33% of the total electoral votes needed to win the presidency
Congress may block the ban through a vote
A Reconstruction-era law could potentially block former President Donald Trump from putting his name on the presidential ballot in six southern states in 2024.
The third section of the 14th Amendment established in 1868 prevents people who swore to defend the U.S. Constitution but played a role in an insurrection against the country from holding state or federal office.
"No person shall be a Senator or Representative in Congress, or elector of President and Vice-President, or hold any office, civil or military, under the United States, or under any State, who, having previously taken an oath, as a member of Congress, or as an officer of the United States, or as a member of any State legislature, or as an executive or judicial officer of any State, to support the Constitution of the United States, shall have engaged in insurrection or rebellion against the same, or given aid or comfort to the enemies thereof," Section 3 of the 14th Amendment reads.
The law allows the six states affected by the language to keep Trump's name off their primary and general election ballots in 2024. The states affected by this 1868 law are North Carolina, South Carolina, Georgia, Alabama, Louisiana and Florida.
These six states make up 33% of the total electoral votes needed to win the presidency. During the 2020 election, Trump won all states except Georgia where the current President Joe Biden won by 12,000 votes.
However, Trump's name may still be included on the presidential ballot in these six states if two-thirds of lawmakers in Congress vote to block the ban.
Other laws in the Reconstruction-era amendment also made experts believe that only Congress can enforce the ban. This means Republican lawmakers in the Senate could move to block the action, given that 10 GOP lawmakers vote in favor of the ban along with 50 Democrats, for the measure to pass the chamber, according to the Huff Post.
The former president was impeached by the House of Representatives in January 2021 for inciting the deadly insurrection at the Capitol that led to the deaths of four civilians and one police officer.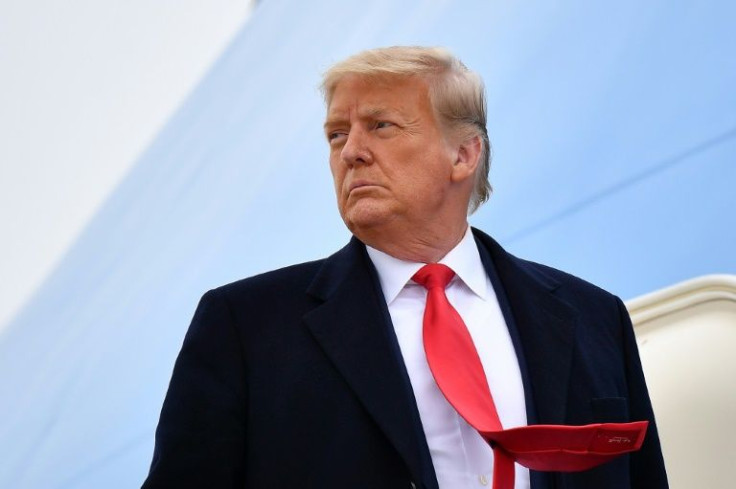 FOR FREE to continue reading
✔️ Unlock the full content of International Business Times UK for free
offer available for a limited time only
✔️ Easily manage your Newsletters subscriptions and save your favourite articles
✔️ No payment method required
Already have an account?
Log in
© Copyright IBTimes 2023. All rights reserved.