Jill Duggar Pregnancy Update: '19 Kids And Counting' Star Shows Off 35 Week Baby Bump, Reveals Home Birth Plans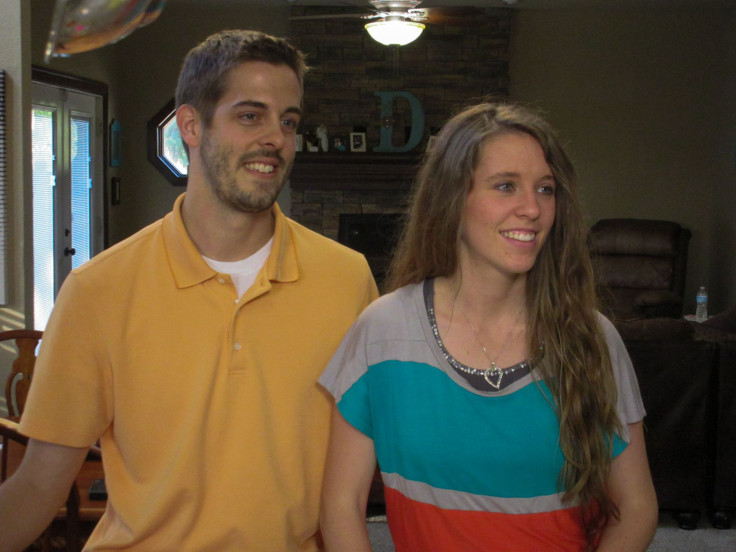 Jill Duggar is about to pop! The "19 Kids and Counting" star has been keeping TLC viewers up to date on her pregnancy for months, and on Thursday, the first-time mom shared a new photo of her baby bump.
Sporting her usually modest attire, Jill, 23, displayed her pregnant figure while holding up a sign indicating she is at 35 weeks and 1 day gestation. "Almost here!" reads the Duggar Family Official Facebook page's caption.
The latest pregnancy update comes just days after Jill shared a video of herself speaking to her unborn son. "There he goes!" Jill says in the clip after her stomach moves. In the video, the "19 Kids" star credits the child's movement to the presence of her husband and co-star, Derick Dillard. "Do you like seeing Daddy?" Jill asks her bump. "Oh! There was a kick!"
"I feel great. I feel really good," Jill recently told People Magazine of being in her third trimester. "He's moving around a lot and doing a lot of rolling."
The reality star also shared her birthing plans with the magazine. Just like her sister-in-law Anna Duggar — who is pregnant with her fourth child! — Jill says she wants to deliver in the comfort of her own home. "We're getting the birth pool, things like that. We have a bassinet and a crib," Derick, 25, dished.
Jill's sister and fellow midwife expert Jana Duggar, 25, will reportedly be present for the delivery. The rest of Derick and Jill's family will be on standby. "My sisters, mom and Derick's mom are available as errand runners," Jill said.
Fans of the Duggar family who are not familiar with the gestation of a pregnancy might be wondering when Jill is due. Thankfully for "19 Kids and Counting" viewers, it won't be much longer before Jill and Derick welcome their first child. The couple previously confirmed that Jill is scheduled to give birth in March.
While Jill is due to welcome her baby any day now, she only announced her pregnancy on "19 Kids and Counting" Tuesday. The show, which tapes months in advance, featured her pregnancy announcement in the Season 9 premiere.
"Yesterday, I kinda took something. Stole something," Jill admitted to her family in the episode "Jill's Secret." I took something from my mom… out of her bathroom cabinet."
"We had taken a couple of pregnancy tests earlier and they were negative. We actually found out that it was positive yesterday. We're expecting!" Derick added.
"19 Kids and Counting" airs Tuesdays at 9 p.m EST on TLC.
© Copyright IBTimes 2023. All rights reserved.