2013 NFL Free Agents Remaining: John Abraham, Ahmad Bradshaw, And Dallas Clark Still Out There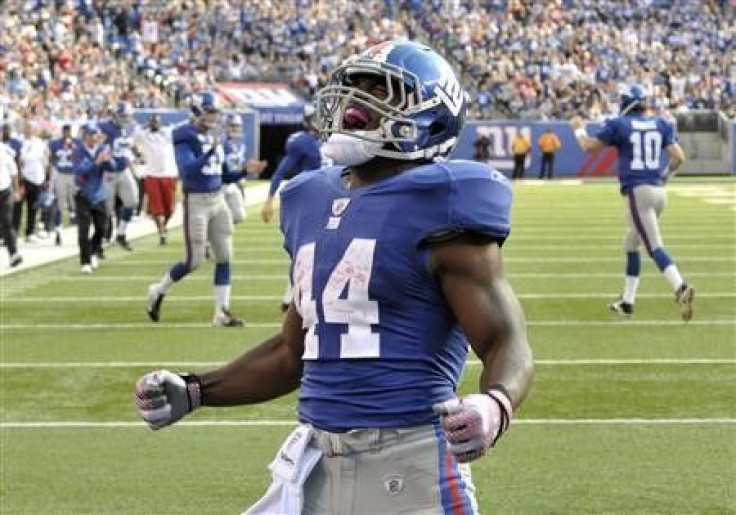 As OTA's have already begun in the NFL, the number of quality free agents is beginning to dwindle. In the past week, veterans Dwight Freeney and Charles Woodson finally signed new contracts. Josh Cribbs found a home, as well, signing a one-year deal with the Oakland Raiders.
Still, teams looking to upgrade at a particular position should be able to find one or two quality options for next year. Below are a few free agents that remain unsigned, but could play a major role for an NFL team in the 2013 season.
John Abraham
As June approaches, Abraham may be the best defensive player available on the free agent market. In his 13th career season he remained very productive for the Atlanta Falcons, accumulating 10 sacks and six forced fumbles.
Abraham, reportedly, hasn't been able to get a job because of his desire for playing time. According to Pro Football Talk, the defensive end is looking to play at least 60 snaps per game, while interested NFL teams only want to use him around 25 times per game.
Recent activity could make Abraham a more highly-sought after commodity. Dwight Freeney signed with the San Diego Chargers after Melvin Ingram tore his ACL. If another team suffers a similar injury on the defensive line, Abraham might be the first call that club makes.
Ahmad Bradshaw
It isn't the running back's contract demands or age that has kept him a free agent for so long, but it's his injury history that has teams worried. Bradshaw has undergone three surgeries on his right foot, leaving teams skeptical to give him too much money.
Bradshaw, however, has been medically cleared to take the field again, and is expected to land with a team, eventually. He rushed for 1,015 yards in 2012, despite missing two games.
Several clubs need a quality running back, and Bradshaw could more than, simply, fill the void. There's a chance the 27-year-old could stay in New York, with both the Jets and Giants lacking depth at the position. The Jets don't have a reliable option with Mike Goodson's recent arrest, and the Giants have yet to replace Bradshaw since his release.
Jeff Legwold of The Denver Post that the Denver Broncos examined the possibility of signing the free agent. The team decided to sign Shonn Greene, opening up the possibility of the Pittsburgh Steelers landing Bradshaw. The Steelers have been interested in the rusher for a while but have yet to make a move.
Dallas Clark
A few years ago, Clark was one of the premiere tight ends in the NFL. However, he's a long way from his 1,000-yard receiving seasons with the Indianapolis Colts.
Clark can still be a serviceable tight end. Last year, he proved he could stay healthy for 16 games, catching 47 balls for 435 yards with the Tampa Bay Buccaneers. He doesn't have the athletic ability of players like Rob Gronkoswki and Antonio Gates, but he can help a team that is lacking at the position.
With Kellen Winslow, Chris Cooley and Visanthe Shiancoe the best tight ends available, Clark should land on his feet, soon enough. The Steelers could be in the market for a tight end after Heath Miller's knee surgery. The Jets are also lacking a playmaker at the position.
© Copyright IBTimes 2023. All rights reserved.