2016 Election: Chris Christie Remains Confident As Poll Numbers Fall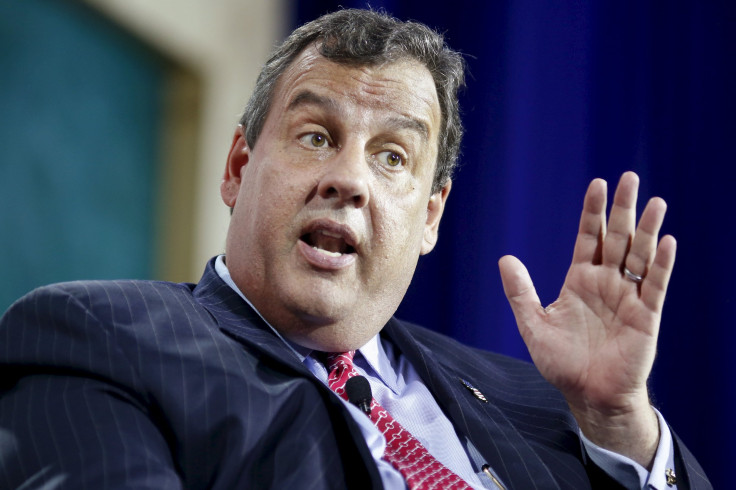 New Jersey Gov. Chris Christie is facing falling poll numbers in the race for the Republican presidential nomination, but that doesn't seem to be denting his confidence. Speaking to CBS's "Face the Nation" in Iowa this week, Christie said he would still be among the top 10 candidates to make it into the next Republican debate, which is set for September.
"I'll be on the first stage, so don't worry about it," he told CBS in an interview set to air Sunday, referring to the debate stage reserved for the 10 Republican candidates with the strongest showing in public polls. The second debate stage is set aside for candidates who receive more than 1 percent of poll respondents' support. The next Republican debate will be hosted by CNN.
Christie's comments come days amid sagging poll numbers. Political website RealClearPolitics' average of major national polls put the New Jersey governor in 11th place as of Tuesday, behind the likes of real estate mogul Donald Trump, former Florida Gov. Jeb Bush, Florida Sen. Marco Rubio, retired neurosurgeon Ben Carson and Wisconsin Gov. Scott Walker, among others. Former Hewlett-Packard CEO Carly Fiorina, who did not poll highly enough to make it into the first stage of the first GOP debate, also ranked above Christie.
"We know that people, especially in the state we're sitting in right now and in New Hampshire, they don't make their minds up till very, very late," Christie told CBS.
The 2016 presidential race has seen one of the most crowded Republican fields in years. Candidates have begun centering their focus on Trump, who is currently leading most national polls.
Christie's campaign has emphasized his candor, with "Telling It Like It Is" as his slogan. But Trump, who has dominated headlines with his brash comments over immigration and spats with Fox News personality Megyn Kelly, has unexpectedly risen in the polls and emerged as the outspoken, no-holds-barred candidate of the Republican field.
Sunday's talk show circuit will also include a number of other Republican presidential hopefuls angling to snatch back some of the media spotlight in the wake of Trump's rise. Six candidates -- Christie, Walker, Fiorina, Carson, Texas Sen. Ted Cruz and former Arkansas Gov. Mike Huckabee – are all slated to appear on various political shows Sunday.
© Copyright IBTimes 2023. All rights reserved.