45K Striking Verizon Workers Returning to Work; Sides to Focus on 'Core' Issues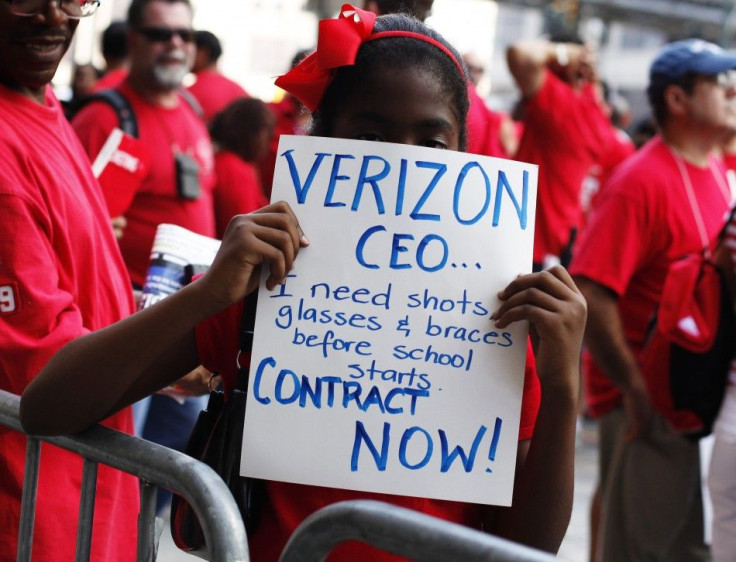 The Verizon strike is coming to an end, as 45,000 picketing landline workers end two weeks of holdouts and return to work beginning Monday night. They have not yet agreed to a new contact, but they've agreed to negotiate with the company, and the company says it will focus on the core issues at hand in talks -- and that's a good thing, both parties say.
Workers need paychecks. Verizon needs unity in its business -- and the issues can and should be worked out, they say.
The truce is a win-win victory for both sides, as well as a victory for the American economy which needs the workers on the job as details are worked out on a new contract. In a slow-growth, jobless economy, the strike came at a very bad time for both and each side deserves a pat on the back for seeing the light.
We agreed to end the strike because we believe that this is in the best interest of our customers and our employees, said Verizon executive vice president of human resources Marc Reed said. We remain committed to our objectives, and we look forward to negotiating the important issues that are integral to the future health of Verizon's wireline business.
Roughly 45,000 Verizon landline employees represented by several unions went on strike late in the night on Aug. 6 after negotiations broke down for a new contract.
The strike became tense over two weeks as talks came to a complete stall at one point. But the holdout was harming Verizon's business, both through negative brand impact with picket lines at high-growth Verizon wireless stores and service interruption issues.
Workers also suffered, not getting paychecks and facing a looming Aug. 31 deadline to loose health benefits. The major issue in the strike has been health benefits, but the company had also put a list of some 100 demands in front of workers, something the unions said was too much considering Verizon is enjoying a profitable growth period while company executives cash in millions of dollars in pay and bonuses.
Verizon's landline business is in decline, as more consumers turned to wireless communications options and the company has said workers need to face that reality and come to the negotiating table.
Verizon said Saturday, however, that the unions and the company made headway in negotiating a number of local and regional issues and the parties agreed upon a process for moving ahead in negotiating the biggest issues at hand -- health benefits costs, pay scale cost structure, work flexibility, and job security.
On that note, the unions decided it was time to go back to work, ending picket lines with some to report as early as Monday evening. In a statement issued Saturday afternoon, the International Brotherhood of Electrical Workers said they appreciated the unity of members and the public support in the strike, but it is now time to get back to work.
The major issues remain to be discussed, but overall, issues are now focused and narrowed, they said. Now we will focus on bargaining fairly and moving forward.
© Copyright IBTimes 2023. All rights reserved.