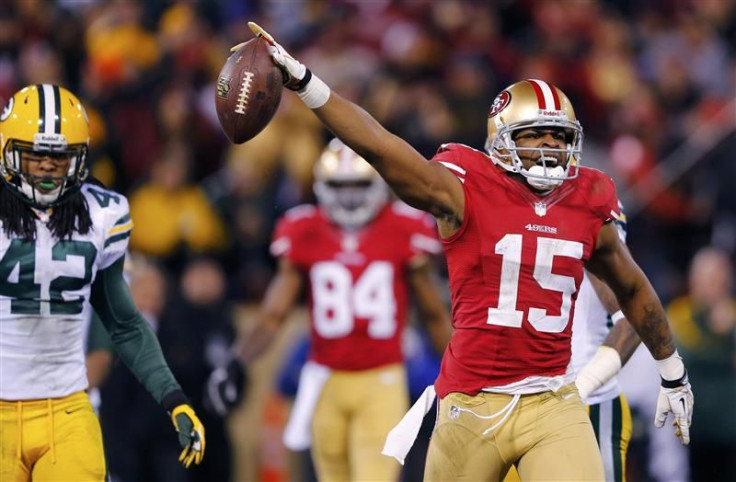 (Reuters) - Quarterback Colin Kaepernick set an NFL rushing record as he outplayed reigning NFL Most Valuable Player Aaron Rodgers to lead the San Francisco 49ers to a 45-31 playoff win over the visiting Green Bay Packers on Saturday.
Fueled by a sensational 181 yards gained on the ground by second-year player Kaepernick, the 49ers broke the game open in the second half for an emphatic win that put them into the January 20 National Football Conference title game.
San Francisco, who "competed like maniacs," according to coach Jim Harbaugh, will face the winner of Sunday's divisional playoff showdown between the top-seeded Atlanta Falcons and Seattle Seahawks with a berth in the Super Bowl at stake.
Kaepernick, who replaced injured starter Alex Smith midway through the regular season, set a National Football League (NFL) rushing record for a quarterback as he used his long strides to run past defenders on scoring gallops of 56 and 20 yards.
The 6-foot-5 Kaepernick also threw a pair of touchdown passes to Michael Crabtree in the romp.
"Our offensive line did an amazing job today," said the 25-year-old Kaepernick, who eclipsed Michael Vick's previous rushing standard for a quarterback of 173 yards for Atlanta against Minnesota in 2002.
"They shut everybody down inside. Our receivers, our tight ends blocked great outside and our running backs were running hard so it made it easier on me.'
Kaepernick completed 17-of-31 passes for 263 yards, giving him 444 yards in total offense.
Rodgers completed 26-of-39 for 257 yards, two touchdown and one interception, with his second scoring strike coming at the end of the fourth quarter when the game was out of reach.
"They played very poised. I thought they competed like maniacs," San Francisco coach Jim Harbaugh said about his team. "We'll move on with humble hearts and get ready for our next opponent."
Kaepernick started on a shaky note in his playoff debut, tossing an interception on his second pass of the game that was returned 52 yards for a touchdown by Sam Shields for a 7-0 Green Bay lead.
But he recovered quickly, leading the 49ers on an 80-yard drive he capped off with a 20-yard touchdown run to make it 7-7.
"There was a lot of game left," the Niners quarterback said. "It was just a bad decision. I knew I just had to bounce back in order for us to win this game."
The teams traded touchdowns during an action-packed first half, with the 49ers moving ahead 21-14 after turning a fumbled punt return and an interception into touchdowns.
San Francisco took a 24-21 lead into intermission after a 36-yard field goal by David Akers as time ran out.
After Green Bay tied it at 24-24 with a 31-yard field goal by Mason Crosby early in the third quarter, San Francisco and Kaepernick dominated.
In their next possession, the 49ers quarterback faked a hand-off and took off to his right, using his long strides to race untouched into the end zone for a 56-yard touchdown that provided a lead they never relinquished.
San Francisco ran roughshod over the Packers, gaining 323 yards on the ground, with Frank Gore contributing 119 yards and a two-yard touchdown matched later in the second half by team mate Anthony Dixon.
Rodgers, who led the NFL in passer rating during the regular season, blamed the Green Bay offense for the loss.
"It's pretty frustrating," said Rodgers. "To go out and play like that is disappointing. We didn't do enough on offense.
"Our defense probably got a little tired out there."
The 49ers, who also reached the NFC title game last year, are trying to return to the Super Bowl for the first time in 18 years.
"We're one step closer to where we want to be," said Kaepernick, whose big-play ability kept Smith on the sidelines even after he recovered from his Week 10 concussion.
© Copyright IBTimes 2023. All rights reserved.